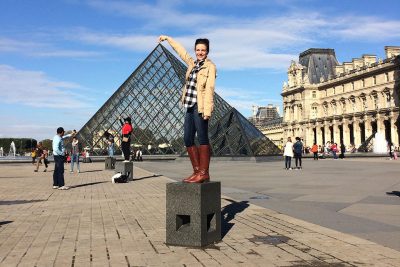 Katie Culik '16 (ED), '17 MA, a fifth-year master's student in the Neag School's Integrated Bachelor's/Master's (IB/M) teacher education program, had never traveled beyond the United States — and, in fact, had never lived outside of a rural environment. This all changed when she saw an opportunity to study abroad through the Neag School's semester-long IB/M London Study Abroad Teaching Internship program.
The faculty-led program, offered to fifth-year IB/M students during their fall semester, allows students to complete 12 credits through a seminar course, a comparative international education course, a curriculum course, and an internship at a London-area school relevant to their teaching interests. Students also use this time abroad to work on their thesis, based on a three-credit research course taken at the Storrs campus the summer before traveling to London.
"I decided to apply because I wanted to see the world and go out of my comfort zone," Culik says. "I was excited to do something new that I've never experienced. Looking back now, I realize that I took away a lot more than just seeing new places."
The Robert E. and Gladys B. Dunn International Fund
Upon their acceptance to the program, students are considered for a $1,000 needs-based scholarship supported by a Neag School fund established in 2008 by alum Robert E. Dunn '51 MA, '55 Ph.D. and his wife, Gladys B. Dunn, for students interested in studying abroad. Since then, an average of 10 students per year have reaped the benefits of the international scholarship award.
"We felt very fortunate to travel abroad, so we wanted students to have the same opportunity we did: to experience living abroad."
— Gladys B. Dunn
The scholarship was created to help defray the cost of additional fees associated with traveling abroad, says Heather McDonald, senior director of development and university programs at the UConn Foundation.
"This scholarship helps offset the extreme financial burden that is on the price tag of studying abroad," adds Lexi Bodick, a current fifth-year IB/M student and a recent recipient of the scholarship who served this past fall as a music intern at London's Rooks Heath College, a secondary school where she taught general music, rock band, string ensemble, and music technology classes. "I did not feel nearly as limited in my ability to travel and seek out new experiences as I would have without the scholarship."
Following Robert Dunn's 38-year career as principal of Hall High School in West Hartford, Conn., he and Gladys left to work at Seoul International School in South Korea, where Robert Dunn became headmaster, and Gladys served as director of admissions.
Their experience living in a different country and also traveling throughout their lifetime inspired their contributions to UConn. "We felt very fortunate to travel abroad, so we wanted students to have the same opportunity we did: to experience living abroad," Gladys Dunn says.
The Dunns have so far donated $500,000 to UConn for scholarships — including a separate fund in support of students enrolled in the Neag School's UConn Administrator Preparation Program (UCAPP) — with an expectancy gift of an additional $500,000. With this tremendous commitment, the Dunns are poised to join UConn's 1881 Founder's Circle, an elite group of about 60 families who have donated between $1 million and $500 million dollars to the university.
A Cultural Immersion
Traveling abroad is much more than just a semester spent beyond Storrs, Culik says. "We experienced life as the average Londoner," she says. "Working and going about our daily lives among Londoners made me feel like I was home."
Part of that was exploring the communities in which Londoners live and work, rather than taking part only in traditional sightseeing activities, says Joe Couture, another current fifth-year IB/M student who studied as part of the London program this past fall with the help of scholarship support from the Dunns.
"Being immersed in another culture and being removed from your own allows you to clearly see the defining features of both," Couture says. "I feel far more capable of understanding cultural differences after my time abroad."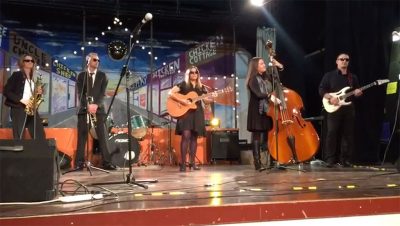 Living, working, and learning abroad is a valuable opportunity — especially for aspiring educators — in gaining a global perspective that they will bring with them to their future classrooms, Bodick says.
In an international city such as London, students say that they interacted with people from many different countries during their stay, and not just those who grew up in England.
"I worked as a reading interventionist, and met students and staff from all over the world," Couture says. "I grew a great deal as an educator and can see myself pursuing a special education certification down the road as a result of my internship."
Although London was home base, many students also took the opportunity to travel on weekends and during their weeklong fall break to other countries in Europe, including Wales, Ireland, France, Belgium, Spain, Italy, the Netherlands, Switzerland, and the Czech Republic.
"The adventure doesn't end when you return from your travels," Bodick says. "The lessons you learn and the experiences you have will forever impact your life and change the way you see the world."
Read about the experiences of other Neag School students who have taken part in the  London Study Abroad Teaching Internship Program. If you are interested in contributing to the Neag School to help support students and other endeavors, learn more here.