Editor's Note: Alexandra Walz contributed to this story.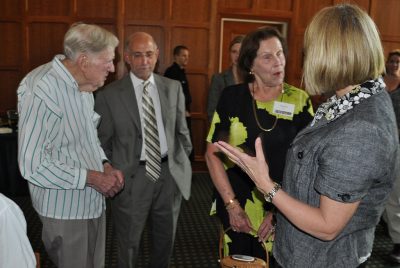 Neag School alum Robert E. Dunn '51 MA, '55 Ph.D., an accomplished educator and administrator, spent his life inspiring bright young minds in the classroom and abroad. With his passing on July 18, 2017, UConn remembers Dunn's philanthropic vision of ensuring student success and opportunity.
Dunn was raised in Watertown, Mass., and East Hartford, Conn. He received his bachelor's degree from Bates College, where he met his wife, Gladys. Dunn then earned his master's degree and Ph.D. from UConn's Neag School of Education. He worked for almost 40 years at West Hartford's William H. Hall High School as a history and social studies teacher, department head, guidance counselor, assistant principal, and school principal until his retirement in 1990. He was selected as Connecticut's Principal of the Year during his tenure.
Following his retirement, Dunn served as deputy headmaster of the Seoul International School in South Korea for five years, where Gladys was director of admissions. It was this experience that inspired the couple to establish The Robert E. and Gladys B. Dunn International Fund, which helps defray the costs of additional fees associated with UConn students traveling abroad, giving them the opportunity to immerse themselves in cultural experiences.
"This scholarship helps offset the extreme financial burden that is on the price tag of studying abroad," says Lexi Bodick, a Neag School alum and past recipient of the scholarship who served last fall as a music intern at London's Rooks Heath College, a secondary school where she taught general music, rock band, string ensemble, and music technology classes. "I did not feel nearly as limited in my ability to travel and seek out new experiences as I would have without the scholarship."
"We felt very fortunate to travel abroad," Gladys Dunn says. "We wanted students to have the same opportunity we did."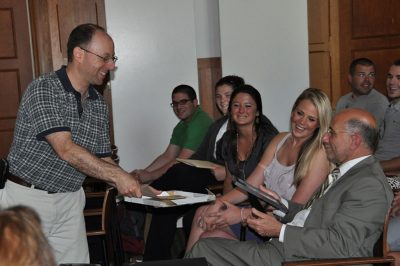 This support, says Alan S. Marcus, associate professor of curriculum and instruction at the Neag School, "greatly impacted many students who could not have traveled abroad without the extra funding and who said their time studying abroad was 'life-changing' both professionally and personally. Dr. Dunn was genuinely excited for the students, and the students were quite grateful for the opportunities he helped support."
In addition to fostering opportunities for student travel, Robert and Gladys have given generously to help the next generation of school administrators. Through the Robert E. and Gladys B. Dunn UCAPP Fund, the UConn Administrator Preparation Program (UCAPP) receives significant support to prepare qualified and capable school leaders for all Connecticut schools.
"The Dunn family has had and will continue to have a long-lasting impact on the Neag School," says Dean Gladis Kersaint, Neag School of Education. "Many students have benefitted from the support provided to continue their education and to study abroad. Dr. Dunn will be remembered, and his legacy and its impact on the Neag School will continue to be appreciated."
If you are interested in contributing to UConn's Neag School of Education to help support students and other endeavors, learn more here.