Two years into her position as director of UConn's master of science in business analytics and project management (MSBAPM) program, HESA alumna Meghan Hanrahan '04 MA is thriving. She loves her work, the MSBAPM program's enrollment is on the rise, and Hanrahan herself was recently featured in Hartford Business Journal's 2018 "40 Under 40" issue. "I feel like I'm exactly where I should be," she says. So how, exactly, did she get here?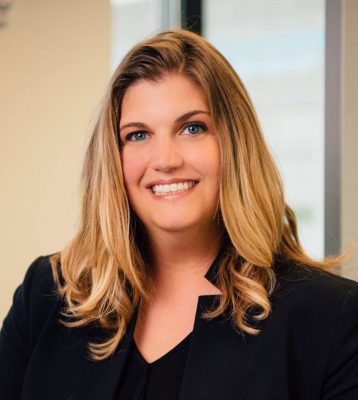 When she graduated in 2004 with an MA in higher education administration (now the HESA program), Hanrahan had already been immersed in the UConn community for a good while, having received her bachelor's and master's degrees in Storrs. Upon graduating, she began a national job search and thought a change of scenery might be nice.
Then a unique opportunity presented itself: The UConn tri-campus School of Business program (which has since disbanded) needed a program coordinator for their new undergraduate business and technology program. Hanrahan recognized that the position would be a special one, especially for a young professional like herself. As the coordinator of a dynamic new program, she would have lots of room for growth, development, and entrepreneurship. She decided she couldn't pass up the opportunity, and thus began her career.
For almost 10 years, Hanrahan remained in that same type of role in the School of Business, albeit with a number of changes in position and a great deal of upward mobility. Teaching, advising, managing, serving as a faculty liaison, and working with student and orientation services, she did, as she puts it, "everything you can imagine from a program-level role." She was instrumental in many vital projects, such as the signing of articulation agreements with local community colleges to create transfer programs and rolling out the Honors program to UConn regional campuses. Best of all, Hanrahan loved her job. "It was phenomenal," she says.
"The HESA program taught me so much about the critical roles that student affairs and services play in an institution."

— Meghan Hanrahan '04 MA
As she approached her 10-year anniversary working with the School of Business, Hanrahan decided she was ready to take on a new challenge. It was then that the leadership team of UConn's West Hartford campus (which has since moved to Hartford) pitched her an exciting opportunity as the associate director of business and student services for UConn West Hartford. The position, which Hanrahan describes as a regional-level dean of students position, was exactly what she was looking for. In her two-year tenure in that role, she managed an "amazing" team and was able to bring her expertise to new institutional areas such as health services, First Year Experience courses, disability services, and community standards. "It was always what I'd dreamed of, going deeper into student affairs," says Hanrahan."I was inspired by the work of my team, and I loved what I was doing."
Soon enough, however, opportunity came knocking once again. The School of Business was conducting a national search for a new director of the MSBAPM program, and thanks to the strong relationships Hanrahan had built within the School over her career, the hiring committee thought of her. At first, she was reluctant to apply since she still felt inspired and challenged by her role at UConn West Hartford, but as she learned more about the role, she began to reconsider.
At the time, Hanrahan was serving on a number of committees to find directors of regional campuses, and she had started to notice a trend. People applying for these upper leadership roles had either exclusive undergraduate or exclusive graduate experience, but never both. "The two things I didn't have experience with at that time were working with grad students and working with international students," says Hanrahan. Not only was the MSBAPM a graduate program, but it had a significant international student population. With these factors in mind, Hanrahan intentionally applied for the job. She was selected as the new director, and she remains in that position today.
Hanrahan admits that her first year as the director was challenging. "It was an unfamiliar environment," she says, "I missed my undergrads."
Instead of giving up, however, she realized she had to dig deep and figure out how to bring her unique skill-set to the position and "be a value-add to the institution." Two years in, she has made a total 180 from that challenging beginning. "I've realized that my background is so valuable at the graduate level," she says. "I've found my niche, and we're doing great."
"Having real impact on students is what it's all about."
When asked what she's most proud of having accomplished since graduating from UConn, Hanrahan tells a powerful story. Not long ago she ran into a former advisee of hers while Hanrahan was out with her 9-year-old son. With Hanrahan's support and his own remarkable determination, the advisee had gone from not having completed high school to graduating from UConn. He has a wife and children, a house, and he is currently completing a UConn MBA program. When they saw each other, the advisee turned to Hanrahan's son and said, "I need to tell you something: Your mother changed my entire life." She says this moment is one of many that keep her strong when she feels stuck or frustrated. "Having real impact on students is what it's all about," she says.
Hanrahan says she is grateful to HESA for the deep foundation it gave her in student affairs. "The HESA program taught me so much about the critical roles that student affairs and services play in an institution," she says. "HESA gave me the tools to be able to articulate the importance of that role, to advocate for it." What's more, Hanrahan is currently working on a research project with three senior faculty members at UConn Hartford. HESA, she says, gave her the educational foundation that makes her research possible.
Hanrahan's advice for current HESA students and emerging practitioners can be summed up as follows: Stay relevant, find your mentors (across disciplines), and be open-minded. "Even when things are challenging, figure out how you can learn or gain something from the experience," she says. "Everything is an opportunity!"