2021 Neag School Outstanding Higher Education Professional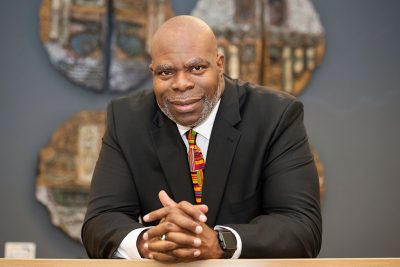 A professor of counselor education and school psychology at the University of Central Florida (UCF), Sylvester Kent Butler Jr. has been serving in higher education for more than two decades. A three-time UConn graduate, with two advanced degrees from the Neag School, Butler is now also part of the UCF president's cabinet, overseeing the Office of Diversity and Inclusion as interim chief equity, inclusion, and diversity officer. His research — spanning such areas as African American student achievement and success as well as multicultural and social justice issues in counseling — has been widely presented and published in books and journals at the national and international levels. Among his many accolades, Butler has been recognized by UCF as a Faculty Fellow for Inclusive Excellence, received the Tennessee Association for Multicultural Counseling and Development Appreciation Award, and named an American Counseling Association Fellow. Known as an accessible and engaged faculty member, he also has demonstrated his leadership in two large counseling professional organizations, including the Association for Multicultural Counseling and Development, for which he has served as president. His most proud leadership role includes being elected the 70th president, and second-ever African American male to serve, of the American Counseling Association.
"Kent is highly respected by students, as well as faculty and staff he has worked with across campus, the state and nation. He is loyal and committed to his students, his programs and to the institutions he has served."

— David T. Ouimette,
Executive Director, UConn First Year Programs,
Learning Communities, and the Academic Achievement Center
Acceptance Speech from Sylvester Kent Butler Jr.
"Dear Kent,
Congratulations on being named Neag's Outstanding Higher Education Professional for 2021. I can't think of anyone who deserve it more! My only regret is that the ceremony is "virtual" this year — I would have loved to congratulate you in person at the ceremony. If I can track down your current telephone I will be in touch to talk about what you have done during the past 25 years! (As I write this I recognize that I must be have gotten really old!)"
All the Best,
Jerome Spears '70, '82, Past President,
Neag School Alumni Board and 18+ year Board Member
"The boys and I are so very proud of you. Praying for your continued success. I believe that Mom and Dad will be watching with tears of joy!"
— Much love always,
Brenda
"Dear Dr. B., Congratulations on your numerous accomplishments, but most of all your leadership in the field of counseling and multicultural advancement. May you have continued success and great happiness in knowing you are making an important difference in so many ways."
— Scott Brown,
Emeritus Board of Trustees Distinguished Professor,
Neag School of Education
"Kent, I feel so lucky to have watched you thrive and rise throughout your journey to becoming such a prominent educator. I am at ease knowing that you are motivating and sharing your knowledge with our young people and future leaders. Please continue your very important work. Congratulations on all of your success and this special recognition!!!"
— Eric Judge
"Congratulations Kent! You are so amazing and deserving of this award and recognition!"
— David Ouimette
"At all stages of his academic career — as an undergraduate, as a graduate student, as a postgraduate professional, as a faculty member, as a leader — Ken has focused on advocacy, inclusion, and change."
— Michelle Williams,
Associate Vice President for Research,
Office of the Vice President for Research
"Congratulations Kent. Well deserved award! I look forward to tuning in for the ceremony."
— Harriet Glosoff
"It has been a true joy to be able to observe Kent's entire career and see him rise in stature from student to professor and now leader in higher education."
— Leo M. Lachut, Assistant Director,
UConn First Year Programs and Learning Communities, and
Director of Adademic Support, Center for Undergraduate Education
"A well deserved award celebrating your hard work and the contributions you have made to support so many students, faculty and staff. Congratulations Kent!"
— Daniel Carchidi
"Congratulations to my dear friend that I met at UConn over 30 years ago. Well deserved recognition Dr. Butler, we are proud of you."
— Tina Giles O'Neal
"Your dignity and worth were given to you by the One who created all things, and reaffirmed by your loving parents, family and friends. You have worked hard to achieve the successes you have, and we're all so proud of you.
Congratulations Big Brother!"
— Love, Karen
Read More About Sylvester Kent Butler Jr.