The Neag School of Education is committed to diversity. This is reflected through our faculty, core academic focus, statewide partnerships and national initiatives. Efforts to transform public education must include focused work on closing the achievement gap in U.S. public schools by addressing serious issues of equity and access and on closing the global achievement gap between U.S. students and students in other countries whose academic performance is higher. Our newly conceptualized school-wide focus on diversity, equity and access, and global and public engagement is strongly aligned with both the national and state imperatives.
Diversity in Teacher Education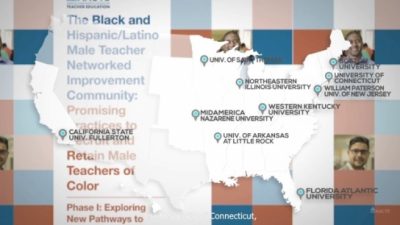 Changing the demographic makeup of the teacher workforce
The Neag School of Education has been selected by the American Association of Colleges for Teacher Education (AACTE) as one of ten institutions nationwide to participate in its Networked Improvement Community (NIC) aimed at increasing the number of Black and Latino men in teacher preparation and into teaching.  Participating institutions commit to increasing the number of young men of color in their teacher education programs by 25% over several years and participate in a networked knowledge-sharing community on effective methods.
Connecticut Minority Teacher Recruitment Committee
Neag School faculty and staff are members of the Connecticut Minority Teacher Recruitment Committee. The aim of the committee is to recruit, support and retain students of color into teacher preparation and the Connecticut teacher labor market.
Project L.I.D.
Project L.I.D. (Leadership In Diversity) is dedicated to providing support for students from underrepresented backgrounds interested in the field of education. The aim is to help close the "lid" around educational equity and equip students with the necessary tools, networks and information to be competitive, well-rounded future educators.
Community Engagement
Husky Sport
Husky Sport is a community-campus partnership that utilizes the power of sport to connect and empower partners from the city of Hartford and the University of Connecticut.
Since 2003, Husky Sport and its partners have collaborated to identify needs, implement programming, assess progress, and build lasting relationships through intentional programs facilitated in school, after school, and on weekends. Husky Sport has become a trusted partner within Hartford's North End community.
Together, the Husky Sport community-campus partnership aims to engage youth, families, college students, and partners through shared learning in four key areas of youth development:
Nutrition Education
Transferable Life Skills
Physical Activity
Academic Enrichment
Learn more about Husky Sport's presence in the community and on campus.
UNIV: Teaching for Social Justice
Teaching for social justice is a class that is open to anyone thinking about potentially entering into the field of education as a career. The class explores the impact that teaching has on society as a whole, and the role you may see yourself contributing to this impact as an agent of social change (Contact advisors for more information).
Student Support
The Hearst Endowed Scholarship for Teaching
Recipients
Giselle Garcia
Estephani Orellana
Justis Lopez
Jonathan Brown
Annie Ramos
The Philo T. Pritzkau Scholarship
This scholarship was established by Dr. Philo T. Pritzkau, emeritus faculty member of the Neag School of Education, to provide financial support for graduate students enrolled in the School from under represented backgrounds.
Robert Noyce Teacher Scholarship Program
This scholarship was established for post-baccalaureate students holding STEM degrees into the accelerated Teacher Certification Program for College Graduates (TCPCG) program that will be teaching in districts with high needs.
Minority Teacher Incentive Grant Program
The State of Connecticut's Minority Teacher Incentive Grant Program provides up to $5,000 a year in the senior and master's year of the IB/M teacher education program. Eligible student can also receive up to $2,500 in yearly stipends for up to four years of teaching in a Connecticut public elementary or secondary school.

Diversity News
Student Profiles
Gabe Castro
"The Neag School of Education has supported me in pursuing my dream of teaching abroad after graduation. Funding a trip to an overseas recruiting fair allowed me to secure a position teaching mathematics in Puerto Rico. In enriching my experiences in a new setting and culture, I will have more tools available to me in being a culturally responsive teacher. With this, it will enable me to reach a diverse population of students and support me in enlightening these students of the opportunities offered after high school. I am grateful the Neag School of Education opened this door for me."
Symone James
"Anytime that I have had a question about the program, or needed clarification for anything at all, there were always multiple people, such as advisors in Neag (in particular Ann Traynor, she's great), who were available for me to talk to. In addition to that, clubs like LID and TESA, and different Neag events allow for opportunities to build connections with other students in Neag and staff. This is especially helpful when I need advice or a word of encouragement from somebody else who understands what the program is like and can relate to my experiences."
Justis Lopez
"These past years have been such a transformative experience for me. Thanks to Neag I have had the opportunity to become an active global citizen by being able to travel to different countries throughout Europe learning about the effects of WWII. This past year I was able to build upon this experience and had the opportunity to attend the National Association of Multicultural Educators annual conference through the support of Neag. I am proud to say that I am now an active member of the organization and I am looking forward to presenting at conferences in the future."
Alejandra Munoz
"The annual Neag Diversity dinner is a meaningful event I have had the pleasure of being a part of since my sophomore year at UConn. Each year, I have made meaningful connections with other students, teachers, principals, administrators, and Neag faculty with whom I share a passion for multicultural education and the belief in the importance for cultural awareness and teachers from diverse backgrounds in the classroom. As a master's student, I had the opportunity to be the student speaker at the Neag Diversity dinner and share my experiences as a pre-service teacher."
Danielle Taylor
"Neag has not only supported me financially, but with quality experiences to increase my readiness to be a classroom teacher. Neag has given me the opportunity to obtain my Master's degree in five years and has provided the foundation to do so. I will always remember my classroom experiences through Neag, and they have provided more than just a learning experience, but eye opening and inspiring experiences about the field of Education."
Colin Walters
"I recently returned from studying abroad in London through the Neag Education Abroad program. Being able to teach and work professionally in a different country is a unique experience that not many students get to have. The diversity that London had to offer was the probably the biggest takeway for me, in that I was able to meet people from around the world, eat food from different countries, and learn about many cultures different then my own. I was also fortunate to be able to play jazz with some of the top musicians over there and use many of the skills that I've learned here at UConn on a global scale."