Research productivity and scholarly influence are a central foundation for the Neag School of Education. Its research portfolio currently averages more than $10 million in annual expenditures, with a mix of federally funded grant projects and state and local contracts. Neag School faculty actively compete for a diverse range of federal awards through the Institute for Education Sciences (U.S. Department of Education), National Science Foundation, and National Institutes for Health, and are regularly rewarded for their high-quality and innovative ideas. The expertise of Neag School researchers is highly sought at state and local levels to advance initiatives and evaluate outcomes. Together, the School's faculty and departments are highly ranked across national metrics for their research productivity and scholarly influence.
The Neag School academic plan clearly acknowledges contributions to research and scholarship, and defines clear directions for moving into the future. The School's strategic areas of focus are organized around the following four themes:
Equity and Social Justice
STEM Education
Creativity and Innovation
Educator Quality and Effectiveness
Engaging in innovative education reform with substantial impact on students and the systems surrounding them requires coordinated work over time to simultaneously implement change, study its effectiveness, and share it widely in ways that have lasting impact. We will accomplish these goals through deepening our transdisciplinary collaborations among educators, policymakers, researchers, and stakeholders across multiple fields to establish the policies, funding streams, and evidence-based practices that will promote achievement of state and national education goals.
We welcome your interest in our scholarly work, and invite you to contact us for more information about our current projects as well as potential for collaboration.
Recent Research in the News
Faculty researchers from across the Neag School are regularly featured in stories and announcements regarding new grants and awards. View recent examples below. You can learn more here about the nine Research Centers affiliated with the Neag School.
$5M in Federal Funding to Support Educational Psychology Research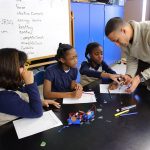 Led by educational psychology professors in the Neag School of Education, two research projects have recently been awarded a total of nearly $5 million in federal funding, made available through the Jacob K. Javits Gifted and Talented Students Education Act. Read More
Science of Learning Project Wins $3M NSF Award

The five-year grant, titled "Science of learning, from neurobiology to real-world application: a problem-based approach," is one of 17 totaling $51 million awarded nationwide in the NSF Research Traineeship program, across all fields supported by the National Science Foundation.
The NRT program aims to develop transformative models for graduate education in science, technology, engineering, and mathematics (STEM) fields. Read More
IES Awards Neag School Researchers More Than $10M in Grants
Seven faculty members across the Neag School of Education have recently been awarded funding — totaling more than $10 million — by the U.S. Department of Education's Institute of Education Sciences (IES) for a range of education research projects. In addition, two Neag School alumni are part of grant projects newly funded by IES. Read More
National Association for Music Education Awards Research Projects in Music Ed
As part of an ongoing series of research projects that the National Association for Music Education (NAfME) has funded, the leading association for music educators has awarded two new research projects to study important issues related to diversity, equity, and inclusion in music education. The Neag School award recipients are the University of Connecticut, Joseph Abramo and Cara Bernard, principal investigators. Each award carries a $10,000 stipend and spans two years of research.  Read More