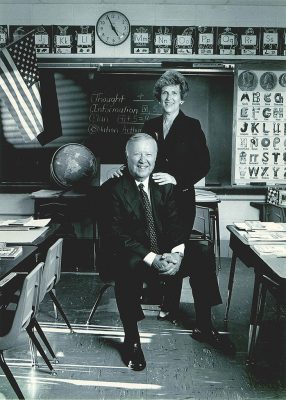 In 1999, the University of Connecticut's School of Education was renamed to honor Ray Neag, a visionary and savvy businessman who believed investing in education would yield the greatest of returns: a brighter future for our children.
Mr. Neag's generosity to the UConn School of Education began in 1996 with a $1.6 million endowment to establish both the Neag Chair in Gifted and Talented Education, held by Joseph Renzulli, and the Neag Center for Gifted Education and Talent Development.
"I saw this gift as an opportunity to make a difference in the lives of thousands of schoolchildren in Connecticut and the nation."
—Ray Neag '56
Believing that education is society's "great equalizer," Mr. Neag donated another $21 million to the School of Education in 1999. As part of the UConn 2000 rebuilding program, the state matched his gift with another $3.4 million. At the time, he described his generosity as "a strategic investment" in the School of Education and its carefully crafted plan to become one of the nation's top schools of education in the country. "I'm a product of public education," he proudly stated while announcing his intentions. "My gift to the School of Education is a way to acknowledge and repay what teachers and schools have done for me."
His gift, at the time, was both the largest any school of education in the country had ever received and the largest gift to a public university in New England. His substantial investment was the catalyst in the School's transformation from respectable to renowned.
Personal History
Ray Neag, the youngest of eight children, grew up in Torrington, Conn. He graduated from Torrington High School and attended the UConn Waterbury campus before enlisting in the U.S. Air Force. In 1956, after serving his country, he earned a bachelor's degree in political science at UConn's Storrs campus. Later, he studied foreign trade at the American Graduate School of International Management and graduated from Harvard University's advanced management program.
Mr. Neag, who passed away in April 2018 at the age of 86, was co-vice chairman and one of four founding members of Arrow International, Inc., of Reading, Penn., a leading manufacturer of cardiac and critical-care products for the medical industry. Although he and his wife Carole lived in Pennsylvania for many years, they maintained close ties to their families and hometowns in Connecticut.
Paying Dividends
As the deferred gift's endowment matures, the Neag School fund is used to increase the number and dollar amount of student scholarships and graduate assistantships, and to subsidize faculty research grants. It supports faculty and staff development activities, and also is used as venture capital to initiate new outreach activities.
The most visible of the dividends are the three endowed chairs and three chaired professorships. In 2000, a nationally prominent specialist in reading and internet technology, Donald Leu, was hired for the John and Maria Neag Endowed Chair in Literacy and Technology. In 2005, George Sugai, renowned for his work in special education and behavioral and emotional disorders, became the Neag Endowed Chair in Behavioral Disorders. In 2011, Sally Reis, nationally known for working with academically talented and high-potential students, and noted as the principal investigator for the National Research Center on the Gifted and Talented at UConn, was named the first to hold the Letitia Neag Morgan Chair for Educational Psychology. In 2012, then former dean and professor of Educational Leadership Richard L. Schwab — previously the Neag School of Education dean — was invested as a Neag Professor. In 2013, a nationally renowned expert on teacher preparation, Suzanne Wilson, was hired as a Neag Professor from Michigan State University.
Continued Commitment
The Neag family continues to demonstrate its commitment to the School and University. Ray and Carole participated in a wide range of UConn activities, including the dedication of the School's new wing, where they were particularly heartened to meet some of the students their philanthropy supports.
In a display of gratitude for Ray's long-term support, UConn paid tribute to the philanthropist in 2001 by presenting him with an honorary doctorate. He has been recognized by the Phi Delta Kappa-UConn Chapter as a PDK Fellow, as well as named Mentor of the Year by the Northeast Educational Research Association. He was an emeritus director of the UConn Foundation Board of Directors, having served from 1996 to 2001, and was vice chair of Campaign UConn. Ray and Carole were 1881 Circle lifetime members of the Founders Society, life members of the Alumni Association, and belonged to the Charles Lewis Beach Society.
In 2004, the UConn Health Center received a $10 million commitment from the Neags to establish the Carole and Ray Neag Comprehensive Cancer Center. Ray Neag also served on the Leadership Advisory Committee for the Cardiology Signature Program. In 2014, UConn Health received from the Neags a gift of $3 million to expand its groundbreaking research on genomics-guided cancer treatment, which has great promise for developing innovative therapies to fight the disease.
Over the years, the Neags supported their Pennsylvania community as well, with significant financial donations to the Children's Home of Reading, the public museum, community college, and hospital.
UConn Mourns Loss of Alum, Ray Neag, Largest Benefactor
Ray Neag '56 (CLAS), of Goshen, Conn., and Wyomissing, Penn., a philanthropist who built his fortune in the medical device industry, died April 19, 2018, at age 86. He died at home with his wife, Carole, by his side.
Read more in a UConn Today tribute.
UConn Mourns the Loss of Carole Neag, the University's Most Generous Benefactor
Carole (Vestali) Neag, a philanthropist and retired registered nurse whose generosity transformed UConn, died Sunday, April 16, 2023, at age 80. Neag was the widow of philanthropist Ray Neag '56 (CLAS), '01 H.
Read more in a UConn Today tribute.