Attention, Connecticut schoolteachers!
The Neag School of Education, the Connecticut Writing Project, and the UConn Department of English invite your students to enter the 30th annual Letters About Literature contest.
What is Letters About Literature?
Each year, a reading and writing contest known as Letters About Literature is held nation-wide for students in grades 4-12. The contest, previously sponsored by Center for the Book in the Library of Congress, is now hosted by individual states.
Students are asked to read a book, poem, or speech and write a letter to that author (living or dead) about how the text affected them personally. Letters are judged on the state level. Tens of thousands of students from across the country enter Letters About Literature each year.
How is the University of Connecticut involved?
UConn's Neag School of Education, along with the Connecticut Writing Project and UConn's Department of English, are the contest's designated sponsors for the state of Connecticut for the 2022-23 academic year.
Contest judges from Connecticut will include current Neag teacher education alumni and students and teacher-consultants of the Connecticut Writing Project from across the state. These judges will select the best Letters About Literature submitted by Connecticut students at each of the three competition levels:
Level 1: grades 4 – 6
Level 2: grades 7 – 8
Level 3: grades 9 – 12 
Connecticut students chosen as contest winners, and runner-ups,  will receive a prize and state recognition at each level. Submittals are accepted starting November 2, 2022.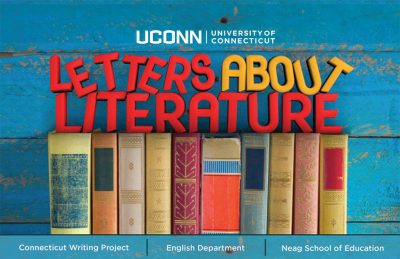 School Contest Rules 

Resources for Teachers, Librarians, and Parents
The Letters About Literature Teaching Guide provides activities teachers can use to guide their students through the book discussion and letter-writing process. The guide addresses the LAL teaching strategies and ways in which the program can dovetail with national standards for teaching reading and writing as well as Common Core State Standards (CCSS). Also included are worksheets for duplication and assessment checklists.
Would you like to volunteer to help review the nominations? Click here to sign up. Space is limited.
Deadlines and Prizes
Prizes will be awarded in Spring 2023 at the level, in each of the three competition levels:
Level 1: grades 4 – 6  (Submission deadline: Jan. 30, 2023)
Level 2: grades 7 – 8  (Submission deadline: Jan. 30, 2023)
Level 3: grades 9 – 12  (Submission deadline: Jan. 30, 2023)
Submission Form
Access the Online Submission Form
Parental Consent Form for Students Under 13

Questions? 
Email Jason Courtmanche at jason.courtmanche@uconn.edu, Doug Kaufman at douglas.kaufman@uconn.edu, or Margaret McFarlane at margaret.mcfarlane@uconn.edu.
Some content on this website may require the use of a plug-in, such as Adobe Acrobat Viewer.