Congratulations to the Neag School of Education 2021 Alumni Awardees!
We are proud to present the Neag School's 2021 Alumni Award honorees, each of whom has exhibited excellence across the field of education. It is our privilege to celebrate all that they have accomplished through their careers and their service to the community.
Explore each honoree's featured page to find:
Acceptance speeches from each of this year's honorees
Photo galleries of each winner
Praise and well wishes from nominators, colleagues, families, and friends
Through the generosity of current and past board members of the Neag School of Education Alumni Board, funding is made available each academic year to provide much-needed scholarship support to one or more current Neag School students.
Formally established in 2014, the Neag School Alumni Board Scholarship this academic year will support Elizabeth Canavan, a master's student in the Integrated Bachelor's/Master's Program; Lauren Dougher '19 MA, doctoral student in cognition, instruction, and learning technology; and Jordane Virgo '19 (CANHR), master's student in school counseling. Read their story.
Watch videos of their acceptance remarks:
"Congrats Jordane! So proud of your hard work and determination."
— David Ouimette
"Lauren, Congratulations on your Neag Alumni Board Scholarship!"
— Scott Brown,
Professor Emeritus, Neag School of Education
"Jordane, So great to see you on the list of award winners! Hope you are well and congratulations."
— Jennifer McGarry,
Professor, Neag School of Education
"Thanks for all you do and best wishes for the future!"
— James Lyons
"Congratulations to all! Thank you for the work you do!"
— Catherine Little,
Professor, Neag School of Education
"Congratulations to all our educators for your talent and work with young people. You are such an inspiration and you are just beginning as you have so many things to achieve."
— Patrick Ruth
"A hearty congratulations to all for your outstanding service in your field. During this time of great challenge, we are so fortunate to have people like you to uplift our spirits and light the way for innovation and perseverance to prevail. Thank you!"
— Kim Wachtelhausen,
Neag School Alumni Board Member
Thank You, From the Neag School 2020-21 Alumni Board
Today, more than 24,000 Neag School alumni are making a positive impact on communities worldwide as educators, school psychologists, counselors, researchers, sport management professionals, and leaders across and beyond the field of education.
It is our great privilege to sponsor this annual event — now in its 23rd consecutive year — as a way of formally recognizing a selection of the School's most accomplished and dedicated graduates. These awards honor distinguished educators and professionals who have made a significant contribution in their chosen profession.
On behalf of UConn's Neag School of Education, we congratulate this year's incredibly deserving award recipients. Thank you for joining us online in honoring these remarkable individuals.
Sincerely,
The 2020-21 Neag School Alumni Board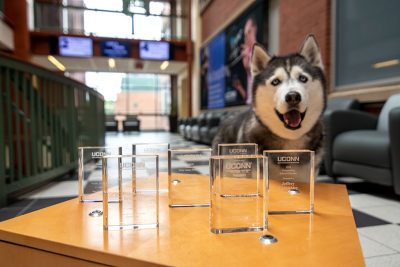 Lisa Cushing '17
Anna Cutaia '07, '13
Elizabeth DeVitto '14, '15 (Secretary)
E. Jean Gubbins, Ph.D. (Faculty Representative)
Carl Johnson '03, '04, '15 (Vice President)
Brian Kirby '18, '19
Kathryn "Katy" Keenan '10, '11, '19 (Past President)
Shay Lewis '20
Kelly Lyman '92, '93, '10
Timothy "T.J." Neville '06, '18
Santosha Oliver '06, '16
Megan Parrette '12, '17 (President)
Norma Sproul '93
Jocelyn Tamborello-Noble '03, '04, '09
Elsie Torres '18
Kim Wachtelhausen '08