Neag School of Education Alumni Awards Nominations
Nominations for the 2024 Alumni Awards are open until Friday, Oct. 27, 2023.
The Neag School of Education Alumni Board's nomination process for Alumni Awards opens each fall. Criteria and required nomination materials are noted below.
The most prestigious of these awards is the Distinguished Alumni Award. Candidates for this award are identified by the dean and faculty of the Neag School of Education. This award is given annually to a graduate who has made a significant impact on education, has a national reputation for her/his work, has been an inspiration to other professionals, and has shown continued involvement with the Neag School of Education.
Meet the 2023 Alumni Awards recipients!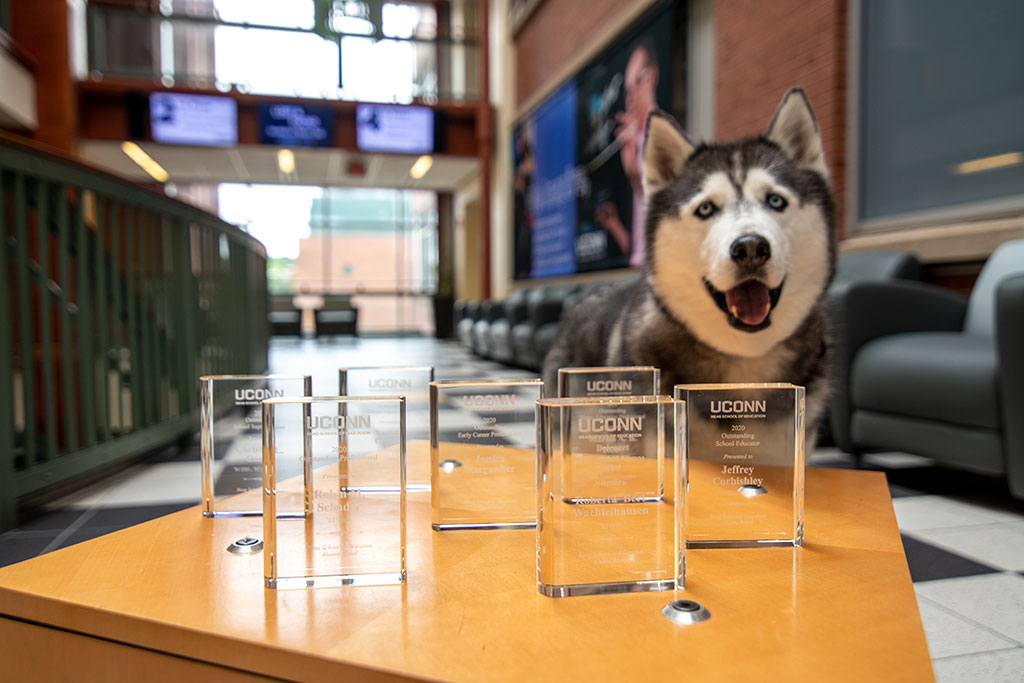 Award Categories
Outstanding Higher Education Professional
A faculty member or administrator at a college or university
Outstanding School Superintendent
Leader of a public or private school system
Outstanding School Administrator
A principal, assistant principal, central office administrator, or director
Outstanding School Educator
All pre-K through 12th-grade educators including classroom, reading, technology, ELL, school counselors, school psychologists, etc.
Outstanding Professional
A professional working within the public or private sector
Outstanding Early Career Professional
A promising young professional in the first five years of his/her career in public or private sector
Outstanding Diversity, Equity & Inclusion Recognition Award
A graduate who has made a significant, positive impact by demonstrating an active commitment to addressing and fostering diversity, equity, and inclusion, and/or building and advocating resources that promote social justice
Criteria for Nomination
Alumni status from the Neag School of Education
Demonstrated excellence and impact in the award category
Significant contributions to her/his educational or professional environment
Professional and/or community service
Five years or more of service in the award category, excluding Outstanding Early Career Professional
Please note: Current, full-time Neag School faculty are ineligible for nomination, and no member of the Alumni Board may be considered for an award within 24 months of the end of his/her membership on the Board.
Alumni Awards Policy
The Neag School Alumni Awards are issued annually at the discretion of the Neag School of Education and its Alumni Board. Award recipients who have been convicted of a criminal offense or who have engaged in unethical conduct that fails to reflect the mission of the Neag School may face revocation of their award.
If circumstances are such that an awardee past or present has come into question, the Alumni Board will review, on case-by-case basis, nomination materials as appropriate, and ultimately may hold a vote regarding the award recognition; revocation of an award requires a two-thirds majority vote by the Board.
Nomination Process
1. The following materials are required for a completed nomination:
A personal letter from the individual making the nomination describing the significant qualifications, abilities, characteristics, and achievements that make this nominee an outstanding candidate for the award. Please, no self-nominations.
A copy of the nominee's curriculum vitae or resume.
One additional letter of support is required; up to two letters will be accepted and reviewed.
Optionally, submit any additional supporting documentation that will assist the selection committee in evaluating the nominee's suitability for an award (e.g. publications, previous awards, news articles, etc.).
2.  Complete the online nomination form, including the submission of materials mentioned above. Nominations for the 2024 Alumni Awards are open until Friday, Oct. 27, 2023. 
Please note: Nominations in print format are not accepted. All submissions must be submitted electronically.
For questions about the nomination process, please contact Emily Murray at emurray@foundation.uconn.edu.