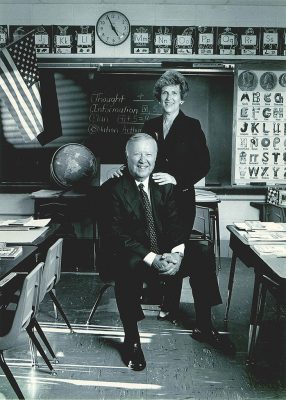 A celebration marking the 15th anniversary of the naming of the Neag School of Education will take place during UConn's "Huskies Forever Weekend" at the Storrs campus.
Also known as "Alumni Weekend," Friday, Oct. 24, and Saturday, Oct. 25, will feature an honors ceremony, keynote speaker, panel presentations and a luncheon to commemorate the Neag School and its accomplishments.
"Fifteen years ago, I promised Ray and Carole Neag that their gift would be transformative," said Neag School Dean Richard L. Schwab, "and our faculty, staff and students have worked hard to make that occur. We have become one of the top 30 public graduate schools of education in the nation, we award close to 175 scholarships a year, we have some of the most talented faculty in the nation, and we generate over $11 million in annual grant productivity."
Kicking off the weekend will be an Investiture and Medals Ceremony on Oct. 24 at the Konover Auditorium at the Thomas J. Dodd Research Center, where Provost Mun Choi and Dean Schwab will honor the latest Neag endowed professors and educational psychology professor Scott Brown, who is this year's UConn Board of Trustees Distinguished Professor–the highest honor given to a UConn faculty member.
On Oct. 25, Brown and endowed professors Preston Green, Jonathan Plucker, Sally Reis, Joseph Renzulli, George Sugai, and Suzanne Wilson will facilitate a series of breakout sessions and panel discussions. Topics will range from exploring current happenings in the field of education and analyzing academic research findings to discussing school culture and teacher-student classroom dynamics.
"These distinguished professors produce scholarship that answers critical questions on a range of educational issues, from literacy to student behavior," Dean Schwab said. "The celebration is an excellent venue to share this knowledge with alumni, students, practitioners, policymakers and all others who attend. We're very proud of all we've accomplished and the level of expertise we have to impact education's future."
The Neag School is also honored to have Sandy Hook Elementary School first-grade teacher and Neag alumna Kaitlin Roig-DeBellis present the keynote address on Oct. 25. Roig-DeBellis, who earned a master's in 2005 and a bachelor's in 2004, saved the lives of her students during the 2012 shooting tragedy at the school. She also created a non-profit organization called Classes 4 Classes that helps elementary schoolchildren provide educational gifts to other classrooms.
Praised as a hero by President Obama and Former First Lady Laura Bush, Roig-DeBellis was named one of Glamour Magazine's Women of the Year and a "L'Oreal Paris Women of Worth" as one of "10 Inspiring Women Making Beautiful Differences in their Communities." Roig-DeBellis also spoke at the 2014 Neag School of Education Commencement Ceremony
"Kaitlin is a perfect speaker for the event, as she both benefited from the Neag gift as a student and has distinguished herself as an alum," said Dean Schwab. "She embodies the spirit, tenacity, and love of students that the Neag School works so hard to nurture."
After the speaking program on Oct. 25, there will be a group photo of Neag School alumni and current students at noon in the Laurel Hall atrium. Participants will be given a complimentary event T-shirt at check-in and are encouraged to wear their T-shirt for the photo-op.
The event-filled weekend will conclude with a luncheon in the recently revamped Student Union Mall for alumni, faculty, staff, students, and their guests.
The 15th anniversary celebration comes at an exciting time for the Neag School. U.S. News & World Report's 2014 rankingsagain list the Neag School as the #1 public graduate school of education in the Northeast and #24 among all public graduate schools of education in the nation. It also ranks three Neag School programs in the top 20 nationally.
UConn's School of Education was renamed to honor Ray Neag in 1999 after he donated $21 million to the school. At the time, his generous donation was the largest gift any school of education in the country had ever received. Mr. Neag also established the Neag Chair in Gifted and Talented Education and the Neag Center for Gifted Education and Talent Development.
"I am a product of public education. My gift to the School of Education is a way to acknowledge and repay what teachers and schools have done for me," Neag said when he announced his intentions. He described his donation as a "strategic investment" to ensure that the School of Education would become one of the top schools of education in the country.
The Neag School's recently released "Our Time: UConn's Path to Excellence" strategic plan was designed to help achieve that goal. Dean Schwab said: "Our plan is to elevate the Neag School of Education to new heights, making it a state, national and global leader in how educators are taught, as well as how educational policies and teaching methods are developed and implemented. This weekend will celebrate both the great things we've done, and the great things ahead."
For more information on the events and to register, visit Regonline.com/neag15.