Please join Dean Richard L. Schwab at the Neag School of Education's 15th Anniversary Celebration of the naming of the School by Ray and Carole Neag on Saturday, Oct. 25 from 9 a.m. to 1:30 p.m. at UConn. Listen to a powerful keynote speaker, learn from a faculty member talk on an important education issue, and then enjoy lunch. The event is free to attend.
Keynote Speaker:
Kaitlin M. Roig-DeBellis '05, '06, an honors student at the Neag School of Education, began her teaching career as a reading specialist in Westport, CT, in 2006. While there, she worked with first- and second-grade struggling readers and worked closely with teachers and administrators to implement strategies and action plans for these readers.
In 2007, Kaitlin began teaching first grade at Sandy Hook Elementary School. There, she served on numerous academic committees and she began Marathon Mondays, a running club for third and fourth grade students. Kaitlin was granted a year leave from her first-grade position at Sandy Hook in 2013.
Kaitlin founded Classes 4 Classes, providing the opportunity for every student in the US to learn: compassion, caring, kindness, empathy, and consideration through active engagement.
Praised as a hero by President Obama and Former First Lady Laura Bush, Roig-DeBellis was named one of Glamour Magazine's Women of the Year and a "L'Oreal Paris Women of Worth" as one of "10 Inspiring Women Making Beautiful Differences in their Communities." Roig-DeBellis also spoke at the 2014 Neag School of Education Commencement Ceremony.
Faculty Talks: 
Dr. Scott Brown – UConn Board of Trustees Distinguished Professor
Building Problems to Promote Learning in an Interdisciplinary World.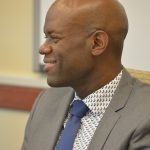 Dr. Preston Green III –  John and Carla Klein Professor of Urban Education
Having it Both Ways: How Charter Schools Try to Obtain the Funding of Public Schools and the Autonomy of Private Schools.
Dr. Jonathan Plucker – Neag Endowed Professorship
Exploring the Frontiers: The Role of Creativity and Innovation in Education and Society. Dr. James Kaufman and Dr. Ron Beghetto will be on this panel discussion.
Dr. Sally Reis – Letitia Neag Morgan Chair for Educational Psychology
Lessons Learned from 30 Years of Research About Academically Talented Students.
Dr. Joseph Renzulli – Lynn and Ray Neag Chair for Gifted Education and Talent Development
Addressing the Achievement Gap from the Other End of The Instructional Pipeline: Using a Strength Based Rather Than Deficit Based Approach to Learning.
Dr. George Sugai – Carole J. Neag Chair in Special Education
What do School Climate, Culture, and Behavior have to do with Academic Achievement?
Dr. Suzanne Wilson – Neag Endowed Professorship
The Good Teacher?  Are Current Policies and Practices Changing the Nature of Teaching in U.S. Schools?  A conversation between Suzanne Wilson, Dorothea Anagnostopoulus, Morgaen Donaldson, Rachael Gabriel, and Sarah Woulfin.