From the moment the Neag School of Education announced its intention this past fall to launch a new scholarship fund in honor of longtime colleague Valerie Pichette, intense support from within and beyond the University quickly became clear.
Faculty, staff, administrators, alumni, students, and friends of UConn immediately offered an outpouring of contributions — contributions that accumulated so quickly, in fact, as to reach the UConn Foundation's endowment requirement within a mere six weeks, ensuring that the Valerie J. Pichette Scholarship Fund will now honor Pichette every year in perpetuity.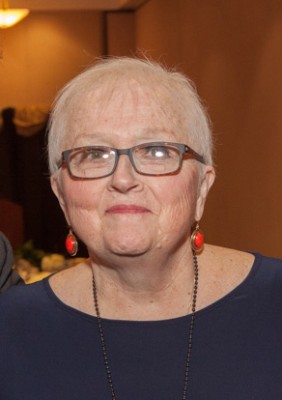 To date, a total of more than $56,000 has been raised for the scholarship through cash and pledges from 117 donors, according to the UConn Foundation. Not only has it turned out to be the top employee-supported fund at the University for fiscal year 2016, but the total amount raised in Pichette's honor also is more than double the minimum needed to establish a new fund named in honor of a University staff member.
The scholarship was created to honor Pichette's 30 years of service to the state of Connecticut, including her 18 years at the Neag School, where she served as an executive assistant – first with Dean Richard Schwab and later with former Dean Thomas DeFranco. However, Pichette, who was privately battling cancer when the scholarship was first initiated, passed away in November before news of its status as an endowed fund had become official.
Paying It Forward
Later this month, the Valerie J. Pichette Scholarship Fund will honor its first student recipient, Luis Organista '14 (CAHNR). Organista, a UConn alum with a bachelor's degree in natural resources and the environment, will be joining the Neag School's Avery Point campus this May as a student in the Teacher Certification Program for College Graduates (TCPCG) — an 11-month, post-baccalaureate teacher education program through which aspiring schoolteachers earn a master's degree in curriculum and instruction, as well as recommendation for teacher certification by the state of Connecticut.
Organista, who will receive $1,000 in financial support for the coming academic year through the new fund, has his sights set on teaching science, specifically biology and environmental science. Since graduating with his undergraduate degree, Organista has worked in a number of roles for the state of Connecticut's Department of Environmental Protection. This past summer, part of his job involved educating 20 inner-city children about environmental conservation and fisheries — which included taking children for fishing trips on local lakes. It was in this setting, interacting with school-aged youth on a daily basis and getting them excited about the natural world, that Organista found himself inspired to explore a career path focused on teaching.
"I decided teaching would be great because I enjoyed being with the kids," says Organista, now 24. As he started researching teacher certification programs, he soon became aware of TCPCG. Knowing, as he says, that "it would work out perfectly," he headed to an upcoming information session and was ultimately accepted into the program. In preparation for his time in the TCPCG program, Organista is currently working as a science and math tutor at Windham Middle School.
"We're overwhelmed and speechless by the amount of support everyone has given. It's a testament to my mom and to how she impacted so many people." — Dan Pichette '04, '11
Upon learning that he had been selected as the recipient of the Pichette scholarship, Organista began reading about Pichette and her legacy. What he found, he says, "really showed how much she cared for the students and how much work she put into ensuring that they enjoyed what they did."
"Receiving this award helps me to think about doing the same thing," he adds. "I want to be a teacher that helps students out and is always there to help with any problems or in improving themselves. I want to be a role model for the students in school and in the community."
He says he also felt a special connection with Pichette after realizing that she had worked at Quinebaug Valley Community College in Willimantic prior to her time at UConn; Organista is a lifelong resident of Willimantic.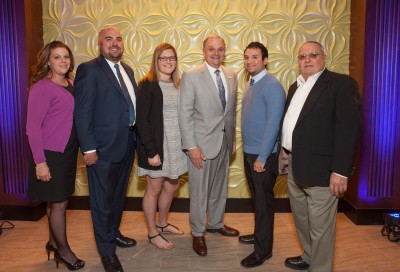 'All Thanks to Her'
The scholarship will be formally presented to Organista at the Neag School's annual Honors Celebration on April 20, where he will have the opportunity to meet members of Pichette's family. Organista says he is eager to learn more about Pichette and to express his gratitude to her family members: "I hope that they maybe will follow me in my career and see where I head so that they can see the potential that I've reached – and that's all thanks to her."
Organista also has been named the recipient of two other scholarship awards — the Husky Teach Noyce Scholarship, which is funded by the National Science Foundation to help support science, technology, engineering, and math education in the U.S., and the Neag School of Education Graduate Fellowship, awarded to graduate students with strong academic performance.
"It sounds like [Luis] is the perfect candidate and what my mom would have wanted — especially with him going through TCPCG, a program that was close to my mom's heart. It's the cherry on top that he's from Willimantic, with our family having roots there," says Pichette's son Dan Pichette '04, '11, dean of students at the Journalism and Media Academy Magnet School in Hartford, Conn. "The idea that this scholarship will go on in perpetuity — we're overwhelmed and speechless by the amount of support everyone has given. It's a testament to my mom and to how she impacted so many people."
"This is a wonderful example of how faculty and staff give 'Close to Home' in support and honor of our colleagues," says Heather McDonald, senior director of development at the UConn Foundation. "It's a powerful statement to have more than 100 donations within six weeks."
The Foundation's staff played a major role in the swift and successful establishment of the Valerie J. Pichette Scholarship Fund, adds Dean Schwab, who worked closely with Pichette for many years at the Neag School. "We are very thankful to the Foundation team for their partnership in pulling all of the moving pieces together," he says. "The fact that this scholarship came together so quickly is a testament to all of those who knew and loved Val."
To contribute to the Valerie J. Pichette Scholarship Fund, please visit s.uconn.edu/pichette. Learn more about additional scholarships and giving opportunities related to the Neag School here; or, contact Heather McDonald at hmcdonald@foundation.uconn.edu for more information.