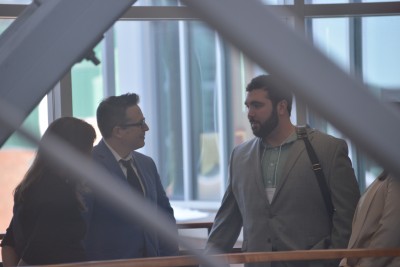 For the second year running, the Neag School will be welcoming a selection of promising new doctoral candidates to campus this fall, each of whom will arrive knowing they will be provided with four years of fully funded support. Five incoming students have been chosen to join the second cohort of Dean's Doctoral Scholars Program, which launched in 2014 to attract aspiring Ph.D. candidates with an interest in pursuing research under one or more Neag School faculty experts, in at least one of the School's four strategic areas of focus — STEM education; creativity and innovation; educator quality and effectiveness; or equity and social justice.
This past fall, the Dean's Doctoral Scholars Program drew 170 applicants from across the nation — up from 128 applicants in the fall of 2014.
Through their four years of study, the five incoming scholars will receive full tuition and a stipend for an assistantship, through which they have an opportunity to work with faculty on research. In addition to earning a doctoral degree from UConn, they will have the opportunity to present at nationwide conferences, publish research in highly regarded journals, and work alongside Neag School faculty in the departments of curriculum and instruction, educational psychology, and educational leadership.
The Dean's Office is proud to announce the names of each of the incoming Dean's Doctoral Scholars:
Dakota Cintron — West New York, N.J.
Robert Cotto Jr. — Hartford, Conn.
Alexandra Lamb — Brooklyn, N.Y.
Josue Lopez — Windham, Conn.
Xin Xu — Boston, Mass.
To learn more about the Dean's Doctoral Scholar Program and its application process, visit s.uconn.edu/neagdds.