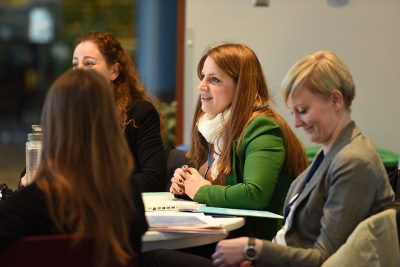 The Neag School of Education hosted 15 German Fulbright educators as part of a short course focused on the theme of "Diversity in U.S. Education" held on the Storrs campus earlier this spring. More than two dozen Neag School faculty and students worked together in immersing the German teachers in the practices of the U.S. education system through a comprehensive program that included visits to local schools and workshops on a variety of topics, ranging from intercultural communication to technology to hip-hop education.
The program, funded by a grant from the German-American Fulbright Commission, ran from March 20 through April 2. In addition to offering German educators perspectives on multiculturalism across the education system in the U.S., program coordinator and Neag School Director of Global Education David M. Moss says it allowed the Neag School to internationalize its curriculum, too.
"The Neag School strives to be a leader in teacher preparation and the transformation of public education through a social justice lens," Moss says. "This demands explicit attention to race, culture, equity, power and privilege."
Daily panels and workshops were accompanied by visits to Conard High School in West Hartford; Hartford Public High School; Windham High School; and E.O. Smith High School's Depot Campus and Goodwin Elementary School, both in Mansfield. During the school visits, German teachers experienced the U.S. education system in practice and got a chance to speak with administrators, teachers, and students about equitable opportunities in education.
"The Neag School strives to be a leader in teacher preparation and the transformation of public education through a social justice lens."

— Associate Professor David M. Moss, Director of Global Education
Similar to the U.S., Germany is experiencing an increase in cultural diversity. Yet Germany's willingness to take in hundreds of thousands of refugees during the European Refugee Crisis has created challenges in the classroom. Teachers and students who speak different languages and come from different cultures frequently coexist, and Moss says this is a challenge the Neag School and the Fulbright Program helped them explore.
"The impact on schools — in terms of numbers and culture — has been both significant and immediate," he says. "Our program helped German teachers consider that both aspects [language and culture] are necessary for effective education."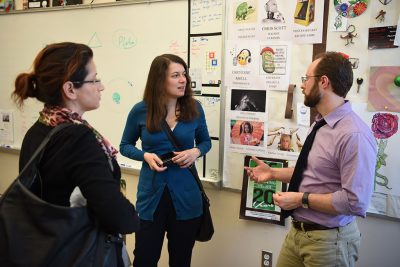 With experience in multicultural and international education, several Neag School students also contributed their knowledge in intercultural teaching and learning to the course. Many of these presenters were integrated bachelor's/master's degree (IB/M) students who studied and taught in London this past fall in one of the school's several placement options for master's year internships.
The Neag School's next move is to expand its options for international graduate-year internships. The School will send students not only to London, but also to Nottingham, England, and Cape Town, South Africa, in Fall 2016. Moss says the Neag School is striving to create global exchange programs that will provide more students with a global education perspective.
Moss says the Fulbright Program is a "true exchange" — one in which Neag School students and faculty learned just as much from their German peers as the Germans did from them.
"We learned a great deal about the challenges faced by German teachers in response to the European refugee crisis," Moss says, "and the ways German schools are reaching out to support students and their families."