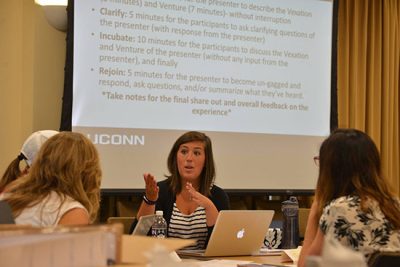 This past July on the Storrs campus, 11 current teacher leaders representing 10 school districts from across the state spent five days engaged in a variety of learning activities during the inaugural Teacher Leadership Academy. The academy, hosted by the Neag School of Education from July 25-29, 2016, and co-directed by assistant professors Rachael Gabriel, Jennie Weiner, and Sarah Woulfin, was designed to enhance participants' ability to support high-quality instruction, create conditions for reform, and lead change in Connecticut schools.
Participants were encouraged during the five-day program to share professional experiences and problems of practice, as well as collaborate to learn more about multiple aspects of teacher leadership and about how to engage as informal and formal leaders who can activate their voices for change. They also learned about the processes and difficulties of change and developed concrete skills to plan and communicate effectively with colleagues to help achieve growth and positive outcomes.
"I learned so much in such a short amount of time and really do feel empowered to make a difference as a teacher in my school," says one participant. "I was encouraged and feel more confident in being able to make change in my school. I also know how to tackle a challenge in a positive way, and can speak to others in a problem-solving orientation."
Partcipants also engaged in logic modeling in order to leave the academy with concrete plans on how they would exert their leadership and then measure their success. Each teacher leader created action plans for the upcoming school year on topics ranging from improving student discourse in math instruction and increasing coherence between middle and high school teachers to instituting a peer-coaching system to shift professional culture.
Among the academy's featured guest presenters were Lissa Young, assistant professor of leadership and management at the U.S. Military Academy – West Point, who led a case study on climbing Mount Everest that raised several key concepts related to leadership, teamwork, and communication. Other guest speakers included a journalist from the CT Mirror and a troupe from nonprofit ImprovBoston, whose presentations focused on enhancing listening skills and confidence and bringing more fun into the workplace.
The academy also featured several faculty presenters from the Neag School, including John Settlage, who discussed data use in teams; Todd Campbell, discussing current conceptions of teacher leadership; Morgaen Donaldson, who talked about policy, and Marijke Kehrhahn, who focused on workplace learning and the conditions necessary for deeper forms of implementation.
Participants in the academy noted that these experiences, in concert, produced learning that they would take back to their sites and use in practice. One participant called the week an "amazing experience" and says "it's hard to put into words all that I am taking away with me. This week was equal to a year of "professional development and then some."
The program's co-directors — Gabriel, Weiner, and Woulfin — plan to read and comment on the participants' action plans and follow up with each of them in the coming months to celebrate progress, provide resources, and support further growth and development to help foster ongoing learning for this cohort of teacher leaders.
Learn more about the Teacher Leadership Academy at s.uconn.edu/NeagTLA, and check out photos from the program here.