Robert Colbert, associate professor in the Neag School of Education, passed away on Friday, Aug. 12, 2016.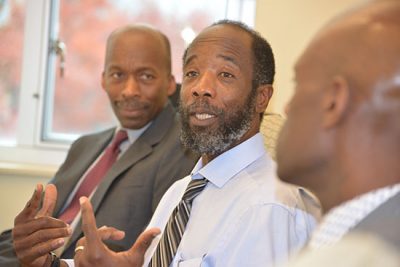 Colbert arrived as a faculty member at the Neag School in 2001, coming to UConn from University of Massachusetts — Amherst. He received tenure and appointment to associate professor in 2008.
For the past three years, Colbert has served as program coordinator of the counseling program within the Neag School's Department of Educational Psychology. His research expertise and interests focused on addressing disparities in public schools based on race and included the study of microaggressions, discipline sanctions, school counselors' role in facilitating positive student racial identity development, and college and career readiness in urban schools.
"UConn students, fellow faculty, and schoolchildren around the region have benefited from Dr. Robert Colbert's longtime commitment to alleviating disparities in public schools and to enhancing the role that school counselors can play as change agents in schools," says Del Siegle, department head and professor of educational psychology at the Neag School.
Colbert earned his bachelor of science degree in elementary education and master of arts degree in school counseling from the University of Kansas; and a Ph.D. in counseling psychology from the University of Wisconsin.
Read Robert Colbert's obituary.
A Celebration of Life will be held in honor of Robert Colbert on Saturday, Oct. 1, 2016, 11 a.m. – 1:30 p.m. at the Amherst College Alumni House, 75 Churchill Street, Amherst, MA 01002. If you plan to attend, please RSVP to erik.hines@uconn.edu by 5 p.m. on Monday, Sept. 19, 2016. If you would like to donate food for the celebration, please indicate this in your RSVP message.
Monetary donations may be made to the Neag School of Education Dean's Fund in Robert Colbert's honor. Contributions will go toward supporting students of color in the school counseling program. If making a donation, please specify that you are giving in honor of Robert Colbert in the "Additional Instructions about my Donations" section.