Not too long ago, Neag School of Education assistant professor Milagros Castillo-Montoya was rummaging through her closet when she stumbled upon a booklet from her undergraduate days at Rutgers University.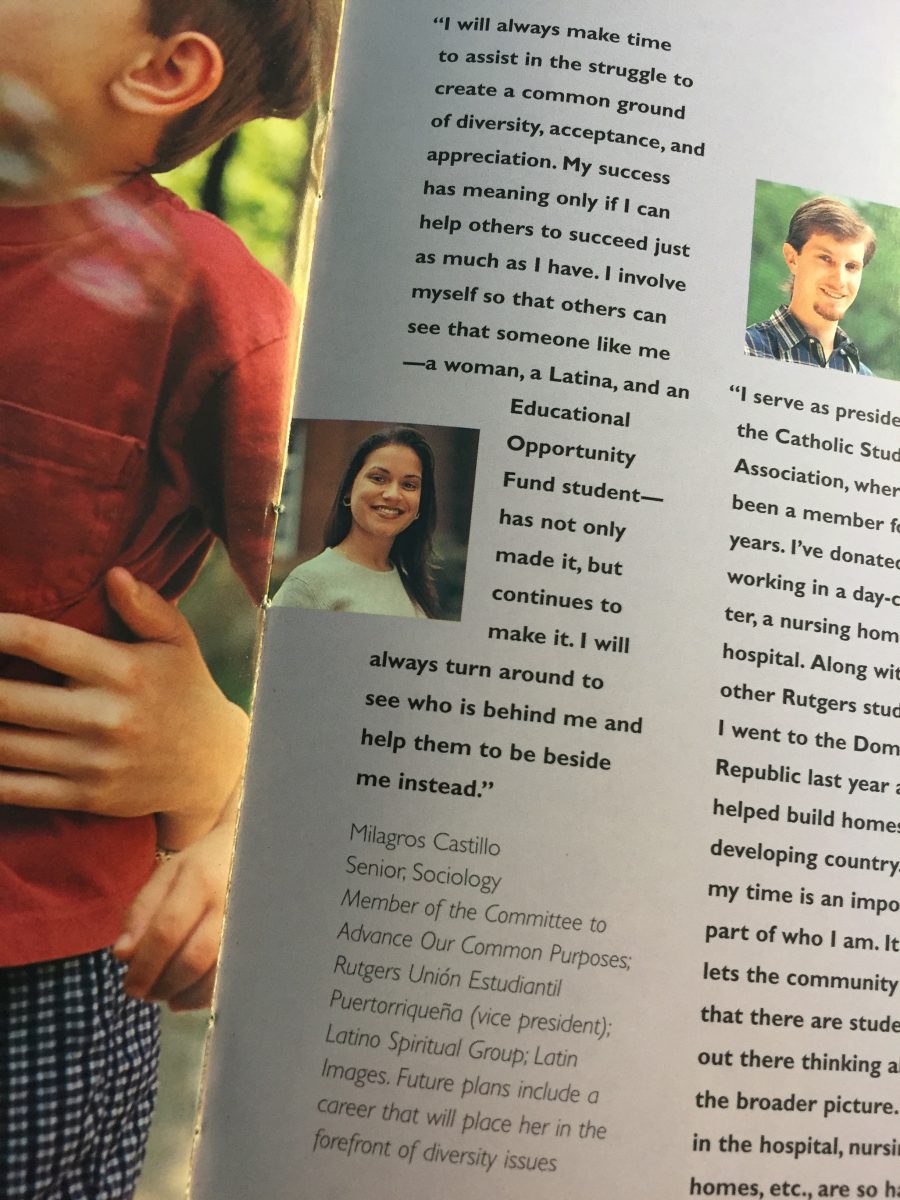 Castillo-Montoya has dedicated her career as a faculty member, mentor, and researcher to expanding access to and creating equity in the realm of higher education for minorities — an ambition she was recently surprised and pleased to find, in that booklet from the past, also belonged to her 19-year-old self.
"I can't believe what I was thinking and experiencing so many years ago I'm still thinking about now — and I'm doing it now," says Castillo-Montoya, who discovered she wanted to become an educator after visiting Rutgers University on a high school field trip. At Rutgers, she met a Latino professor — the first she had ever encountered — and decided she wanted to follow in his footsteps.
Now a faculty member as well as interim director for the Neag School's Higher Education and Student Affairs (HESA) program, Castillo-Montoya has brought along her knowledge and passion for teaching and learning in classrooms with diverse college students. Among her most recent endeavors is creating a professional development seminar to help university faculty engage in and activate classroom diversity. This project is funded by American College Personnel Association (ACPA) as well as the Neag School through the Dean's Research Incentive Award. Castillo-Montoya plans to pilot the program during the 2016-17 academic year.
This project comes on the heels of a collaboration with three colleagues at other universities that involved providing professional development on how to develop equity-minded syllabi, pedagogy, and assignments in graduate-level higher education and student affairs courses. The material, which she presented this past spring at the American Educational Research Association (AERA) Annual Meeting, is something she says she hopes to expand in reach, both nationally and internationally.
Castillo-Montoya is also serving, in collaboration with Neag School faculty Jennifer McGarry, Blanca Rincón, and Justin Evanovich, as principal investigator on a Public Discourse Project funded by the UConn Humanities Institute focused on mapping out the social justice and equity efforts of faculty and staff at the Neag School.
Thriving in her research and her teaching, Castillo-Montoya says she enjoys being a part of the Neag School of Education. "The Neag School is thinking hard about diversity. We're on the right path," she says. "I'm in a place where people care about understanding how to be better educators."
Focused Scholar and Supportive Mentor
As an academic scholar, Castillo-Montoya thinks beyond her own classroom. But, she says, it is not uncommon for a student to pose a question in class that then inspires an idea for research. In fact, upon her arrival at the Neag School, many of her HESA students expressed an interest in learning more about how their social identities shape who they are, how they interact with others, and, ultimately, how they engage in their practice as student affairs professionals. Immediately, Castillo-Montoya considered how her research in teaching in classrooms with diverse students and her scholarly interest in intergroup dialogue could become a method for teaching within HESA.
Those initial thoughts are now fueling her teaching as well as her research. This past spring semester, Castillo-Montoya was awarded a UConn Reads grant to develop and implement three dialogues on race at the Neag School. She led these sessions with program specialist Danielle DeRosa and in partnership with faculty and staff from the Neag School and the Division of Student affairs. This fall, Castillo-Montoya, along with DeRosa and UConn staff, Charmane Thurmand and Rebecca Herman, will continue this work by launching a revised version of the HESA groups course to incorporate intergroup dialogue as a central feature of the course. Castillo-Montoya is also collaborating with Rincón on a research grant they received as part of the White House Collaborative on Equity in Research on Women and Girls of Color. They will examine how race dialogues may mediate department climates for women of color studying STEM fields in college.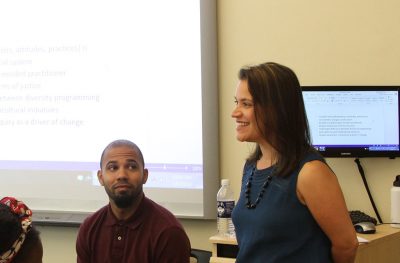 "What I research impacts what I teach, and vice versa," says Castillo-Montoya, who has received special recognition for her teaching evaluations for the past two years from UConn Provost Mun Choi and Vice Provost for Academic Affairs Sally Reislast fall and also was selected by ACPA as one of its 2016-18 Emerging Scholar-Designees. "There's a lot of synergy between the two — they're always speaking to each other in my brain."
The synergy Castillo-Montoya likes to cultivate with students inside the classroom also occurs outside of it. For instance, Castillo-Montoya, along with HESA alum Truth Hunter '14 MA, is working on research about racial microaggression that they anticipate will support practitioners, professors, and administrators alike, who want to alleviate the disempowerment experienced by those who are targets of such incidents.
Hunter, now assistant director of educational opportunity programs at Bard College, was new to research when she joined the project, but says she found in Castillo-Montoya an invaluable mentor who showed her how to practice discipline and time management skills. Castillo-Montoya also led by example, Hunter says, pouring enthusiasm and energy into her work that proved infectious.
"She made it clear that we would share the work 50-50, and that she was going to treat me like a valued colleague," Hunter says. "This way of thinking is rare. Often times, young scholars are only considered as 'assistants,' but she made sure she treated me like an actual partner."
Castillo-Montoya's scholarly focus on inclusive practices and how to incorporate them into diverse classrooms means that her research findings become key components of her course curricula. At the same time, a hallmark of her classes is the attention given to in-depth discussions. In her course "Leading in a Multicultural Environment," students engage in group dialogue beyond class material, around real-world issues such as discrimination and injustice in higher education. Woven into each discussion are higher-level questions where Castillo-Montoya's students are encouraged to incorporate personal experiences into their responses — albeit challenging at first, she says, but by the end of the semester, they are much more comfortable discussing such heavy topics — even when they disagree. One of the most important skills they learn, she says, is how to talk through disagreements.
Fostering this ability in students requires Castillo-Montoya to connect with her students on an individual level, says Alessia Satterfield '16 MA, a recent Neag School graduate.
"There is no 'one-size-fits-all' mentality because Dr. Castillo-Montoya invests in every student based on where they are in their own journey. She always asks and follows up about life outside of class," Satterfield says. "There is more than just teaching going on in her classroom; there is constant love and support."
"The Neag School is thinking hard about diversity. We're on the right path. I'm in a place where people care about understanding how to be better educators." Milagros Castillo-Montoya, assistant professor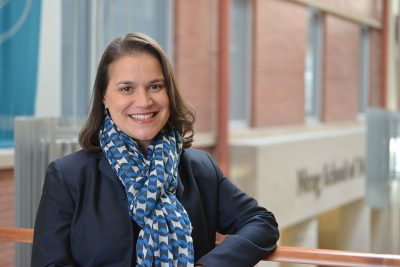 Inclusion Versus Isolation
Growing up in Jersey City, N.J., and experiencing a range of perspectives and backgrounds was a part of everyday life for Castillo-Montoya. Attending school was a lesson in diversity — not due to the material taught in class, she says, but through her interactions with fellow students, among whom a plethora of religions, languages, cultures, ethnicities, races, and sexualities co-existed.
"I knew a lot about other cultures through conversations outside the classroom, but not through [class] material. I didn't know that could've been incorporated," she says. "It made me someone who was really interested in and valued differences. I never viewed differences as a bad thing, but rather as a resource and an opportunity."
However, that inclusive, multicultural environment that Castillo-Montoya had become accustomed to all changed when she entered college. It was a dramatic change, she says, to become immersed in an environment where certain groups of students felt disconnected — even isolated — from the larger campus community.
Seeing other minority students struggle in this environment, Castillo-Montoya's honors thesis and project became devoted to studying the campus climate for Latino students. As her education progressed, she broadened her academic focus to include the education experiences of all minorities. Castillo-Montoya went on to receive a master's degree in social work from Rutgers and a doctorate degree in education in higher and postsecondary education from Columbia University.
While these personal experiences have certainly come to shape her research interests, they also have come to play a central role in her philosophy inside and outside the classroom. To Castillo-Montoya, her students' unique set of beliefs, values, and experiences allows them to serve as a resource — one that improves student learning as well as her own approach to teaching.
"I wouldn't be who I am," she says, "without this diversity."
To learn more about the Neag School's HESA program, visit hesa.uconn.edu. Follow Dr. Castillo-Montoya on Twitter at @DrMontoya2.