Editor's Note: Best-selling author, former third-grade teacher, and Neag School alumna Lynda Mullaly Hunt '88 (ED), '97 MA authored the following piece on the value of teaching, which was originally published in the September 2016 edition of the National Council of Teachers of English's peer-reviewed journal, Voices from the Middle. Mullaly Hunt is the author of middle school-aged novels One for the Murphys, and Fish in a Tree. Access the original piece by Mullaly Hunt via the NCTE website.
I remember an especially bad day as a third grader. While the class lined up to go to music class, I counted the lines on the floor, jumping a bit when I sensed movement out of the corner of my eye. At first, I didn't understand why my third-grade teacher held out her hand to me. My gaze crawled to her face.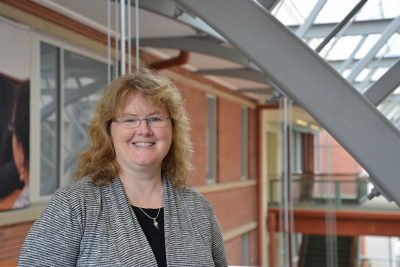 "You ready?" she asked, with a tilt of her head and a half-smile. I took her hand and held it all the way to music. As the last student into the music room, I still remember having to tell my hand to let go.
That teacher didn't change my life that day, but it was a branch. I have said for years that my teachers were like trees; all my life, I have swung from branch to branch, teacher to teacher, and many gave me something to hold on to. I am who I am today because of those kindnesses.
Please keep in mind that teaching is a profession that requires an intelligent and creative mind, a caring heart, and at least a four-year college degree. However, it doesn't pay like it. It's time-consuming, emotionally draining, and isn't appreciated enough by those outside of education. However, it is also incredibly rewarding and exhilarating. It's soul-building.
Teachers can change a day for a kid, as my third-grade teacher did for me, and that's great. But when teachers make an impact on many different days strung together … well, then they change lives.
What a teacher says sticks. That's why the good ones are vigilant in spending their words carefully. That old saying that begins, "Sticks and stones" isn't true. Words have enormous power and the best teachers know how to use them. Words can change a kid's perception of the world — or of himself. That's powerful stuff, life-altering, world-changing stuff.
As teachers, we know we sometimes have kids who do not have emotional safety nets at home and so our impact is even greater. As Nicholas Ferroni (2015) said, "[Kids] who are loved at home come to school to learn. [Kids] who aren't come to school to be loved." The student learns best when the child feels happy and whole. Really, could there be a better gift for a child? It lays the foundation for everything else — including academic success.
And the thing is, many of the children we help won't even realize the ramifications until years later, which brings me to the sweet memory of the pictures and notes I received from my students over the years. I hung them on the door behind my desk. But, being that former child, I never let myself forget. Teachers know that it's the kids who don't write you letters or draw you pictures who often really need you.
Some of the most powerful things conveyed by teachers are said without saying anything. When a teacher takes a hand, she says, I see you. When he gives a student an assignment back and asks for a redo, he says, I believe in you. When she stays up late, studying everything there is to know about a topic so she can answer questions and spark further discussion, she models enthusiasm for learning. When he creates engaging units and provides surprising facts, he fosters curiosity.
When she gives an assignment meant to be shared with others, she shows us we have a voice that matters. When she encourages thinking out of the box, she fosters creativity. When he compliments us on our work ethic rather than our talent, he shows us that we determine for ourselves how high our dreams can take us. And … when he hands us the book, just the right book, specifically for us, it can be the beginning of, well, everything.
"Words have enormous power, and the best teachers know how to use them. Words can change a kid's perception of the world — or himself. That's powerful stuff, life-altering, world-changing stuff."  Lynda Mullaly Hunt '88 (ED), '96 MA, author
Fish in a Tree was born from such a book and from such a teacher. That novel of mine is a much-too-late thank-you note to my sixth-grade hero who — and don't doubt this — saved me. Mr. Christy smiled when I walked into the room every morning. He arranged for me to tutor first-graders in math. I took his trust in me seriously, and I think I grew three inches just because my back was straighter.
One day, he handed me a book entitled Tales of a Fourth Grade Nothing by Judy Blume and asked that I go home and read it. When I asked why I should, he leaned forward, locked eyes and responded, "Because I think you can … And I want you to try." Honestly, I would have pushed a mountain down the street if he'd asked me to, just because he'd cared enough to ask.
This book led to others and soon, I discovered a book entitled The Cay by Theodore Taylor, and, boy, was I hooked. I read it 18 times in a row. As an adult, I realize that The Cay is about a boy learning to accept help that he doesn't initially want. I have to believe in some divine intervention that brought me a love of that book and that teacher at the same time. Studies of the effects of reading fiction on the human brain have proven that children can learn these skills of bravery and resilience by reading about characters who have that journey. I know the book helped me learn to open up that year. To be honest, prior to sixth grade, I hadn't always been the easiest kid to help.
Soon after, Mr. Christy said he was proud of me after seeing my Smithsonian-worthy book report project. I did not respond. He laughed a bit, telling me that it was customary to say thank you after receiving a compliment. I still didn't respond. Or rather, I couldn't. While writing Fish in a Tree, I drew upon the emotions of this day when I wrote, "I have both too many words and not enough."
Later, I had two teachers in middle school who carried on his tradition, two more necessary branches.
Then it was on to high school. I entered Carol Masonis' 10th-grade algebra class having barely passed math the previous year. She was not a hand holder. She swung a wooden pointer as she walked up and down the aisles, using it to slap desks to ensure attentiveness. She held a high bar of expectation for math and respect of others and for ourselves. She took guff from no one. And if you were chewing gum, you'd better have some for everyone in the class and double for her. She was tough.
But kids have excellent authenticity detectors. I knew this teacher was the real deal. She cared about us, although I don't recall her ever saying that outright. However, she did call me to her desk one day, held up a quiz that I'd received a 100 percent on, made eye contact, and told me what a good math student I really was. I would receive a 100 percent on every test/quiz thereafter.
However, what really floored me were the stories told about her at our high school reunion. It turns out that the things she did for me were minimal compared to what she did for others. In us, she created a band of future teachers who wanted to make the world a better place for kids who are usually invisible. Just like she had.
Mrs. Masonis understood two important truths: One, the highest compliment a teacher can pay is high expectations. And, two, if we strive to see the child first, the student benefits. There are so many children out there longing to be seen, and many of them are taller than we are. This very human need doesn't end in elementary school.
As a public speaker and writer, these teachers are still with me as I take what I've learned from them and pass it on. I hope that, as an author, I can impact kids with my books, but, no matter what that impact is, it doesn't compare to being there. Every day. Having the ability to look kids in the eye, take them by the hand, build them up, spur them on, be their cheerleader, or buoy them when they need it. Extend branches.
There is no substitute for showing up in person. Thank you for doing that.
You matter. You are impacting lives every day in both the small things you do and the big ones. By the end of your career, just imagine how you will change the world.
Who knows? Maybe one of your students will write a book to thank you one day.
Originally published in Voices from the Middle 24.1 (September 2016), pp. 17-18. Copyright © 2016 by the National Council of Teachers of English. Used with permission.
Access the original Voices from the Middle piece here. Follow Lynda Mullaly Hunt on Twitter at @

LynMullalyHunt

, or visit her website at lyndamullalyhunt.com.
Learn more about the Neag School's teacher preparation programs, including the Integrated Bachelor's/Master's (IB/M) program and Teacher Certification Program for College Graduates (TCPCG).
Click the images below to check out other stories and videos featuring Neag School alumni talking about the value of teaching: