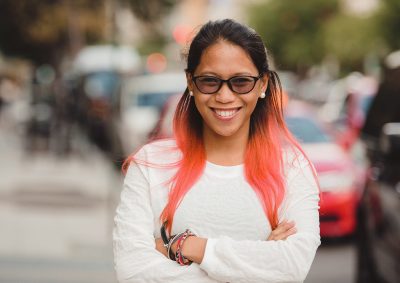 As part of an international initiative co-sponsored by the U.S. Department of State and espnW, Neag School faculty members Jennie McGarry and Laura Burton, along with UConn Associate Athletic Director Ellen Tripp, will be serving in the coming weeks as hosts for the Global Sports Mentoring Program (GSMP).
Now in its fifth year, the program brings together emerging female leaders from around the world with leading women executives and experts working in the U.S. sports industry. GSMP seeks to empower these emerging leaders to serve their local communities by increasing access to, and opportunities for, participation in sports — and, ultimately, inspiring women and girls around the world. The University of Tennessee's Center for Sport, Peace, & Society serves as a cooperative partner for GSMP.
"This is empowerment for me — to go from being a victim to someone who could make a real difference in my society."  Jessica Wu, Global Sports Mentoring Program emerging leader
McGarry and Burton, both professors in the Neag School's Department of Educational Leadership, were invited to serve as 2016 program mentors for emerging leader Jessica Wu, regional coordinator for Let's Do It! Philippines, women's rights advocate, and a football master trainer for the ASA Foundation/Asian Soccer Academy. Wu is one of 16 women tapped as 2016 GSMP emerging leaders, all of whom have three or more years of professional or volunteer experience with a sport-based development organization. Each selected emerging leader must identify a key challenge facing girls and women or people with disabilities in her home country.
Join a Welcome Reception for Jessica Wu
Time: 10:30 a.m. – Noon
Date: Tuesday, Oct. 18, 2016
Location: Gentry Building, Room 144, UConn Storrs campus
Opening Doors for Girls and Women
For Wu, gymnastics, taekwondo, and soccer offered her a much-needed outlet throughout her youth, when she was enduring discrimination, harassment, and grief. Her experiences in sport and education, she says, convinced her to become a voice for women.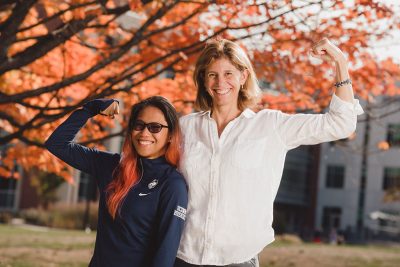 "There is too much silence when it comes to women's issues," Wu says in her featured GSMP emerging leader profile. "That is why it is my mission to help oppressed women and children. This is empowerment for me — to go from being a victim to someone who could make a real difference in my society."
According to the U.S. Department of State's Bureau of Educational and Cultural Affairs website, girls who participate in sports are more likely to attend school and participate in society. "When women and girls can walk on the playing field, they are more likely to step into the classroom, the boardroom, and step out as leaders in society," the website states.
After attending next week's annual espnW: Women + Sports Summit in California, an event that unites female athletes, leaders in sports, and other industry leaders, Wu will arrive at UConn to spend three weeks immersed in various learning and networking experiences with McGarry and Burton as her host mentors, as well as with Tripp.
Wu will consult with these mentors to develop an action plan focused on creating a rehabilitation and reintegration center that will serve victims of sexual assault in the northern region of the Philippines. She will present her action plan at UConn in early November before giving a formal presentation in Washington, D.C., at the conclusion of GSMP.
The Neag School will hold a welcome reception for Wu from 10:30 a.m. to noon on Tuesday, Oct. 18, in Gentry Room 144 on the UConn Storrs campus, and will share more information on this and other GSMP-related activities in the coming weeks.
Learn more through this featured GSMP video or visit the U.S. Department of State's GSMP website. Or, check out GSMP on Facebook. Read more about Jessica Wu here.