Editor's Note: This past summer, the Neag School of Education welcomed Professor Gladis Kersaint as dean. Dean Kersaint most recently served as professor of mathematics and associate dean of academic affairs and research for the College of Education at the University of South Florida. Here, she sits down to share insight into her background as well as her vision for the Neag School going forward.
Q: How did you come to pursue a career in the field of education, and specifically in the discipline of math?
A: As a student, I had always excelled in mathematics and was often encouraged to pursue career options that would enable me to utilize those skills. Although I've always known I wanted to teach, I was influenced by others who saw the potential in me, as a black female, to be successful in technical fields — computer science or engineering, for example. So as an undergraduate, I majored in mathematics with a minor in computer science. I also had an opportunity to work in industry, which allowed me to consider what I really wanted for my life. Ultimately, I decided that, over the long haul, I wanted to pursue a career that I could be passionate about. For me, that was teaching. So, I became a high school mathematics teacher, then a mathematics education professor.
Q: What kinds of issues in education have been of the greatest interest to you and your scholarly research up to this point in your career, and why?
A: I believe all students can learn mathematics if they are taught the subject matter in an engaging manner. Because of that, I have spent my career as a mathematics teacher educator examining factors that influence mathematics teaching and learning — for example, how we prepare teachers of mathematics, how we support at-risk learners (including English Learners in mathematics classrooms), and how technology can be used to support mathematics teaching and learning. Overall, the aim of my work has been to improve access and opportunities for students to fully engage in, and excel in, mathematics.
I also believe supporting teachers in their work and providing them professional development opportunities — to collaborate to improve the context for learning, to continue to explore pedagogical approaches to help students make sense of mathematics, and to grow professionally — is the best approach to ensuring that students are given the best opportunities to learn mathematics.
"I see the Neag School role as not just doing, but leading — that is, leading efforts to generate new knowledge, influence practice, and inform the public discourse."  Neag School of Education Dean Gladis Kersaint
Q: What specifically about UConn's Neag School of Education and its work drew you to learn more about the position of dean?
A: I have been an administrator for a number of years and had been encouraged to pursue a deanship for several years. I was fortunate to have had a great professional home at the University of South Florida (USF), so I had decided that I would not leave USF unless I had a compelling reason to do so. The University of Connecticut provided that compelling reason. Overall, having a position as a dean was not the most important thing to me. It was finding a dean's position at the appropriate institution.
As I engaged with UConn, I learned about the growth it had been experiencing and the direction it was taking. I also found that the University's interests and the Neag School's strategic plans were well-connected to my own interests; they were something that I could get behind. As I learned more about the Neag School, I was drawn in by the people. Everyone I met was very positive about the School and its outlook. The School's scholars are all well-respected in their field, are doing wonderful work, and had very positive views about the School.
I accepted the position because I felt it was a space in which I could contribute and continue to learn and grow.
Q: What has your experience as dean of the Neag School been like so far? What have you enjoyed most during your first few months in this position?
A: Thus far, my experiences have been fantastic. Coming from Florida, I have much to learn about Connecticut and its education system, the University, and its faculty. Over the past several months, I have been listening and learning, which I have been really enjoying. I have committed to meeting each faculty member for one-on-one conversations to learn about them and their vision for the Neag School. So far I have met with many faculty and all of the Neag School staff, and our conversations have helped me to identify areas in need of attention as I collaborate with faculty and staff to enhance the reputation of the School.
I have also been meeting with the various professional groups that represent our various constituents, including the Connecticut Association of Boards of Education, Connecticut Association of Schools, members of the Connecticut State Department of Education, as well as deans from other public and private colleges and schools of education across the state. These conversations have helped me to better understand the schooling context in Connecticut and allows me to consider the ways in which the Neag School can collaborate with others to enhance opportunities for teachers, leaders, school counselors, sports managers and other service providers, and learners.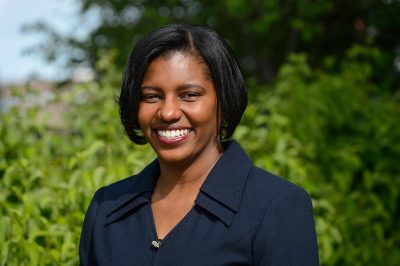 Q: What strengths will you bring to the deanship?
A: I come to UConn with a history of collaborative engagement with key stakeholders. My own scholarship has involved collaborative efforts with other faculty, other university units, other universities, and a broad range of school districts in various contexts, including rural, suburban, and urban. These experiences provide insights I can use as I learn more about Connecticut and its schooling context, and positions me to be a contributor in addressing some of the challenges facing education today.
From the administrative perspective, I have served in a number of administrative roles, including associate dean, that have exposed me to all aspects of higher education — from research to personnel and building support and service structures. In addition, I was fortunate to have been one of the inaugural participants in USF's Professional Development in Higher Education Leadership program, which exposed me to aspects of higher education that I would not have been exposed to as an administrator in the college of education. There were sessions that included topics like athletics, health sciences, and risk management.
Having a broad understanding of all key facets of the higher education enterprise provided me with a greater understanding about how all the various components fit together and can be leveraged to support the overall enhancement of the University.
Collectively, I hope to use my knowledge and experiences to make sound decisions to enhance the programs and provide greater opportunities to faculty, staff, and students.
Q: What would you like the Neag School's faculty, students, and alumni to know about your vision for the School going forward?
A: I see the Neag School role as not just doing, but leading — that is, leading efforts to generate new knowledge, influence practice, and inform the public discourse. The faculty and students in the Neag School are doing wonderful things, and it is my goal to enhance their visibility and impact, while generating new sources of funds to support them in achieving their goals.
Q: What sorts of initiatives are you interested in seeing the Neag School establish in the next few years?
A: Although I am still continuing to listen, learn, and solidify ideas, I have identified two areas in which I would like to focus my attention.
First, I have heard from many stakeholders of the need to diversify the educator workforce. This is an area in which the Neag School has made great strides: For example, 20 percent of our Fall 2016 cohort are students of color. But we will continue to explore ways to support diversity by actively recruiting high-quality students of color — as well as men of all races to become elementary school teachers, which is another area of need.
Second, I would like to expand opportunities for Neag School students to engage in global education opportunities. Global education experiences allow our students to gain a greater understanding about the world and to begin to consider their roles in preparing students to be competitive, not just in the local environment, but throughout the world.
Q: What do you believe are the most important challenges facing the Neag School at this time in its history?
A: A challenge for the Neag School will be prioritizing the issues that the stakeholders would like to address and opportunities that may be available. As I talk to stakeholders, I learn of the many ways in which they would like to partner with the Neag School faculty to solve important and timely issues. Although we recognize the need, we are often limited by the resources — human, fiscal, and capital. We must continue to deliver high-quality programs while we engage in rigorous research. Unfortunately, this means that we can't do all the work that we are interested in doing.
Q: How would you define success for the Neag School?
A: Success, to me, is defined by the success of our faculty and students, the ways we engage with and contribute to the local and national context, and in our attention to our four pillars — equity and social justice, creativity and innovation, educator quality and effectiveness, and STEM education.
Q: What is most important to you as a leader?
A: That I leave the Neag School in a better position than it is today. This will be a challenge because the Neag School already has a great reputation, great faculty, and great students. My job as a leader will be to see potential and provide opportunities to grow, enhance, and excel.