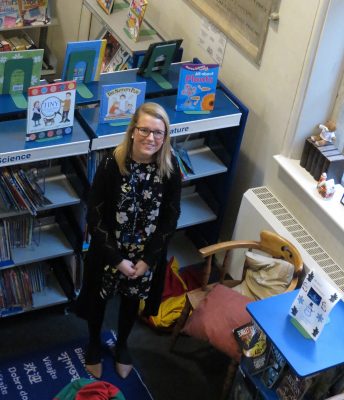 Caroline Katzman '15 (ED), '16 MA spent the fall semester of her master's year in England as part of the Neag School's Study Abroad Teaching Internship Program. In England, Katzman interned at Roxeth Primary School, a highly diverse, multifaith school in suburban London, where about 40 different languages are spoken by the student body. She is a graduate of the Neag School's Integrated Bachelor's/Master's program.
Hometown: West Hartford, Conn.
Concentration: Elementary education
What made you decide to pursue a degree in education? "I always needed extra assistance in school; I would get pulled for literacy groups, things of that sort. I was always lowest in math, so I was used to having extra attention, and I think with those types of relationships with my teachers and with the support staff, I was able to gradually become a great reader, and enjoy it, and love it — and the same thing with math. So I think that definitely contributed to it, and just a love of kids, being able to mold how people see their education, how it can be a pathway to not just being smart, but really finding things that they love."
How did this internship experience compare with your student-teaching experience during your senior year in the IB/M program? "With student teaching, you knew what you had to do. You're like, 'OK, I'm planning for tomorrow. I need lessons for this, this, and this. I need to kind of get in touch with this parent, or do this, or do a paper for a class.' Whereas here, you really had to advocate for yourself — which was different, but it's such a good lesson. If you want to do something, then you need to get in touch with this person and talk to her, and set it up, which was important, because I've come to see that's the only way things get done. I think on a personal level, it's been really good learning how to manage relationships. And if there is something that interests you, then you need to voice that."
Have your perceptions of education changed at all over the course of your time interning in London? "The teachers' relationships [here in London] aren't as personal with their students. But [I] came to see that it's not wrong; it's just we are so used to what we've seen at home [in the States]."
"I've learned how to push through my comfort zone. I've learned to be more empathetic and understanding toward others."  Caroline Katzman '15 (ED), '16 MA
How will you take what you've learned in London and apply it in your own classroom when you start your career in the States? "I'll really try to foster a sense of understanding amongst [my students] … to really instill that you need to get to know people before you make assumptions or judgments."
What would you change about your time in London, if anything? "I got here, and there were so many amazing opportunities that I think if I had a more set purpose for myself, it could have been a little different. I would have been more in one concentrated area. But it's been so special for me because I've kind of divided my time; I spend some mornings with a girl I've grown really close with who has epilepsy. And then other mornings I'll just do guided reading in the classsroom. So I've kind of tried to divide time so I can see the most."
How has this experience influenced or shaped you personally? "I've learned how to push through my comfort zone. I've learned to be more empathetic and understanding toward others through my classes. … And [through] the Neag School in general, we're put in contact with so many amazing teachers and provided with so many resources. There's help whenever you need it. So finding confidence and finding a voice."
Read about the experiences of other Neag School students studying abroad as part of the London Teaching Internship Program.