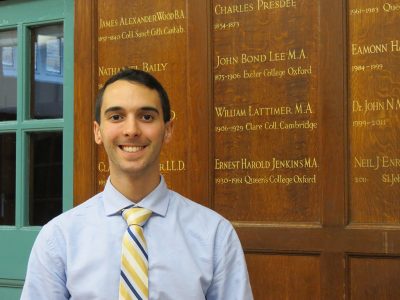 James DiNello '15 (ED), '16 MA spent the fall semester of his master's year in London as part of the Neag School's Study Abroad Teaching Internship Program. In London, DiNello taught at Queen Elizabeth's School, a highly selective all-boys' school in north London with 1,200 students ages 11 to 18, whose population is composed of 92 percent minority ethnic groups, and a longstanding record of being one of the most academically successful secondary schools in England. He is a graduate of the Neag School's Integrated Bachelor's/Master's program; he now serves as a teacher at the University High School of Science and Engineering in Hartford, Conn.
Hometown: Southington, Conn.
Concentration: Mathematics Education
Why did you decide to explore this Study Abroad opportunity? "I always wanted to study abroad. I felt like this was the only and best opportunity to see a different system. I think if I hadn't come here, and I went through my master's year in Connecticut schools, I don't think I had too much more to gain. I had already been in urban and suburban placements, so trying to go out of my comfort zone a little bit and see a different system and environment entirely I thought was an amazing opportunity."
What were some of the differences in teaching in classrooms in the U.K.? "London is such a diverse community, whereas some of the suburban schools at home [in the U.S.] might not feel that cultural competency, diversity, and learning about other religions is as important. But I think it's essential for every student to learn pieces of that curriculum. … Talking to the students here, seeing the perspective they have, thinking back to when I was 14 or 16 years old, I think, 'Wow, these kids really have such a better understanding about other cultures and religions.' Our public schools [in the States] don't provide that.
Students are also really competitive at home [in the States] when it comes to grades. But the grades aren't what matters so much here, as that the students are learning the material that they're supposed to be learning. It's not just about getting an A, and saying, 'That's good enough; I've gotten an A.' It's, 'Am I reaching my goal to maximum potential?'''
"I felt like I was having an impact. I was excited to come to school every single day."  James DiNello '15 (ED), '16 MA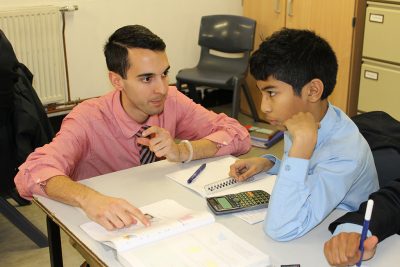 What has surprised you the most? "I pictured myself walking into a building with all-white, middle- and upper-class students. I was completely shocked. [The student body at Queen Elizabeth's School is] 92 percent minority — I never would have assumed that. That was the piece I thought I was going to miss out on: Going to London, I wanted to be with a diverse population of students from different backgrounds. …
And I see in math classes that there's never a finishing line to the lesson. Here, they're always pushing the kid that finishes first to do an extension exercise, or push them to their maximum potential. So that's been really cool to see, like that's something that needs to happen more at home [in the U.S.]. We focus a lot on pulling up the kids that are toward the bottom, and looking at the kids who are struggling, which is doing a disservice to kids who are performing really well and could be pushed even further."
What would you change about the experience? "There's really very, very little I would change. At the beginning of the internship, I was like, 'OK, how are we going to get ourselves fully involved here? Where are we going to find our place?' But I think that's natural. It takes a couple of weeks in a new environment, with a completely new demographic of students, to find your niche. But once [I] found that, I had a good mix of being in the math department for part of the day, but also helping the older students in applying to American universities. I felt like I was having an impact, even if it was only on a couple of students at a time. I was excited to come to school every single day."
What's one takeaway from this Study Abroad experience that you will carry with you into your career? "That aspect of needing to push every single student in your classroom. It's not OK to just be focusing on the bottom [performers]; every student needs to be having valuable lessons, and taking away equally as much as any other student. … The other takeaway would be the ability to see what real diversity looks like in a classroom. Again, I had an experience at East Hartford High School for my student teaching, but even then, the kids came from different backgrounds from me, but they all came from similar backgrounds to one another, whereas [in London], kids are coming from very different background from one another; socioeconomic status varies greatly among the students, religion, cultural background. There are a lot of students who aren't even from London, who have come from other places as well. So trying to figure out the best way to cater to all of those needs, ways to differentiate lesson plans, ways to get everybody involved, and create a culturally responsive community in the classroom, where there's a mutual sense of respect between the students regardless of how different they all are."
What advice you have for someone coming here? "Don't be afraid to approach a teacher, and say, 'Can I sit in on this class once a week?,' or, 'Can I get involved?' … You're not stepping on anybody's toes. That was me at first."
Read about the experiences of other Neag School students studying abroad as part of the London Teaching Internship Program.