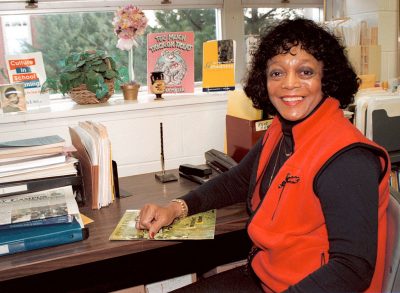 Alexinia Young Baldwin '71 Ph.D., professor emerita of the Department of Curriculum and Instruction, died on Jan. 21, 2017. She was 91.
An internationally recognized expert in curriculum development and instructional theory for gifted and early childhood education, Baldwin earned a Ph.D. from the Neag School under Professor Joseph Renzulli. She began her teaching career at the height of the civil rights movement as an instructor of the first class of black gifted students in Birmingham, Ala.
Baldwin returned to the Neag School in 1988 as a professor of curriculum development and theory, where she remained until her retirement in 2003. She also served as department head from 1988 to 1994. Her research focused on the education of gifted students, specifically on the recognition and development of the academic talents of children from minority groups.
From 1998 to 2000, Baldwin served as a Consultant to the United States Office of Civil Rights and had a lifelong involvement in pursuing human rights and equity for all individuals — which included actively participating in civil rights marches during the 1960s. In addition, she served as chair of the UConn Chancellor's Commission on the Status of Women and held offices in many professional organizations, including serving as president of the Capital District Chapter of 100 Black Women and as a board member of Connecticut Women's Hall of Fame Foundation.
"[Professor Baldwin's] colleagues considered her a role model, a leader, and a pioneer in her field." Professor Mary Anne Doyle
Baldwin served as a visiting professor of gifted education at numerous higher education institutions — including Purdue University, the University of Melbourne, and Tartu University in Estonia. She was an advisor and mentor to many students as well, and was instrumental in establishing and supporting the Philo T. Pritzkau Fund, a scholarship fund that supports graduate students in the Neag School.
In 2004, the Neag School honored her with the Distinguished Alumni Award. She also was named an outstanding Connecticut Woman Graduate in Leadership; a member of the Martin Luther King Colloquium of Scholars at Morehouse University; and a 2004 Distinguished Scholar by the National Association for Gifted Children. An active member of the community, Baldwin was involved with the UConn Foundation's Close to Home Committee and the Mansfield Downtown Partnership.
"Alexinia was an enthusiastic professor who embraced her opportunities to teach our students, conduct research, and contribute to our School and her professional organizations," says Mary Anne Doyle, professor and head of the Department of Curriculum and Instruction at the Neag School. "Her colleagues considered her a role model, a leader, and a pioneer in her field. Always a woman of style and grace, she was valued for her mentorship and lovely sense of humor. And, if the Huskies were playing at home, Alexinia was there, cheering on her favorite team."
She received master of arts from the University of Michigan and her bachelor's degree from Tuskegee University.
Visitation hours are scheduled from 5-7 p.m. on Friday, Feb. 3, at the Potter Funeral Home in Willimantic, Conn. A memorial service will be held at 2 p.m. on Saturday, Feb. 4, at St. Mark's Episcopal Chapel on the UConn Storrs campus, with burial to follow. Further details will be made available via the Potter Funeral Home website in the coming days.