Editor's Note: The following excerpt — which features Neag School Class of 2017 music education major Jamie Wisset — originally appeared on UConn Today as part of a larger piece on Commencement 2017. 
For UConn's Class of 2017, it was a year full of surprises. From Donald Trump's poll-defying victory over Hillary Rodham Clinton to the UConn women's basketball team's historic 111-game winning streak, expecting the unexpected almost became standard.
And just when summer-like temperatures teased students with signs of spring one week in March, near blizzard conditions welcomed them the next.
March Madness indeed.
When it comes to exceeding expectations, the Class of 2017 set one record of which it can certainly be proud.
More than 9,000 degrees – both undergraduate and graduate – are being awarded this year, which is the highest number of degrees conferred at UConn in the University's 136-year history.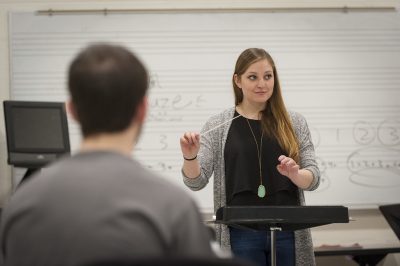 Jamie Wisset
Music Education Major
Member of UConn Choir
Member of the Alpha Epsilon Phi Sororit
Member of The Chordial
What was a defining moment during your time at UConn?
I don't think that I have had one singular defining moment while I have been at UConn. Being at UConn has definitely helped to shape me into the person that I am today, but there have been many amazing moments that have had a lasting impact. Among some of these moments was joining my sorority, Alpha Epsilon Phi where I met some of my closest friends and had many leadership opportunities and amazing memories. Another moment was joining the a cappella group, The Chordials. Being a part of the group has given me the chance to perform with many talented people and has helped my confidence grow hugely.
Who have you met here who has already had an impact on your future?
I have met so many amazing girls in my sorority and my a cappella group. Some of these girls have become my roommates and best friends, and I'm sure they will be my future bridesmaids. Many of the teachers in the music program have also helped to shape who I am. They have showed me what it means to be a true leader and I have learned so much from them.
As an active member of the UConn Choir, what did you enjoy most?
My favorite part of being in UConn Choirs was traveling to Ireland and Germany last spring break. It was really fun getting to explore Europe with my friends while also getting to sing in some of the most famous churches in the world. It was also a great bonding experience that made our choir sound even better than it already did.
Where are you headed after graduation?
I am actually in the five-year Music Education Program, so I will be at UConn for another year pursuing a master's degree in education. After my fifth year, however, I hope to be teaching elementary general music.
What will you miss most about UConn?
There is a lot about UConn that I will miss. I will definitely miss always being on the beautiful campus and all of the opportunities that being here has provided me, but I think that the thing I will miss most is getting to see my friends every day.