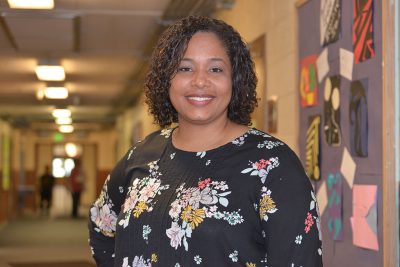 Since 2015, Monique Duzant-Hastings '17 MA has been working with students in grades 5 through 8 who have social, emotional, and behavioral needs. Thanks to the Neag School's new partnership with her employer, the LEARN Regional Educational Service Center, she has now found a way to advance her career by pursuing certification as a K-12 special education teacher — at no cost to her.
The new partnership offers LEARN personnel like Duzant-Hastings — a busy mother of three — the opportunity to apply for admission to the Neag School's Teacher Certification Program for College Graduates (TCPCG) in special education at UConn's Avery Point campus. TCPCG is a full-time, 11-month program that leads to a master's degree in curriculum and instruction as well as recommendation for teacher certification by the state of Connecticut. It is designed for people who already have earned an undergraduate degree and are interested in pursuing the other requirements necessary to teach in Connecticut. This is the first time TCPCG has offered a concentration in the discipline of special education at UConn's Avery Point campus.
Duzant-Hastings' employer, LEARN, is a regional nonprofit educational service center that primarily serves special education students in southeastern Connecticut. It serves its districts by sending educators to professional development sessions and by conducting specialized evaluations and consultative work. It also runs outplacement programs to which school districts send students with social and emotional needs for specialized work.
Its employees are required to have at least a two-year or bachelor's degree. Through the new partnership with the Neag School, they can now obtain a master's degree through TCPCG — and have their tuition reimbursed, provided that they commit to working for LEARN after completing the program.
"The honor of being a TCPCG student and joining the UConn Husky family was an opportunity I could not resist."
— Monique Duzant-Hastings '17 MA
Applicants like Duzant-Hastings made the grade, says Bridgette Gordon Hickey, associate director of LEARN.
"We look for things you can teach — as well as the things you can't," she says. "Monique came to us with things you can't teach, like having high expectations."
Moving Her Career Forward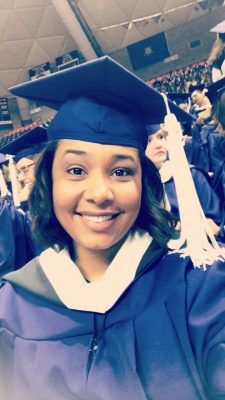 After spending about six years working as a job coach for people with disabilities, Duzant-Hastings transitioned to the field of behavioral intervention, working as an intervention specialist with LEARN, initially at New London Clinical Day School and later at the Dual Language & Arts Magnet Middle School in Waterford, Conn. Upon successful completion of the master's degree, she will be able to apply for certification with the Connecticut State Department of Education (CSDE) — ultimately going from serving as an intervention specialist to being able to teach K-12 special education.
"LEARN provided me with my first opportunity to make a difference in the lives of students who had basically given up on themselves," Duzant-Hastings says. "The experiences I had working at that small school resonated with me and laid the foundation for the career that I am now pursuing."
As an intervention specialist, she has been responsible for implementing and following behavior intervention programs for students who require special education services. She also has worked one-on-one with students who require intense interventions.
"I frequently reflect on those experiences and use them as guidance," Duzant-Hastings says. "LEARN introduced me to the field of special education, and I am excited to further extend my career to teaching special education."
The program focuses on two components: specific education coursework and a supervised clinical experience. The first cohort of LEARN personnel — composed of five students, including Duzant-Hastings — started last summer and graduated this past May. They took a hybrid of courses with fellow TCPCG students who are pursuing careers as science teachers. The next LEARN cohort, which begins the program this month, will have a modified course schedule with greater focus on special education.
LEARN employees participating in TCPCG take a leave of absence during the fall semester in order to complete the 12-week student teaching program component, which involves working at two alternative sites. This enables enrollees to remain classified as LEARN employees and still receive benefits such as health insurance.
According to Megan Pichette, TCPCG program assistant at UConn's Avery Point campus, the pilot proved to be "a win-win" for the Neag School and LEARN. While LEARN acquired qualified special education teachers through the partnership, the pilot attracted new students to the Avery Point program.
'An Opportunity I Could Not Resist'
A mother of three children, Duzant-Hastings had a difficult decision to make. She understood that she would be sacrificing time with her children due to the rigorous academic schedule of the program.
"After giving it much thought, I simply could not pass up the opportunity presented to me," she says. "The honor of being a TCPCG student and joining the UConn Husky family was an opportunity I could not resist."
During the summer months alone, students are expected to complete 26 credits and attend class — at times, up to six days a week.
"It was extremely rewarding to see that I had a 4.0 GPA and had successfully earned 26 graduate-level course credits while still managing to be a full-time mother," Duzant-Hastings says. "That encouraged me to push forward and gave me the necessary encouragement to continue working toward finishing the program."
To learn more about the Neag School's Teacher Certification Program for College Graduates, visit s.uconn.edu/teach.