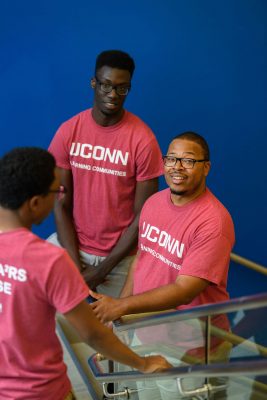 Editor's Note: The following piece, authored by Julie (Stagis) Bartucca '10 (BUS, CLAS), was originally published in UConn Magazine's Fall 2017 Edition. View the original story on the UConn Magazine website. 
Erik Hines is passionate about helping black male students succeed at UConn. The assistant professor in the Neag School of Education says he is on a mission to help attract and retain African-American male students.
As faculty director of the new learning community ScHOLA²RS House, Hines hopes to gain a deeper understanding of the variables that influence positive academic and career outcomes for black males, the subject at the heart of both his day-to-day counseling work and his academic research. (ScHOLA²RS stands for Scholastic House of Leaders in Support of African-American Researchers & Scholars).
"We want to cultivate all of our students to be the best and brightest."
"He is all in," says Sally Reis, the former associate provost who brought Hines in to work on the newest of the University's learning communities. "He is completely dedicated to these young men, focused on their graduation from UConn and their success in graduate school and work. He is passionate, committed, and a remarkably strong mentor."
Born and raised in Tampa, Hines decided to become a school counselor while attending community college there. He went on to earn his bachelor's in social science education at Florida State University, his master's in education for school counseling at the College of William & Mary, and his Ph.D. in counselor education at the University of Maryland. He joined the UConn faculty in August 2014.
Hines says he is doing the work he set out to do at age 19. "My career feels purposeful, fulfilling, and empowering. All I think about now is solutions for improving the graduation rate for black males, recruitment of black males in STEM and career fields in which they are underrepresented, and how we help first-generation and other vulnerable populations be successful, too."
We caught up with Hines over the summer in his Gentry Building office, which overlooks a grassy, tree-lined knoll next to The Benton.
Q: You work with graduate students, preparing them to become school counselors. How has educating them changed with new challenges, such as social media, cyber bullying, and climbing rates of suicide in adolescents?
Hines: Counselors' goals still are variations of making sure students get their needs met socially and emotionally, even outside the school walls, and accountability — ensuring that students not only understand what they need to know to get to the next grade, but also think long-term: What will life be like post–high school?
I would say school counselors are needed now more than ever. When we were in the space race, after Sputnik, the federal mandate came to put in school counselors to identify the best and brightest in science and math [Title V of the National Defense of Education Act, 1958]. Now, we want to cultivate all of our students to be the best and brightest.
Q: Neag's school counselor program emphasizes working with underrepresented students. What are some of the tools that you teach to specifically work with those populations?
Hines: We train students to look at the data, as well as how to collect data of their own through observations in classrooms, surveys, reading articles. We teach them to find literature that supports what they want to do and to address what the data is telling them.