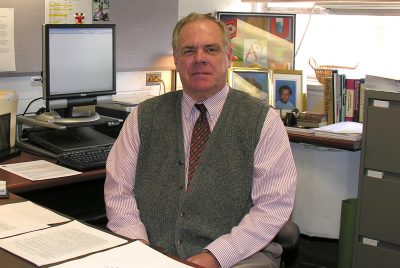 Thomas J. Kehle, professor of school psychology in the Neag School Department of Educational Psychology, passed away on Feb. 7, 2018.
An expert in such areas as cognitive psychology, school climate, assessment, classroom discipline, and behavioral intervention, Kehle joined the faculty at the University of Connecticut in 1987.
"Tom will be remembered for his devotion to his family and friends, and his love for the University of Connecticut."

— Scott Brown, Board of Trustees Distinguished Professor
"Tom had been a professor of educational psychology and the program director of the graduate program in school psychology for over 25 years, where he led the program through multiple APA and NASP accreditation reviews, mentored numerous doctoral and master's students, and guided the development of one of the top five graduate programs in school psychology, nationally," says Scott Brown, Board of Trustees Distinguished Professor of Educational Psychology and department head. "Tom will be remembered for his devotion to his family and friends, and his love for the University of Connecticut."
Kehle was a fellow of the American Psychological Association (APA); the Association for Psychological Science; and the American Association of Applied and Preventative Psychology, as well as a licensed psychologist in the state of Connecticut and previously in Utah and Ohio. He was also a member of the National Register of Health Service Providers in Psychology, a charter member of the Society for the Study of School Psychology, and an honorary member of the American Academy of School Psychology.
He served as an associate editor of psychology in the schools and on the editorial boards of the Journal of Psychoeducational Assessment, Gifted Child Quarterly, and the International Journal of Educational and School Psychology. He had been involved in state, national, and international professional associations, including serving for several years as a folio reviewer for the National Association of School Psychologists (NASP), and as a site visitor for the APA.
He had published more than 185 peer-reviewed articles, chapters, and reviews in the professional literature, and also had presented upwards of 155 papers at national and international conferences. In a recent study, it was determined that he was the second-most prolific contributor to school psychology journals over the past decade. In addition, in the capacity of principal or co-principal investigator, Kehle had secured more than $2.2 million in contracts that primarily were used to support students. His research interests involved evidence-based interventions to promote children's academic and social functioning, and their sense of psychological well-being.
His other honors included having received the Legends in School Psychology Award and the Outstanding Contribution to Training Award, both from the NASP; the 2006 Faculty Excellence in Research Award from the University of Connecticut; and a Reviewer of the Year Award from School Psychology Quarterly.
Kehle earned his master's degree and Ph.D. from the University of Kentucky.