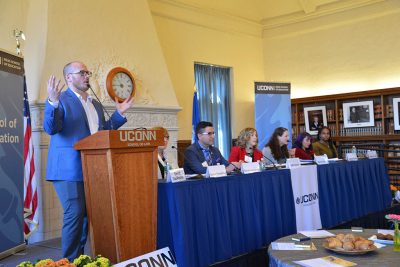 The Neag School of Education hosted more than 150 special education directors, special education advocates, service providers, attorneys, parents, teachers, and school administrators from across the state this past week for its second annual Special Education in Connecticut Summit.
The daylong event, hosted at the UConn School of Law campus in Hartford, Conn., centered on the theme of promoting equity for marginalized students with disabilities, with the intention of "provid[ing] an opportunity for discussion and learning among educators, families and community members, policymakers, and researchers," said Joseph Madaus, associate dean for academic affairs and a professor of special education at the Neag School.
Renee Bradley, deputy division director at the U.S. Department of Education's Office of Special Education Programs, delivered the keynote address, titled "Equal Access to Opportunity — Do We Have What It Takes?"
"We have to realize that education is no longer sacrosanct to many people."

— Howard Klebanoff '62 JD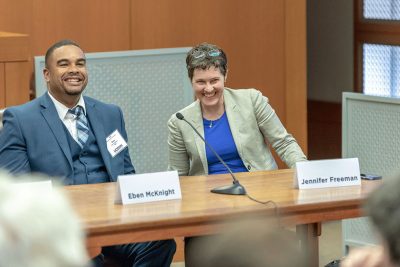 In addition to Bradley's address, an array of school administrators, child and parent advocates, faculty experts, and attorneys served as panelists during a series of discussions about promoting positive school environments, high-quality academic outcomes, and positive behavior among students with disabilities. WNPR's David Desroches moderated the morning panel, leading a lively discussion that involved panelists and members of the audience and touched on such topics as teacher bias, student discipline, school climate, private special education schools, parental rights, and more. Neag School professors Michael Coyne and Brandi Simonsen facilitated the afternoon breakout sessions.
The Klebanoff Institute served as the summit's co-sponsor for the second consecutive year; the Institute was established at the University of Connecticut in 1997 in honor of Howard Klebanoff, a 1962 UConn School of Law graduate with more than four decades of experience as a special education law attorney in the state of Connecticut. Its mission is to improve the quality of educational and other services to children and adults with disabilities and their families by conducting research, disseminating information, and conducting training activities aimed at overcoming legal, ethical, and systemic impediments to such services.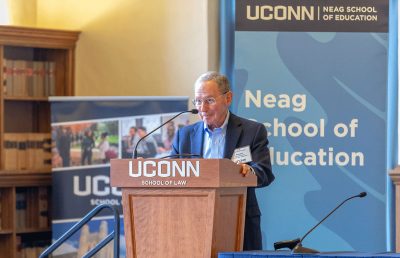 "We have to realize that education is no longer sacrosanct to many people. The cutbacks to funding are staggering, on both federal and state levels," said Klebanoff during his closing remarks. "Educators in particular have to be aware of this and to find ways to collaborate … to find solutions to lack of staff, lack of money; to be flexible and be willing to change the curriculum sometimes; to come up with some innovative ways of providing services — because right now the money isn't going to be forthcoming."
Klebanoff went on to speak about the need for open dialogue between parents, school districts, and educators in addressing the needs of special education students. "If we leave today with one commitment," he said, "it's that we will try to encourage flexibility, openness, candidness, and transparency."
The inaugural summit, held in May 2017, was inspired by the landmark Connecticut Coalition for Justice in Education Funding v. Rell court ruling.
Related Content:
Learn more about the summit, including all co-hosts, panelists, and moderators, at s.uconn.edu/summit2018.