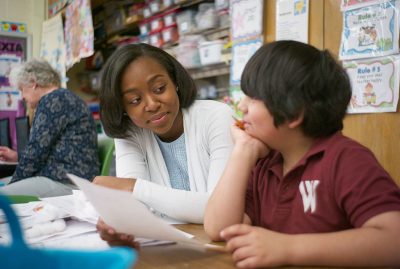 Editor's Note: The following story was originally published in UConn Today.
A lack of diversity among classroom teachers in elementary and secondary schools has long been a national issue. In the state of Connecticut alone, less than 8 percent of teachers are of color, while students of color represent 40 percent of the population.
UConn and the Neag School of Education have made a concerted effort to increase their underrepresented student population, with the long-term hope of closing the gap that exists now in classrooms.
Over the past two years, the percentage of students of color enrolled in the five-year integrated bachelor's and master's program has increased by 10 percent to 30 percent for the class entering this year. And enrollment of students of color in the teaching certificate program for college graduates is now 25 percent.
"We are making strides in a very diligent manner, but we can't sit on our laurels," says Gladis Kersaint, dean of the Neag School of Education. "We are showing others the path on how to correct this issue."
Change has come through hard work and an individual touch through a number of programs. The Neag School of Education has two advisors who concentrate much of their work on the enrollment of underrepresented students – Mia Hines and Dominique Battle-Lawson. They connect with both high school students and UConn freshmen, because students are admitted into the five-year program following their sophomore year.
Both advisors have experience in public schools – Battle-Lawson as an elementary teacher in Bloomfield, Connecticut, for more than six years, and Hines as a school counselor in North Carolina and Maryland.
The pair advise the Leadership in Diversity (LID) program, a student-run mentoring program that focuses on supporting students of color interested in teaching. Each year, LID hosts a Future Educators Conference for local high school students interested in careers in education. The conference now attracts about 100 students.
"We have done a much better job of reaching out to both UConn students of color and those in high schools about Neag School of Education and becoming a teacher," says Battle-Lawson. "Especially for first-generation college students, we need to reach out and let them know about us."
Another effort, called Diverse Educators Making Outstanding Change, partners mentors with students of color who are either enrolled in the teacher preparation program or interested in teaching. Mentors – recent graduates, administrators, and UConn faculty and staff – and students connect to talk about their professional paths as well as issues they may face as being a teacher of color in the field.
The end result of these efforts is to put more teachers of color in the classroom. That's important because numerous studies have shown students do better with a diverse teaching population.
"Student of color benefit from having teachers of color," says Kersaint. "They respond when they are supported by teachers of a like race. It's not just students of color, though. Research supports that all students, no matter what race, benefit from having teachers of color."
Symone James '16 (ED), '17 MA, a fifth-grade teacher at Roger Sherman Elementary School in Meriden, Connecticut, is part of the 8 percent of teachers of color in this state.
"From the time I was a little girl, my dream job was to become a teacher," says James. "Both of my parents were from Jamaica and neither went to college, but they always told me education was important."
"It's really important for students to see windows and mirrors in their teachers. If they can see a reflection of someone like them, it can be very positive."

Symone James '16 (ED), '17 MA
James said a reason that many student of color don't enter the field of education is because of the perception of the job. She relied on many of the resources that the Neag School of Education offers to help support her through her education.
"Teaching is not something that students of color are encouraged to do at a young age," says James. "But, I think it is really important for students to see windows and mirrors in their teachers. If they can see a reflection of someone like them, it can be very positive."
James cherishes the conversations she is able to have with her students in Meriden. "It's important for them to see people of color in a position of success, like a teacher."
That ability to be a role model is something that Tracey-Ann Lafayette '16 (ED), a fourth-grade teacher in East Hartford, saw first-hand with a student.
"There was a little girl from India, and she was so excited because our skin colors matched," says Lafayette. "It really makes an impact."
She says many students of color don't enter the education field because of negative experiences they had of their own in school. When there are negative memories, "a school may be the last place you want to go back to," she says.
Lafayette believes that the efforts the Neag School of Education is making in recruiting students at the high school level is very important.
"We also don't spend a lot of time talking about white students having teachers of color, but that is really important too. It can teach them how important diversity is at a young age."
The Neag School of Education's programs targeting high school students are critical, according to Lafayette.
"By the time students get to college, a lot of people are set on what they want to do, or at least have a pretty good idea," she says. "You have to go a little further back. It's really good to let high school students knows that education is a great option."