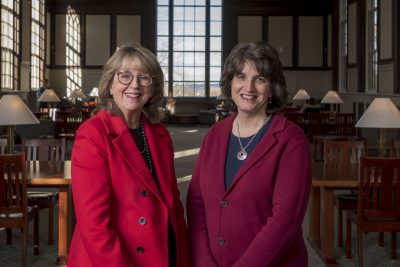 Editor's Note: The following piece originally appeared on UConn Today, the University's official news website.
The University of Connecticut has accepted an invitation to become part of the BOLD Women's Leadership Network. The BOLD program seeks to equip young women at select universities nationwide to be innovative agents of change, both during their college careers and after they complete their studies.
The BOLD Women's Leadership program is funded through a grant from Helen Gurley Brown's Pussycat Foundation, a pioneering program that cultivates courageous leadership and career success in young women during the college years and beyond. Brown, the legendary editor-in-chief of Cosmopolitan magazine, believed that every young woman should have the opportunity to pursue an education and career, and achieve her life's ambitions.
"Supporting and encouraging the next generation of female leaders is a very important part of our mission here at UConn," says President Susan Herbst. "UConn's admission to the BOLD Women's Leadership Network will help us greatly in that effort. All leaders need to actively seek talented women for top jobs. Not simply because they are women, but because they are highly qualified and happen to be women."
"Women bring a different voice and a different concern for what's in the best interest of the planet, in the best interest of peace, and in the best interest of work that makes a positive difference."

—Sally Reis, Board of Trustees Distinguished Professor
Each year, seven UConn female students will benefit from opportunities for career development and support in the form of mentoring, programming, scholarships, funded internships, and post-graduation fellowships.
The first BOLD scholars at UConn will start this spring semester, and student applications are currently being reviewed. Current juniors who are interested for the fall 2019 semester are encouraged to review the UConn BOLD Women's Leadership Network website.
"What we know about women in leadership is that they oftentimes reach a certain point, but  then are held back by various barriers," says Sally Reis, Board of Trustees Distinguished Professor of Educational Psychology, whose scholarship focuses on female talent development. "Sometimes they are family barriers, sometimes they are personal barriers, and sometimes they are internal barriers. Our hope is that exposing a cohort of talented young women to mentors, role models, and leadership training will increase the likelihood that they will become the leaders of tomorrow."
Reis, of the Neag School of Education, and Rachel Rubin, Chief of Staff to the President and Executive Secretary to the Board of Trustees, will lead the BOLD initiative at UConn.
"UConn should be committed to developing a strong program to develop female leadership," says Rubin. "We have many strong female leaders at UConn, including our current president. We have involved deans and department heads, female faculty that are internationally known, to help support a group of young women in our BOLD program who have the potential to excel in leadership."
BOLD Scholars also have the opportunity to apply for generous funding – "Magic Grants" – from the Foundation to support efforts to serve their campus, local, and/or international communities. The funding will be housed in the Neag School of Education.
"Women's leadership is needed," says Reis, "because women bring a different voice and a different concern for what's in the best interest of the planet, in the best interest of peace, and in the best interest of work that makes a positive difference to our society."