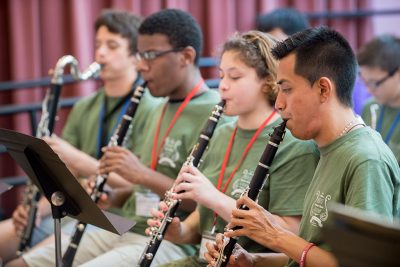 Editor's Note: The following piece was originally published in UConn Today via the UConn 360 Podcast. Jesús Cortés-Sanchez '18 (ED, SFA), '19 MA completed the Integrated Bachelor's/Master's Program in May and will be teaching music this fall in West Hartford (Conn.) Public Schools.
Among the 53 "DREAMers" who played instruments and sang on the Grammy-winning big-band album "American Dreamers (Voices of Hope, Music of Freedom)" is Jesús Cortés-Sanchez '18 (ED, SFA), '19 MA, an aspiring music teacher in the integrated bachelor's/master's program with the School of Fine Arts and the Neag School of Education.
Cortés-Sanchez immigrated to New Haven, Connecticut, from Mexico when he was 5 years old. He is able to work and attend school in the U.S. under the Deferred Action for Childhood Arrivals program, or DACA, whose beneficiaries are often referred to as "DREAMers."
Cortés-Sanchez was introduced to clarinet while in middle school, after a recent graduate of the Yale School of Music named John Miller began recruiting students to a new band program he had established at Cortés-Sanchez's middle school in New Haven. Cortés-Sanchez was then convinced to join Yale's Morse Summer Music Academy, an all-day music camp Miller had created, with contributions from Yale's Class of 1957, for New Haven public school students unable to afford private music instruction.
While Cortés-Sanchez initially believed college was out of reach for him, Miller and other music teachers he encountered through high school guided and inspired him to pursue higher education. He eventually decided to pursue music education so he could pay it forward, inspiring his future students to pursue their goals.
Cortés-Sanchez recently talked with Julie Bartucca of the UConn 360 podcast about how he got involved in the "American Dreamers" album, his journey to UConn, his future goals, and what music means for him.
Related Stories: