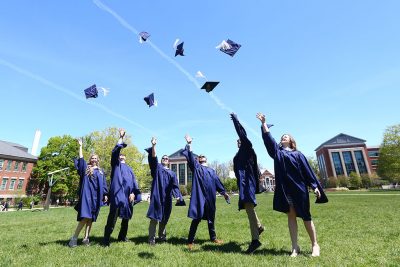 Commencement Weekend kicked off for the Neag School with a celebration for the graduates of the Higher Education and Student Affairs (HESA) program on Friday, May 10, followed by a special pre-ceremony reception at the Student Union on Saturday, May 11, for all Neag School master's and sixth-year graduates completing advanced degrees in such disciplines as school psychology, school counseling, school administration, and teacher education. The beautiful weather offered graduates and their guests plenty of opportunities for fun photos with Jonathan the Husky mascot and a chance to connect with their faculty mentors and fellow students.
On Mother's Day, Sunday, May 12, 148 undergraduates celebrated their Commencement at the Jorgensen Center for the Performing Arts. Associate Professor Alan Marcus served as lead faculty marshal, joining Jonathans XIII and XIV in leading the undergraduate student procession from the Gentry building to Jorgensen during a pause in the day's rain showers. At Jorgensen, family members and guests watched a livestream of the student procession to the tunes of the "Rocky" theme and of "Eye of the Tiger."
'We Need Leaders With Courage and Charisma'
Featured as the Neag School keynote Commencement speaker was Karissa Niehoff '10 Ed.D., the first female executive director of the National Federation of State High School Associations, which reaches more than 19,000 high schools across the U.S. and 12 million participants in high school activity programs.
Niehoff is an alumna of the Neag School's educational leadership doctoral program, a 2016 recipient of the Neag School Alumni Board's Distinguished Alumna Award, and has served as a physical education instructor, athletic director, assistant principal, principal, and as a coach at the high school level for five different sports.
"It's terrific that we are honoring both education and sport management graduates at the same time, as I believe academic learning and sports education truly complement one another," she said.
She went on to advise the Class of 2019 to listen to themselves, to continue deepening their education throughout life, and to seek opportunities for leadership. "More than ever," she said, "We need leaders with courage and charisma; leaders who create a culture of growth, engage hearts and minds, capture collective intelligence and talent, and inspire others to shape new pathways toward success."
Check out additional 2019 Neag School Undergraduate Commencement photos, as well as photos from the Commencement reception held for the Neag School's master's and sixth-year graduates, on the Neag School Facebook page.
'We Are All Dreamers'
Jesús Cortés-Sanchez '18 (ED), '19 MA, who had received his Neag School master's degree in music education at Gampel Pavilion the previous day, shared his powerful personal story as an undocumented student and aspiring music teacher.
"I want to change lives through the gift of music," he said to cheers from the crowd. "I am not the only Dreamer in this space. The truth is that you and I — we are all dreamers, no matter where we come from, or what our legal status, gender, religion, race, or ethnicity may be. We are all dreamers who dream of a better society – and who have the power with our education to make a huge impact and break down any walls that are put in our way."
Cortés-Sanchez will begin his first year as a music teacher this fall in West Hartford (Conn.) Public Schools.
Following his address, the Neag School's Class of 2019 music education majors, who had sung the national anthem at the start of the ceremony, joined him in a moving performance of "A Million Dreams," complete with acoustic guitars, keyboard, Cajón box drum, and ukuleles. Cara Bernard, assistant clinical professor, led the group.
After Vice Provost for Academic Operations Jeffrey Shoulson conferred the undergraduates' degrees and the recessional was complete, a reception held afterward at the Student Union offered graduates and their families shelter from the rain, but also a free photo booth, photo ops with Jonathan the Husky mascot, and refreshments.
Monday evening's Doctoral Commencement ceremony, also held at Jorgensen, featured as its keynote speaker Sandra Chafouleas, Board of Trustees Distinguished Professor of Educational Psychology from the Neag School. A mentor to many graduate students and postdoctoral scholars, an expert in her field, and the co-director of UConn's Collaboratory for School and Child Health, Chafouleas was recently honored as the recipient of the 2019 Edward C. Marth Mentorship Award, which recognizes outstanding leadership and dedication to excellence in mentoring graduate students.
Related Stories: