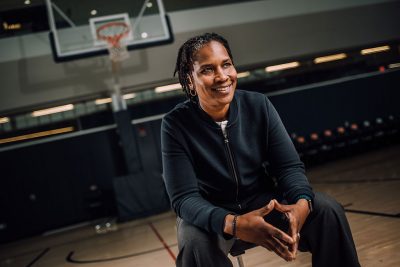 Editor's Note: The following piece was originally published in UConn Today. Jamelle Elliot is a 1997 graduate of the Neag School's sport management program; additional insights into her experience at the Neag School have been incorporated.
There are times, says Jamelle Elliott '96 (BUS), '97 MA, when she sticks her head in to watch the UConn basketball players practice for a few minutes, because she misses the sweet echo of a bouncing basketball.
Elliott spent four years on the women's team, and during her junior year, the undefeated women Huskies won the 1995 NCAA National Championship over the Tennessee Lady Vols, sparking a 10-year rivalry. Elliott was just the second player to record more than 1,000 points and 1,000 rebounds in her 135-game career as a Husky. What's more, the alumna of the School of Business and Neag School never missed a game, or a practice, in four years.
Former teammate Kara Wolters once described Elliott as a great role model, "[because] she's so intense on the court, and a teddy bear off the court.''
After completing her playing career, Elliott served as a UConn Women's Basketball assistant coach (1997-2009), and then as the head coach at the University of Cincinnati (2009-2018).
She returned "home'' to UConn in July 2018 as associate athletic director for the UConn National "C'' Club, which connects the University's 7,000 former student-athletes with current students seeking networking, mentorship, and job opportunities.
In addition to that role, Elliott has taken on administrative duties for lacrosse, softball, and some sports clinics, and is involved in diversity and inclusion initiatives at UConn.
Q: Coach Auriemma once said, 'I've coached a lot of bright players, but Jamelle is the smartest and the toughest.' Why the toughest?
I think that came from my upbringing in the inner city of Washington, D.C. I grew up in an environment surrounded by drug dealers, women who ended up pregnant – or killed – at a young age. My parents instilled in me that I had options. Luckily for me, basketball was the outlet. As a player I was undersized. I won't say my height, but I'm less than 6 foot. I made up for it with strength, and the determination to stay one step ahead. I knew I had to earn my time on the floor. My competitive spirit gave me a niche in the program.
I believed in Coach Auriemma and his vision for the women's basketball program. Through UConn I was able to travel, win a championship, make lifelong friends, and become the first college grad in my family. Never in my wildest dreams did I think this would happen. I've lived a life other people dream about.
Q: You earned two degrees from UConn, a bachelor's degree in business administration in 1996 and a master's degree in sports management in 1997. What did you take from your business training into your coaching career?
As a graduate of the business school, I think I've always approached work as if I were a CEO. If I was coaching the post players, I was the CEO of post players. I had to get results. Then when I went to Cincinnati, I had seven or eight staff members and 13 or 14 players, and, again, I had the mindset I took from the business school. How did I want to run the operation? I'd find people I could trust and who wanted to be the best they could, and I'd surround myself with them.
"Be who you are, have values, and stick to them. Life gives you ups and downs and you get through them."

— Jamelle Elliott '96 (BUS), '97 MA
Q: What did you find most valuable about obtaining your graduate degree in sport management? How did that program help prepare you for your career path?
What was valuable to me was learning all aspects of what it takes to run and operate a professional and college organization, including facilities, marketing, fundraising, and business management. It prepared me because of the in-class and networking opportunities it afforded me while I was a student in the program.
Q: What advice would you give to aspiring sport management professionals?
[My] advice would be to take advantage of every event and networking opportunity that the students are aware of. Make sure there is follow up and consistent communication with the people that you meet that you would like to become mentors or be a part of your professional network.
Q: Which is the better job – basketball player or basketball coach?
I think you have more of an impact on the outcome of the game as a player. No matter your position, you're determining the success of the game. When you're a coach, your impact is more on preparation. Once the game starts, you're supportive and you're assisting, but at that point, it's in the players' hands.
Q: Tell me about your current role and what you enjoy about it.
My job is associate athletic director of the National C Club for alumni student-athletes. We're like a LinkedIn for athletes, serving our alumni and our student-athletes with resources. Our student-athletes are looking for advice, mentoring, internships, and jobs, and our goal is to make them as prepared as they can be for their life after sports.
I'm gaining experience as an administrator. It's very rewarding. It makes me happy to impact students in the way that others impacted me. As a former athlete, who wouldn't want to help a current athlete? So far, the people I've met have been very willing to do so.
Q: At 45, what do you know now that you wish you knew at 20?
At 45, I would tell my younger self to just be my authentic self. Be who you are, have values, and stick to them. Life gives you ups and downs and you get through them. At 45, I have what I call my 'board of directors,' who I can talk to about any situation. They are people who will give me advice and direction. I am happy now to be able to offer some of that guidance to the next generation.
Q: What was the best lesson you learned from your UConn basketball coaches?
From Chris Dailey I learned how to present myself. She taught us that how you spoke, how you dressed, whether you made eye contact, your body language … all of that was important. At 18, I started to understand the importance of making a good first impression.
From Coach Auriemma, I learned that what you think is your best is not good enough. There's always something you can do better, whether in a drill, in a game, or in life. You can practice harder, do it better, and accomplish more than you originally thought you could.
Q: What was it like to coach Cincinnati when your team played UConn?
The first time I returned to Gampel, as the head coach at Cinncinati, I shed a few tears when I walked in. But soon reality set in, and I realized that Geno was going to try to beat my team by 100 points, like he does with everyone else. I thought, 'Oh, he's not going to go easy on me!'
So you try to find small victories in the game. Once, he had benched all his starters and we played so well against the bench that he had to bring the starters back out. I never won the ultimate victory against him, but I did get under his skin a few times!