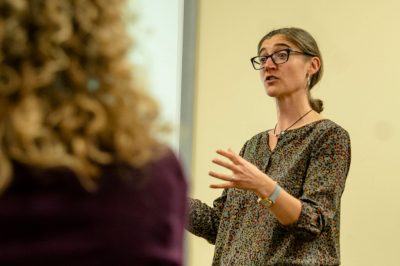 Sarah Woulfin, associate professor in the Neag School's Department of Educational Leadership, has been named co-editor of Educational Researcher (ER) for 2019 to 2022.
As the American Educational Research Association's premier journal, ER publishes scholarly articles that are of general significance to the education research community and that come from a wide range of areas of education research and related disciplines. The journal seeks to make major programmatic research and new findings of broad importance widely accessible.
According to Woulfin, the incoming editorial team's primary goal is to position ER as a hub for the distribution and integration of knowledge about education and educational improvement. In so doing, they aim to extend ER's already considerable reach (impact factor = 4.0) by highlighting scholarship and ideas that draw upon multiple disciplinary and methodological perspectives. They also aim to solidify the journal's position as the go-to venue on issues that are timely and relevant to a broad range of educational stakeholders, policymakers, and practitioners across the United States and around the world.
"The editorial team is dedicated to adopting innovations to expand the reach and impact of [Educational Researcher] to the broader public."

— Associate Professor Sarah Woulfin
"I am particularly excited about opportunities for ER to push the field's thinking on cutting-edge qualitative methods, big data and analytics in education, and research-practice partnership approaches," Woulfin says. "The editorial team is dedicated to adopting innovations to expand the reach and impact of ER to the broader public. They envision powerful additions to the journal, such as one-page, open-access briefs that will accompany each new article, and podcasts with authors related to relevant, high-impact topics."
Woulfin previously served as an associate editor of Educational Administration Quarterly and Elementary School Journal.
Access past issues of ER online.
Related Stories: