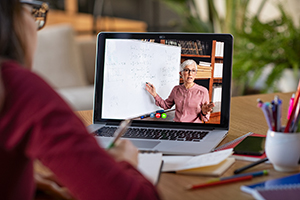 The situation with COVID-19 has challenged many school systems to consider how to extend their teaching and learning into virtual settings from home. Sometimes called "distance learning" because the teacher and the students are not in the same room, this form of virtual teaching and learning has a rich history and several forms. The use of technology, particularly the internet, to support remote learning is nothing new.
The use of technology, particularly the internet, to support remote learning is nothing new.
Learning at a distance has been part of schooling around the world for many years. Most people on the African continent learned English by weekly radio broadcasts. Some will remember "correspondence" schools that would send instruction and exams using the U.S. mail, and later added audio and video cassettes. Universities have long explored distance learning by linking their main campuses to remote sites and scheduling rooms where remote students listened and posed questions to a "live" synchronous broadcasts of a professor's lectures. States like Alaska and Hawaii, and even the Florida Keys, have long been challenged to support the instruction of schools in very remote sites and have experience with online learning in virtual environments. In addition, members of the military who are often stationed in remote sites or at sea have also benefited from online instruction, typically needed for promotion and job qualification.
The Neag School's Two Summers MA program in Learning Technology, a program for practicing educators, has been fully online since 2006. Courses in this program are offered through a learning management system (LMS) called HuskyCT, a version of Blackboard®. 
What We Know
Online learning is different from face-to-face instruction. Perhaps the worst versions of online learning are face-to-face classes that have simply been recorded or "canned" for online distribution. Often these simple translations of lecture to video fail to take advantage of the best and most interactive features of a virtual learning environment.
Online learning requires new reading/writing literacies. Reading on the internet does not start on page 1 and move page by page to the end of the chapter. Instead, reading is nonlinear. Clicking on hyperlinks can take a reader far afield from the author's intended logical trajectory. Likewise, co-authoring text in a synchronous writing environment can create many forms of tension, as others revise your text or even push your work off the screen as they write in the shared space. This simply means the traditional literacy skills from school may not apply to reading and writing online. Neag School Professor Emeritus Don Leu's work has shown that there is zero correlation between being a good reader in school and being able to comprehend online text and results from online search engines.
Online learning is not for every student. Online learners need to be self-starters since they cannot rely on a teacher to organize their activities or supervise their behavior. This is often called "self-regulation" in the research literature. Self-regulation includes time management and metacognitive monitoring of progress and need for help, but also includes finding appropriate workplaces with quiet, lighting, and access to needed online resources.
The current wide use of distance learning may lead to many creative and interesting possibilities for teachers and researchers to explore.
Online learning relies on analytics to guide teacher monitoring of student learning. Rather than watching students as they work, online teachers need to monitor data, such as who has logged in, when, and for how long. This enables the teacher to tell if students are accessing the appropriate material and can suggest whether they are making progress or experiencing problems.
As an example, learning science research has demonstrated that there are times of day and night during which online test takers perform best; right after lunch or dinner is not as good at mid-morning or later in the evenings. Other studies have shown how online instructors need to be sensitive to different indicators of productivity and participation. Another example is Garrison's (2000) Community of Inquiry model, which highlights three different types of presence in online learning environments: Teacher Presence, Social Presence, and Cognitive Presence, which help teachers establish relationships with students and online classes a whole, to establish safe and trusting environments where all students' contributions are equally valued and respected.
Future Possibilities
It should go without saying that this is not a comprehensive list of all things a teacher could or should do when teaching online. Frameworks like SAMR and TPACK can add to guidelines for online courses such as Quality Matters; yet even with these resources, there is much more about selecting tools that fit with pedagogy, content, and the affordances of various apps and program features. In short, it is not optimal to be thinking about designing an online teaching/learning experience in the middle of a face-to-face class. Sometimes the best that can be done is support review of prior learning with digital worksheets, and keep in touch with students with synchronous Facetime check-ins. That is clearly not the best test of what could be an amazing online learning experience for our students. Yet we likely can expect that the current wide use of distance learning may lead to many creative and interesting possibilities for teachers and researchers to explore.
Michael Young is a professor of educational psychology and coordinator of Neag School's Educational Technology Program.