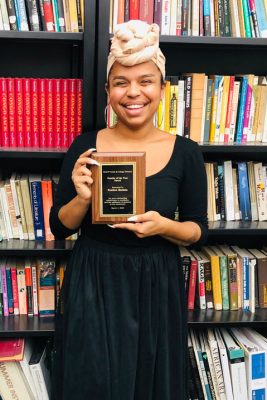 Pauline Batista (she/her/hers/ela/ella) '16 MA, a current doctoral student in the Neag School's Learning, Leadership, and Education Policy program, has always been passionate about education. As a teenager, in her hometown of Paraty, Brazil, Batista was enrolled in a rigorous five-year teacher training high school and held multiple paid internships.
"It was very hectic because I would leave my house at 7 in the morning and come back at 10 p.m. at night," Batista says. "Your average 15-year-old is not dealing with all that. But for me, that was normal."
During the summer, Batista would work for the Festa Literária Internacional de Paraty (Flip), the largest literary festival in Brazil. She served as program coordinator of FlipZona, the part of Flip dedicated to youth, including youth events as well as media and filmmaking programs. Her work at the festival inspired an early interest in filmmaking.
Earning a scholarship to Mitchell College in New London, Connecticut, Batista graduated summa cum laude with a degree in communications and a focus in video production.
"I started to think, 'So what am I going to do next?' I was positive that I did not want to apply for an MFA," she says. "I started to get really critical of the relationships between what we call people from the North and people from the South."
The Global North and Global South describe those regions of the world that have more and, respectively, less wealth and power.
Batista applied for the master's program in Latin American studies at UConn. The program, she says, helped her build an understanding of critical theory. After completing her degree, she returned to Brazil for a year while deciding what to pursue next.
"We were in the midst of the literature festival. I go back home after all those years, after participating in this literature festival since 2002, for 14 years, every summer," she says. "[While there,] I learned that the media program was going to be entirely cut. I was enraged."
Batista ended up in a meeting with the secretary of education for Paraty, whom she effectively lobbied for the refunding of the program — a success Batista attributes to the critical academic background she was able to draw on to make her case.
"I was exposed to the right body of work and literature," she says. "When I go back [to Paraty], all of a sudden the conversation shifts because I could shift the conversation."
"To me, a Black woman born in a Third World country, 'not caring' has never been an option. I think we finally understand that we can only function if all social institutions are functioning. I think collective dependability is a major takeaway during this time."

— Pauline Batista '16 MA,  Ph.D. student
Supporting Youth's Voice
That experience, Batista says, helped her realize she ought to take the opportunity to expand her skill set even more.
"That was when I thinking, 'Maybe I should really get a Ph.D.' Because people like me typically don't have a voice," Batista says. "But if they have the right education, all of a sudden, they have a voice. All of a sudden, the door is open."
Batista decided to enrolled as a doctoral student at the Neag School's Department of Educational Leadership.
"That was a really important moment in my life because my skill set really came together," she says. "Everything clicked."
In the Ph.D. program, Batista has learned about youth-led research methodologies and participatory filmmaking projects, bridging her experience at Flip to her research. She focused her doctoral research on international organizations and Latin American education.
"The whole idea is to showcase how it is that international organizations have power over education in Latin America," she says.
Batista conducts her research through Youth Participatory Action Research, a research model that involves collaboration and co-ownership of research work with youth. For Batista, this means co-authoring papers, co-creating filmmaking projects about local education, and organizing local events.
"We're going to be bringing the youth together to make short films, and the youth are going to have ownership of the short films, and they can use them as they please," she says. "If that means [they will] call attention to policymakers or send that to film festivals, they are entitled to doing that. It's their films that we produce together."
Batista says her work with youth is about supporting youth's voice.
"In my work as a researcher," she says, "I come from an understanding where youth do not have a voice unless youth have the educational skill set or the educational apparatus."
Her doctoral advisor, Casey Cobb (he/him/his), Neag Professor of Educational Policy, reaffirms Batista's passion.
"Pauline is passionate about issues related to educational equity, and is particularly focused on policies that promote (and inhibit) educational access to marginalized students," he says. "I see her impacting education policy not only in Brazil, but in other Latin American countries."
'Collective Dependability'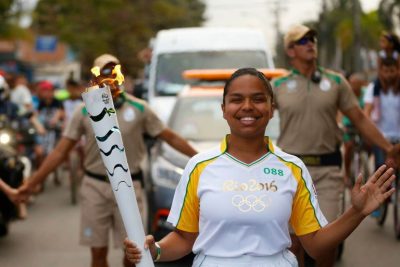 In addition to her doctoral studies, Batista works as the program specialist for the African American Cultural Center (AACC) at UConn. She began there as a graduate assistant and, because of her work, was honored with the 2019 Graduate Student of the Year Award from UConn's NAACP Youth & College Division. This past March, she was honored by the division once again, with the 2020 Faculty of the Year Award.
"When you work at a cultural center at a very large institution like UConn" she says. "You really have to be ready to do anything, from stepping in and teaching a class or being a guest lecturer to managing 34 student staff."
Wilena Kimpson Price, Director of the AACC, comments "Pauline is a phenomenal woman. She is adept in all aspects of planning and organizing events and programs.  Her technology and media skills are extraordinary." She adds "Pauline has an extraordinary skill set and she has a work ethic and commitment to excellence that is unparalleled."
Batista has also been doing some community organizing virtually. In June, she helped to plan and moderate a virtual town hall co-sponsored by the AACC titled "Racism and the COVID–19 Pandemic in the African American Community."
"I feel like everyone is being 'forced to care,'" she says in reflecting on the University community's and the country's response to this year's protests against police brutality and racism. "To me, a Black woman born in a Third World country, 'not caring' has never been an option. I think we finally understand that we can only function if all social institutions are functioning. I think collective dependability is a major takeaway during this time.
"I can only speak for the Black experience in Brazil, where 23 Black young men die per day on average due to drug dealing and police brutality. I've lost students, in fact, a student who is part of one of the collectives I do research with in Brazil," she adds. "After George Floyd, Breonna Taylor, and so many Black lives [lost] in the midst of this pandemic, along with many other race-related incidents, I feel like bigger channels of communication have been using their voices to learn more and try to help more."
With only two more courses remaining in her doctoral program, Batista envisions herself working to further the reach and impact these emerging voices – ultimately in a career in school administration.
"I love seeking resources and helping students. That's my passion," she says.
Follow Batista on Instagram @pblessed.