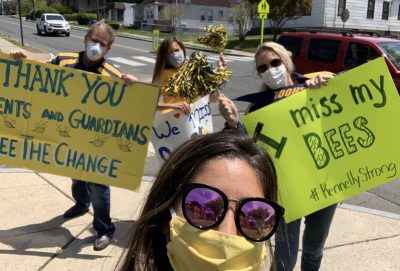 The summer is typically a time for school superintendents to reflect on the previous school year and start thinking about the year ahead. However, preparation looks very different in the age of COVID-19 as school districts choose between three reopening models: fully in-person, hybrid, or remote.
Neag School alumnus Joseph Macary '94 (ED), '08 ELP, '16 Ed.D., superintendent of Vernon Public Schools, says preparing a concrete reopening plan has been a challenge.
"My motto has always been to take things one day at a time," says Macary. "There's no right way you can plan for this."
Macary, with the Vernon school district's health and safety committee, drafted plans for a fully in-person reopening, but by the end of July began considering a hybrid model. A team of administrators, teachers, medical advisors, school nurses, and facilities personnel met weekly to discuss plans and establish the pros and cons of each reopening model.
"A school with 100 kids and a school with 2,000 kids can't follow the same plan or be given the same guidance," says Macary. "The commissioner [alum Miguel Cardona] does a nice job of considering our parameters."
The superintendent of Mansfield Public Schools, alumna Kelly Lyman '88 MA, '01 6th Year, '10 ELP, says her district's reopening plan has relied heavily on advice from public health officials and medical advisors. She has also held Q&A-style town hall Zoom meetings to hear the concerns of Mansfield community members.
"Ultimately, this isn't a decision that we can take a vote on," says Lyman. "It's really an administrative decision that needs to be made in cooperation with public health."
Teachers and Parents Voice Concerns
Managing a socially distanced school environment, where students will be expected to wear masks and follow proper sanitary procedures, remains among the district's top concerns, says Lyman. Many parents, she adds, say they are worried about their child's adjustment to the new environment.
"The concerns are centered around safety and educational efficacy," says Lyman.
When Craig Cooke, the superintendent of Windsor Public Schools, sent out a survey to parents in his district, the results showed that nearly a third of respondents were uncomfortable with sending their child back for in-person learning. On the other hand, several parents expressed concerns for their child's social and emotional well-being, believing a return to school would be beneficial.
"Some families have said this is not right and that we need to continue distance learning," says Cooke. "Other families are saying we trust you, and we want to be able to send our child back."
Cooke says the guidelines offered by state officials, allowing for flexibility as school sizes vary, have also acted as part of the roadmap for the district's plans.
"One of the things we were really intentional about last spring was making sure that we were learning from what we were experiencing."

— Kelly Lyman '88 MA, '01 6th Year, '10 ELP,
Superintendent, Mansfield Public Schools
Health and Safety at the Forefront
As they juggle various moving parts and new directives, superintendents say they are seeking to prioritize the health and safety of their school communities.
"My hope is to meet the needs of everybody involved, from our employees that we care so much about and want to keep safe, to our students, who we know need to have that in-person experience," says Cooke. "We want to keep them and their families safe as well."
School districts have increased their janitorial staff to keep up with the sanitation demands while students are in the building.
"Every classroom will have spray bottles to disinfect all the desks and tables and chairs," says Macary of Vernon Public Schools. "Those things are ready; buildings are being cleaned, and I feel like we're in good shape with that."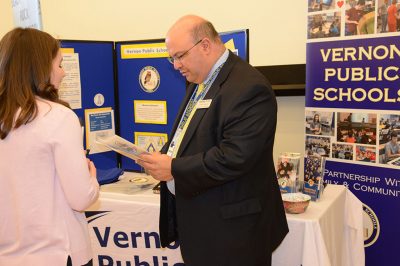 Learning From the Past
When schools closed in March, teachers and students had to transition quickly to the digital learning environment. The superintendents recognized several areas of improvement in online instruction on which they wanted to focus for this upcoming school year.
"One of the things we were really intentional about last spring was making sure that we were learning from what we were experiencing," says Lyman. "We thought that what we were experiencing would not only teach us how to do the distance learning better, but that we would also be able just to learn more about teaching and learning in general."
The Mansfield school district, she says, is focusing in part on developing students to be more self-directed and to become familiar with a multitude of online platforms. The transition to remote learning has also highlighted the benefits of technology in the classroom, which is something the district aims to utilize more this year.
"Our integration of technology when we're in person wasn't as great as we thought it should be," says Lyman. "It hadn't been used as much because we didn't see the value of it previously."
The Vernon school district has been teaching asynchronously since March because many students did not have access to the necessary devices. This school year, the district will be utilizing synchronous (real-time) teaching practices for online instruction.
Networks of Support
The past few months have brought school administrators across the state together to discuss the safest and most effective methods for reopening their schools. Macary and Cooke, who were in the same superintendent preparation cohort at the Neag School 11 years ago, continue to rely on each other for support and guidance. 
"It's great to have that UConn network," says Macary. "We have a shared philosophy, and we learned about a lot in the same way."
Lyman meets weekly with fellow school administrators to share materials, communications, and thoughts. She says the professional collaboration has been a silver lining during these times.
"This is not a time to try and be a maverick or do things on your own," she says. "You really need somebody to be a critical friend to help you think through things."