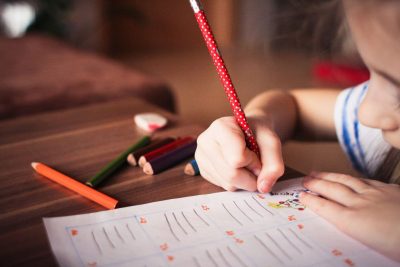 Editor's Note: The following piece was originally published in UConn Today.
Many children with developmental disabilities, such as autism, have high-intensity behavioral needs, meaning they require a wide-ranging support system of people appropriately trained to work together to address their needs.
Nearly 400,000 students in Connecticut have special health care needs. In the past decade, the prevalence of children with developmental disabilities has increased by 17% and the prevalence of autism has increased by 300%. This has increased the demand for trained professionals to support students with high-intensity needs, which is additionally problematic given the national shortage of trained school psychologists and special educators.
A group of researchers from the University of Connecticut's Neag School of Education and UConn School of Medicine have received a $1 million grant from the Office of Special Education Programs to develop training for master's students to address this problem.
Professors Lisa Sanetti, Sandra Chafouleas, and Mary Beth Bruder have developed Interdisciplinary Preparation in Integrated and Intensive Practices (I3-PREP). The project is a multidisciplinary effort supported by UConn's Institute for Collaboration on Health, Intervention, and Policy (InCHIP), the Neag School of Education, the UConn School of Medicine.
"I am honored to have the opportunity to lead this training initiative that will have positive impacts for our trainees and students with disabilities in Connecticut and beyond."

— Professor Lisa Sanetti
This program will incorporate and extend interdisciplinary training provided by CT LEND (Leadership Education in Neurodevelopmental and Related Disabilities). CT LEND is directed by Bruder and is an interdisciplinary training program focused on improving the health, education, and social outcomes of children, youth, and adults with developmental disabilities and their families.
I3-PREP is based on an ecological model of development that views a child as being influenced by multiple interacting environments and relationships, such as those with their school, family, community, local politics, and broader culture. This program will provide advanced training in collaboration and coordination in using this model to provide a holistic, interdisciplinary approach to meeting the intensive needs of students with disabilities.
I3-PREP has three areas of emphasis: interdisciplinary coordination; an integrated whole-child approach; and intensive assessment and intervention.
Trainees will use an interprofessional lens for activities and interventions across the school, home, and community environments. This lens will ensure the child is supported by key personnel in every environment.
Trainees will learn how to integrate services that meet the child's complex needs across the major areas of development: academic, social, emotional, behavioral, and physical. By considering all facets of a child's well-being, they can succeed in the least-restrictive, most natural environments possible.
Advanced training in intensive assessment and intervention will enable trainees to appropriately identify a child's needs across domains, and evaluate their responsiveness to high-quality and evidence-informed intervention plans.
The COVID-19 pandemic, which has forced many children to remote instruction since March, has emphasized the ways in which students with disabilities have not been adequately supported. This program will provide training for special educators and school psychologists that will enable them to serve students with high-intensity behavioral needs in any learning environment.
The two-year program will support two five-person cohorts of students from UConn's accredited programs in school psychology and special education. The program will include coursework, clinical experience, and related activities. This interdisciplinary approach will provide students a robust knowledge base to better meet the needs of students with disabilities with high-intensity needs.
This intensive, well-rounded training program will provide graduate students with an invaluable opportunity to be prepared to engage throughout their careers in interdisciplinary work focused on meeting the integrated and intensive needs of students with developmental disabilities.
"School psychologists and special educators are uniquely qualified to lead coordinated, interdisciplinary, and holistic services for students with high-intensity needs," says Lisa Sanetti, a professor of educational psychology in the Neag School of Education.  "I am honored to have the opportunity to lead this training initiative that will have positive impacts for our trainees and students with disabilities in Connecticut and beyond."