Editor's Note: The following piece was originally published by UConn Today.
Connecticut is the first state to mandate that all of its high schools offer an elective class on Black and Latinx history, and this website will provide resources.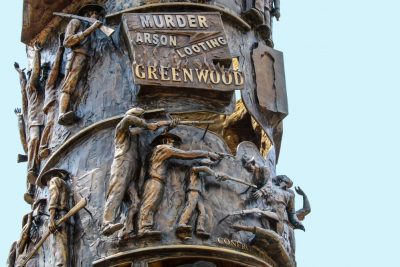 Connecticut is the first state in the nation to mandate that all of its high schools offer an elective class on Black and Latinx history. These classes must be taught by the fall of 2022, but many high schools have added them to the curriculum this year.
Alan Marcus, a professor of curriculum and instruction in UConn's Neag School of Education, has led a team that developed a website to assist high school teachers with the instruction of this course.
"After the law was passed, I was talking to a number of teachers and they were struggling with how they would teach this class, because it is brand new," says Marcus. "They just weren't prepared to teach this very specific course. They were prepared to teach U.S. History, very broadly, but this is very narrow."
Marcus assembled a team of current Connecticut high school teachers, many of whom are Neag graduates, and current graduate students in Neag, who have already been out in the field as student teachers. They built a website that contained resources that are useful in teaching this course.
"There were not a lot of resources to start with," says Crista Penrose '12 (ED), '13 MA, a history teacher at RHAM High School in Hebron who was part of the team. "There just are not a lot of materials already created that focus on just the Black or Latin experience. So, we took the draft version of the curriculum the state provided and went through it piece by piece. The goal was to find primary sources, rather than have other historians tell the story. We wanted to find documents and images that were created by Black and Latin communities so they could tell their own story."
"There were some areas where we could find a list of 25 great primary resource and other areas where there we only two or three."

— Alan Marcus, Professor
Marcus says this new course is different from others that the state has mandated because there was much more direction on what the curriculum should be, which was developed by an educational entity.
"This is definitely a hot topic right now," says Marcus. "If we had this conversation a few years ago, people would not be so up in arms. There is a lot of conversation around race and Critical Race Theory and people on both sides feel like their voices are not being heard."
The website directs high school teachers to a number of different kinds of resources to use – from traditional readings, to films and historical fiction.
A number of criteria were used when analyzing what materials should be selected for the website. They had to fit a particular unit in the course and had to be interesting for students.
"We also evaluated how appropriate, in a number of ways, a piece of material was," says Marcus. "We had to pick materials at various levels of reading for teachers working with students who are below grade level and also for teachers working with student at an honors or AP level.
"There were some areas where we could find a list of 25 great primary resource and other areas where there we only two or three."
Marcus, who was a high school history teacher himself earlier in his career, says there has long been a desire from educators to change the way history is presented to students.
"There's been a push for a long time for the history curriculum in high school to be more inclusive," says Marcus. "Very broadly, at least among those of us who teach history and are interested in history education, history is taught from a white, male, European point of view.
"I do an exercise with my student where they look at chapters on a particular topic from a text book published in the 1940s, then the 1950s, the '60s and so on, and how it changed. We talk about what happened in the past hasn't changed, but how it is presented in text books has changed."
The course will provide high school students a structured look at Black and Latinx issues and prepare them to have real world conversation and interactions when they graduate.
"Race is on the minds of everyone in the public because it is such an important driving force in the way our politics are played out," says Jay Garrish '15 (ED), '16 MA, who teaches history at South Windsor High School and was also part of Marcus' team of educators. "It's really important for high school students to understand the conversations that are happening out in the open today in a way that is grounded in history.
"With that context of this course, I want them to be able to formulate their own opinions and enter the conversations that happen in everyday life in a really productive way, instead of being one of those that sit in the comments section of social media and rattling off whatever views they have on key issues. They are going to leave high school and may never take another history class again. They have to be equipped to have these conversations they will encounter."