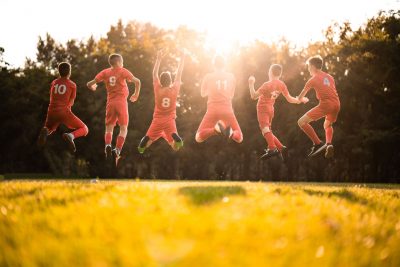 Editor's Note: Board of Trustees Distinguished Professor Sandra Chafouleas shares insights on promoting well-being in youth sports in the following piece, which originally appeared in Psychology Today, where she publishes a blog.
Parents, coaches, and athletic directors all have important roles to play.
As a psychologist and a parent of children participating in youth sports, it has been exciting for me to witness the increasing media attention on mental health and athletics. Mental toughness has long been a central topic within sports circles, but the current discussions are different. The past year has brought the mental health and well-being of athletes into mainstream conversation, whether it be as a plotline in season two of Apple TV's "Ted Lasso" (promise, no more spoilers!), professional athletes' stories highlighted during World Mental Health Day, or Simon Biles' withdrawal from events at the Tokyo Olympics.
Youth sports, however, is missing from these conversations. Some media have covered the mental toll from the loss of youth sport opportunity during the pandemic. Others have drawn attention to the growing intensity of youth sports training today. But it is rare to hear about how youth sports can prevent mental health challenges and, in fact, promote well-being on the social (how we connect), emotional (how we feel), and behavioral (how we act) levels.
Given that the vast majority of athletes are participating in sports as youths and at the amateur level, we're missing a critical opportunity here. It is also problematic, as new data show a decline in U.S. youth sports participation. The majority of youths stop playing sports by age 13, with many kids calling sports "no longer fun."
"Many sources identify youth sports as an important part of supporting a nation's well-being."
Many sources identify youth sports as an important part of supporting a nation's well-being. The U.S. Department of Health and Human Services has acknowledged the need to increase youth sports participation, establishing the National Youth Sports Strategy as the first federal roadmap to ensuring all youths to have opportunity, motivation, and access. Other countries have made similar calls to ensure participation in youth sports.
Playing sports offers not only physical activity but also connections to many aspects of whole-child well-being, including academic achievement. For example, having a mentor is connected to higher academic performance, and coaches have been identified as important school-based natural mentors, particularly for males.
Improving youth sports culture means putting the emphasis on learning over competition, and creating safe, fun, and inclusive opportunities. These actions build the foundation for strong social and emotional skills, and are directly tied to promotion of mental well-being.
Although not exhaustive, here are a few ways to start shifting the mental well-being conversation in youth sports:
For Parents
Set yourself up to be a great sports parent. Keep your behavior positive and supportive. Before the game, consider sitting it out if you aren't ready and able to be that positive parent. During the game, cheer on everyone, or otherwise sit quietly and let them play. Afterward, use wins and losses alike as opportunities to learn and improve, not blame.
Be a good advocate for your child and the team. This is not the same as being a helicopter or lawnmower parent. It means understanding when your child is struggling and unable to handle things themselves, and knowing when and how to talk to the coach. It also means speaking up or seeking help when you observe inappropriate or abusive behavior by coaches, players, or families.
For Coaches
Implement positive coaching activities throughout the season, from initial team meetings to regular practice and game-time debriefs.
Engage in positive and direct communications about the athletic culture and team charter, with actions that match those communications. For example, if a team motto is "there is no 'I' in 'team,'" reconsider practices that routinely elevate a new, younger athlete in the program. If your team members need to attend practice in order to play, make sure to apply that without exception (e.g., don't offer special practice sessions only for elevated players).
Make your best efforts to get players into games, using varied strategies to ensure that participation by each team member is valued. Equal playing time may not be possible in all situations, but there are different ways to make sure every athlete feels like a team contributor.
Foster individuality and awareness rather than relying on prescriptive instructions. Doing so can help the athlete generalize the coaching to other skills throughout life.
For Athletic Directors and Youth Sports Leaders
Provide professional learning opportunities for every coach on the core tenets of positive youth development. Encourage use of resources like How to Coach Kids to learn how competence, confidence, character, connection, and caring apply in the youth sports environment.
Acknowledge coach efforts to foster positive experience, relationships, and environments for each athlete. This support is particularly important to prevent decreased participation by certain youth subgroups, like teen girls.
Actively monitor what coaches are doing. Give positive feedback often. Do not tolerate any form of abusive behavior. Ensure opportunity for all to provide feedback on the team experience instead of relying on a few athletes or families who may be more outspoken.