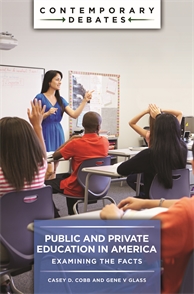 Public and Private Education in America: Examining the Facts (ABC-CLIO, 2021) — a new book co-authored by Neag Professor of Educational Policy Casey Cobb — is the latest installment in a series that examines controversial claims surrounding major political and cultural issues in America.
In the book, released this month, Cobb and his co-author Gene V Glass answer a broad selection of the most contentious questions facing education in the United States today, among them:
Do today's full-time virtual schools offer a high-quality education for students?
Are charter schools more innovative than traditional public schools?
Are American schools less safe now than in the past?
Does homeschooling lead to better outcomes for students than traditional public schools?
Do school vouchers produce better student outcomes?
Are small schools better than large schools in providing a quality education to students?
Addressing such topics as standardized testing, school choice, bilingual education, and school safety, Cobb and Glass seek to "give readers a clear and unbiased understanding of current issues by informing them about falsehoods, half-truths, and misconceptions — and confirming the factual validity of other assertions — that have gained traction in America's political and cultural discourse."
Each Q&A entry throughout the book is accompanied by a detailed explanation, citing research studies, combing through conflicting data, and dispelling myths.
To offer a glimpse into the volume, the following excerpts from Public and Private Education in America are shared here with permission:
Q: Has time that students spend preparing for and taking standardized tests increased dramatically in U.S. public schools?
A: Testing, in its various forms, can play an important role in education. It can serve as a diagnostic tool to determine how well students are learning certain concepts and skills. Testing can also help policymakers and administrators gauge how schools are performing in core subject areas over time and for specific subgroups of students. However, "you can't fatten cattle by weighing them," goes the Midwest adage, and numerous educators have emphasized that time spent on testing is time taken away from more interactive and creative methods of teaching and learning. Taking into consideration the time that students spend preparing for and taking exams, the comparably small amount of testing done in other countries with high-performing education systems, the financial motivations of standardized testing companies, and perceptions of many educators, parents, and students, the answer is an emphatic, Yes.
Q: Do later school start times make a difference in children's learning?
A: Unequivocally, yes, particularly for older adolescents. Moving school start times to later in the morning is supported by research from some of the most prominent child health and wellness organizations. For the most part, their recommendations go unheeded.
Q: Does homework increase student achievement?
A: The research findings on whether homework increases student learning are mixed, and the studies themselves have been criticized for alleged design flaws. Many education researchers contend that homework assignments are often structured in ways that lead to only superficial learning, like memorization of facts or filling out worksheets. Negative effects of homework on learning are evident when certain characteristics like amount and level of difficulty are out of balance. Homework assignments can benefit learning, however, when the instructional purposes are clear and when appropriately structured to challenge and engage students. Some evidence suggests that homework is associated with helping to develop good work habits, while other evidence indicates homework leads to stress for students. Daily homework remains a common classroom tradition despite the lack of consistent evidence of its worth.
Q: Are American schools less safe now than in the past?
A: Although mass school shootings remain a fear of parents, students, teachers, and school administrators around the country, those incidents have been on the decline. Likewise, reported victimizations among students ages 12–18 have decreased since the turn of the twenty-first century. Moreover, these decreases have been consistent across race and gender. Physical bullying has also declined overall, but in its place, there has been a sharp increase in online or cyberbullying. With respect to the bullying of female students specifically, the evidence is less clear, with one major review reporting that face-to-face bullying increased between 1998 and 2017, while federal survey data showed a decline in bullying (broadly defined) between 2005 and 2017. LGBTQ students remain at the greatest risk of being bullied or harassed.