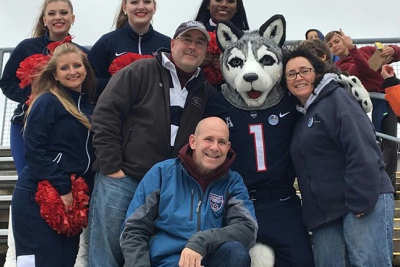 In our recurring 10 Questions series, the Neag School catches up with students, alumni, faculty, and others throughout the year to offer a glimpse into their Neag School experience and their current career, research, or community activities.
As UConn's assistant vice president for student affairs and executive director of student activities, Joseph P. Briody '86 (BUS), '95 MA, '96 Ph.D. is a Husky through and through.
From graduating with a bachelor's in accounting to attaining his master's in education and his doctorate in higher education administration, Briody shaped his career through an extensive academic career, paired with professional roles in accounting and nonprofit organizations — not to mention his earliest professional experience: dressing as UConn's quintessential Husky mascot, Jonathan. He was also instrumental in the mascot makeover, and two generations of Briodys have donned the costume. Here, he explores the factors that fueled his academic decisions, the responsibilities and accomplishments of his current position, as well as the effects of the COVID-19 pandemic on his position.
Q: Do you remember your first time as the Jonathan the mascot? If so, what was it like?
A: I have many memories from being the mascot, but I'm not sure I remember the very first time. It was most likely a football or soccer game at the start of the semester. I'm also pretty sure I was pretty darn nervous – and hot! Inside, the suit got incredibly hot – even during the coldest football games. I'd see fans all bundled up in hats and gloves, and I'd be in shorts and a  T-shirt inside the suit, sweating like crazy. I would also be remiss if I didn't mention that my favorite memory about being Jonathan is that I met my wife when I was the mascot (Diane Stackpole Briody '87 (CLAS), '95 MA)!
Q: What motivated you to pursue both your master's in education and a doctorate in higher education administration at the Neag School?
A: My advisor – (Neag School Professor Emeritus) Dr. William W. Jellema – was an incredible inspiration, motivator, and source of support to me. … I began exploring what type of graduate program would best prepare me for a possible career in higher education. I met Dr. Jellema, and he invited me to take a budgeting/finance class as a non-matriculating student. The class fit with the work I was doing at the time (auditor). Through a series of conversations, he encouraged me to consider pursuing not only a master's, but also a doctorate.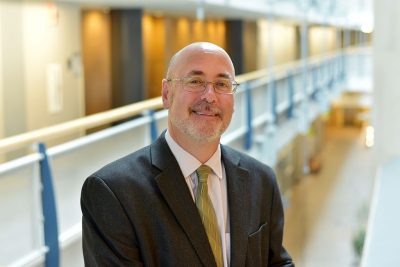 Q: How did your experiences at the Neag School prepare you for your career?
A: Dr. Jellema was a significant influence on me – and continues to be. He was very challenging and did not accept anything less than your best work. In seminars, he always invited the perspectives and thoughts of everyone. Still, he also did not hesitate to challenge our thinking and push us to question the reasoning and logic behind our assertions. Some did not respond as favorably to his pushing – I never minded it … in fact, I appreciated it. Quick story: After completing the capstone (15,000-word) paper for my History and Philosophy of Higher Education class, I went up to Dr. Jellema's office to hand it in. As I handed it to him, he asked, "How is it?" Casually I answered, "Pretty good, I think." He handed the paper back to me and said, "Give it to me when it's great." Some might not have responded well to that kind of pushback. I thought it was great! It's the setting of a high bar and the different ways he did it that shaped my thinking and taught me to expect more of myself and my work.
Q: Did you ever imagine coming back to work at UConn?
A: Nope. Never. When I graduated from UConn with my BS in accounting and had a job lined up at a 'Big Eight' accounting firm, I never once thought I would be coming back. I never knew it was even possible – in any way, shape, or form. After spending a few great years in public accounting, I felt I needed to find something that I felt was more satisfying for me.  So I left my job voluntarily and began looking for jobs in the non-profit sector and eventually took a job as a corporate developer in a national non-profit.  While it was important work, it also wasn't quite a fit for me.  Leaning back on my financial/accounting education and experience, I was offered a position here as an auditor.  It was a tremendous opportunity to learn about how this institution works – with incredible access to people and information.  This experience, coupled with my graduate education – which was well underway, led to a move to Student Affairs in business and eventually into a position working directly with students and developing educational programs/services.  Life is funny – you think you're headed in one direction and then all of a sudden…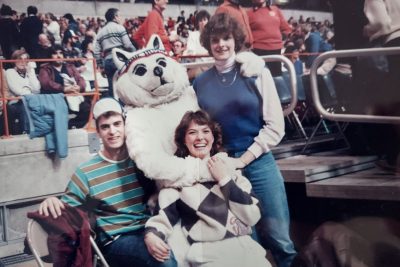 Q: What does your job entail, and what is the most challenging aspect of it?
A: I support staff of 50-plus professionals and graduate students who engage, educate, and support students across campus in various out-of-the-classroom contexts and settings – from community service and leadership programs to various student involvement, student governance, and a multitude of other organizations and programs. The most challenging aspect is perhaps having to make difficult decisions that I know are not always well received by others. Although making such tough decisions is an aspect of managing any organization, no one enjoys it, and realizing the impact that some of my decisions can have on others weighs heavy at times.
Q: Have there been any COVID-related challenges that have impacted your job?
A: Absolutely. COVID took a 'business model' that was predicated on bringing large groups of people together in relatively close proximity (classes, residence halls, dining halls, events, athletics, etc.) and turned it completely inside out. The 'engagement gap' we saw students experience over the past year-and-a-half was broad and deep,  and very damaging – socially, emotionally, psychologically, and academically. My team was forced to rethink how we fill that 'gap' and help students engage, connect, and feel a part of this community while isolating and staying at home. Fortunately, they responded at such a high level – while dealing with the challenges of COVID themselves – that we are actually emerging from COVID, having learned important lessons and new ways of working with students that we have changed how we will move forward.

"You're here (at UConn) because a lot of really smart people have determined you belong here – don't doubt yourself."

– Joseph P. Briody '86 (BUS), '95 MA, '96 Ph.D.
Q: How did you get the idea to create uKindness (an initiative to connect with students during the pandemic), and how did it perform last year? What is the future of the initiative, now that things are settling back to normal?
A: The uKindness initiative was the result of countless discussions with colleagues and students about how to connect, engage, and inform students during the height of the pandemic when everyone was social distancing, remote learning, and living alone (some at home). Our data and feedback tell us that it effectively kept students informed and aware of resources available to them throughout the year. Judging from the levels of participation at some of our virtual and small in-person events, as well as web traffic and survey data, I think it served its purpose in bringing the community together during a challenging time. We'll be re-evaluating uKindness in the coming months to determine its future and what lessons we can take from it as well.
Q: What are your goals for student affairs/student activities now that campus is back at full capacity?
A: Being back in person and close to capacity has been great for everyone – students and staff. Challenges do remain, however. The lingering effects of being socially distanced for 18 months are present in both our students and our colleagues. So, short term, my goal is to help create and support an environment where folks can readjust to being in closer proximity, perhaps relearn how to, and gain comfort with, engaging with each other in person. To that end, this past summer, I encouraged my staff to focus their training, orientations, and initial meetings/programs with students less on content and more on building back the social and interpersonal skills that would allow all of us to operate in-person with confidence, respect, and success.
Q: As someone who taught in leadership development, who has your biggest
 

leadership role model been?

A: I think of two people right off the bat. One is my oldest brother, John (Briody) '82 (BUS), '14 6th Year, who led through example and support throughout my life. In many ways, I would not be who I am and where I am without him. The other individual is someone I have shared with my students in my leadership classes. His name is John Ryan – someone I met 30 years ago who is probably 20 years my senior and has taught me about perspective, humility, compassion, responsibility, and how to move through life's challenges with grace and faith. I owe much to both Johns.
Q: What lasting piece of advice would you give to UConn students?
A: Hmmm … probably some of the same advice my wife and I have given to our own children as they haveworked their way through college:
Sometimes there's not a right decision, rather it's

 

about making the decision right;
You're here (at UConn) because a lot of really smart people have determined you belong here – don't doubt yourself;
Don't be afraid to ask, raise your hand, and put yourself out there; and
If you don't make a mistake once in a while, you're probably not trying hard enough. And of course, when your advisor/boss tells you to 'Give it to me when it's great,' appreciate what they're trying to do for you.