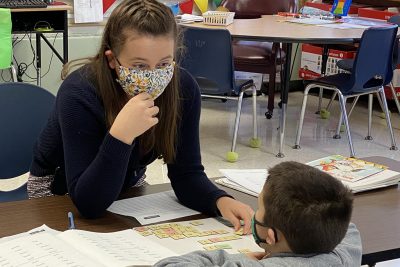 Editor's Note: Board of Trustees Distinguished Professor Sandra Chafouleas shares insights on supporting students' homework during the pandemic in the following piece, which originally appeared in Psychology Today, where she publishes a blog.
COVID has brought many changes in education. What does it mean for homework?
School assignments that a student is expected to do outside of the regular school day—that's homework. The general guideline is 10 minutes of nightly homework per grade level beginning after kindergarten. This amounts to just a few minutes for younger elementary students to up to 2 hours for high school students.
The guidance seems straightforward enough, so why is homework such a controversial topic? School disruptions, including extended periods of remote learning during the COVID-19 pandemic, have magnified the controversies yet also have provided an opportunity to rethink the purpose and value of homework.
Debates about the value of homework center around two primary issues: amount and inequity.
First, the amount of assigned homework may be much more than the recommended guidelines. Families report their children are stressed out over the time spent doing homework. Too much homework can challenge well-being given the restricted time available for sleep, exercise, and social connection. In a 2015 study, for example, parents reported their early elementary children received almost three times the recommended guidelines. In high school, researchers found an average of three hours of homework per night for students living in economically privileged communities.
"Debates about the value of homework center around two primary issues: amount and inequity."
Second, homework can perpetuate inequities. Students attending school in less economically privileged communities may receive little to no homework, or have difficulty completing it due to limited access to needed technology. This can translate into fewer opportunities to learn and may contribute to gaps in achievement.
There isn't a ton of research on the effects of homework, and available studies certainly do not provide a simple answer. For example, a 2006 synthesis of studies suggested a positive influence between homework completion and academic achievement for middle and high school students. Supporters also point out that homework offers additional opportunities to engage in learning and that it can foster independent learning habits such as planning and a sense of responsibility. A more recent study involving 13-year-old students in Spain found higher test scores for those who were regularly assigned homework in math and science, with an optimal time around one hour—which is roughly aligned with recommendations. However, the researchers noted that ability to independently do the work, student effort, and prior achievement were more important contributors than time spent.
Opponents of homework maintain that the academic benefit does not outweigh the toll on well-being. Researchers have observed student stress, physical health problems, and lack of life balance, especially when the time spent goes over the recommended guidelines. In a survey of adolescents, over half reported the amount and type of homework they received to be a primary source of stress in their lives. In addition, vast differences exist in access and availability of supports, such as internet connection, adult assistance, or even a place to call home, as 1.5 million children experience homelessness in the United States
The COVID-19 pandemic has re-energized discussion about homework practices, with the goal to advance recommendations about how, when, and with whom it can be best used. Here's a summary of key strategies:
Strategies for Educators
Make sure the tasks are meaningful and matched.
First, the motto "quality over quantity" can guide decisions about homework. Homework is not busy-work, and instead should get students excited about learning. Emphasize activities that facilitate choice and interest to extend learning, like choose your own reading adventure or math games. Second, each student should be able to complete homework independently with success. Think about Goldilocks: To be effective, assignments should be just right for each learner. One example of how do this efficiently is through online learning platforms that can efficiently adjust to skill level and can be completed in a reasonable amount of time.
Ensure access to resources for task completion.
One step toward equity is to ensure access to necessary resources such as time, space, and materials. Teach students about preparing for homework success, allocating classroom time to model and practice good study habits such as setting up their physical environment, time management, and chunking tasks. Engage in conversations with students and families to problem-solve challenges When needed, connect students with homework supports available through after-school clubs, other community supports, or even within a dedicated block during the school day.
Be open to revisiting homework policies and practices.
The days of penalizing students for not completing homework should be long gone. Homework is a tool for practicing content and learning self-management. With that in mind, provide opportunities for students to communicate needs, and respond by revising assignments or allowing them to turn in on alternative dates. Engage in adult professional learning about high-quality homework, from value (Should I assign this task?) to evaluation (How should this be graded? Did that homework assignment result in expected outcomes?). Monitor how things are going by looking at completion rates and by asking students for their feedback. Be willing to adapt the homework schedule or expectations based on what is learned.
Strategies for Families
Understand how to be a good helper.
When designed appropriately, students should be able to complete homework with independence. Limit homework wars by working to be a good helper. Hovering, micromanaging, or doing homework for them may be easiest in the moment but does not help build their independence. Be a good helper by asking guiding questions, providing hints, or checking for understanding. Focus your assistance on setting up structures for homework success, like space and time.
Use homework as a tool for communication.
Use homework as a vehicle to foster family-school communication. Families can use homework as an opportunity to open conversations about specific assignments or classes, peer relationships, or even sleep quality that may be impacting student success. For younger students, using a daily or weekly home-school notebook or planner can be one way to share information. For older students, help them practice communicating their needs and provide support as needed.
Make sure to balance wellness.
Like adults, children need a healthy work-life balance. Positive social connection and engagement in pleasurable activities are important core principles to foster well-being. Monitor the load of homework and other structured activities to make sure there is time in the daily routine for play. Play can mean different things to different children: getting outside, reading for pleasure, and yes, even gaming. Just try to ensure that activities include a mix of health-focused activities such as physical movement or mindfulness downtime.