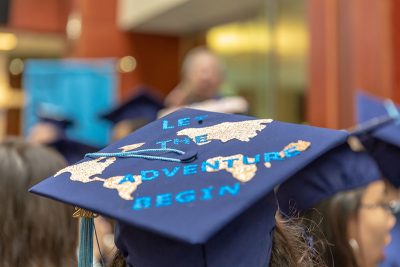 For the first time since Spring 2019, the Neag School of Education community is planning to celebrate Commencement Weekend on campus at UConn Storrs.
Keynote Address
For its Class of 2022 Undergraduate Commencement ceremony, to be held the morning of May 8 at the Jorgensen Center for the Performing Arts, the Neag School will welcome as its keynote speaker Theresia Bauer, who has served as Minister of Science, Research, and Arts for the German State of Baden-Württemberg since 2011. Minister Bauer graduated from Heidelberg University in 1993 with a master's degree in political science, economics, and German Studies and has been a member of the Baden-Württemberg State Parliament since 2001.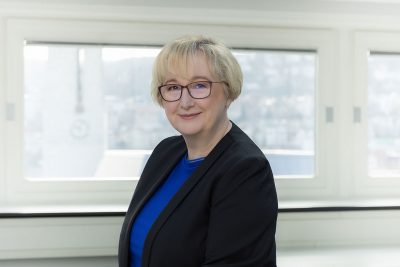 As a member of the German Green Party, Minister Bauer has put a particular focus on education financing, cutting-edge health, and artificial intelligence research, along with innovative climate protection initiatives in higher education. This includes pioneering work with "living labs" to encourage more exchange between researchers and the public. She has also put a focus on protecting the freedom of science and the arts, and thus initiated the first award for "courageous science" to encourage young researchers in her state.
During her time as Minister, Bauer has also pushed for greater international scientific cooperation and exchange, including expanded outreach to countries in the Americas and Africa. Under her leadership, Baden-Württemberg has been at the forefront in confronting Germany's colonial past. In 2019, Bauer guided the return of stolen cultural artifacts to Namibia and is currently part of the German drive to return the Benin Bronzes to Nigeria. She has also encouraged Baden-Württemberg to play a leading role in helping resettle Yazidi refugees from Iraqi Kurdistan while pushing initiatives to help areas affected by conflict in Iraq. Due to these efforts, she accompanied 2018 Nobel Peace Prize Winner Nadia Murad during her trip to speak to the United Nations Security Council on human trafficking in 2015.
The State of Baden-Württemberg in Southwest Germany shares borders with Switzerland and France and is home to famous university cities such as Heidelberg and Freiburg along with its capital, Stuttgart, and regions like the Black Forest. In addition to having beautiful landscapes, Baden-Württemberg is known as one of the most innovative and research-driven regions in Europe.
The states of Connecticut and Baden-Württemberg have maintained an active partnership since 1989. During this time, more than 2,200 students have taken part in the exchange program between Connecticut's and Baden-Württemberg's universities. Over the years, this collaboration has continued to evolve and today includes a faculty exchange program along with research cooperations such as the Human Rights Research Consortium. Next steps include extending this exchange to the field of education to help prepare future teachers for the challenges of educating in a globalized world.
During the Undergraduate ceremony, the Neag School will also present Bauer with an honorary degree, the Doctor of Humane Letters.
Featured Alumni Speaker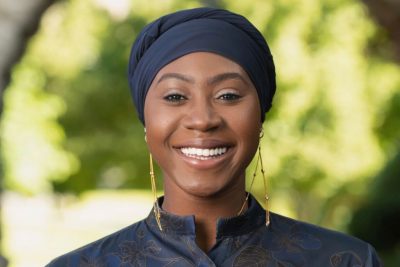 Former NCAA Division I women's basketball player and Neag School alumna Batouly Camara '19 (ED), '20 MA will be the Undergraduate Commencement ceremony's featured alumni speaker.
Camara is a two-time graduate of the Neag School's sport management program, and a speaker, author, nonprofit founder, and retired professional basketball player. A native of New York with family roots in Guinea, West Africa, Camara is a proud BIPOC and Muslim humanitarian woman. She has been selected as a Forbes Sports 30 Under 30 Honoree, 2020 ESPYs Billie Jean King Youth Leadership Award Winner, and a UNITE 2030 Youth Delegate, and has served as a TEDx and international speaker. She currently serves as the head girls' basketball coach at Blair Academy in Blairstown, New Jersey, and is an upcoming Ph.D. candidate in the University of Massachusetts Amherst's Sport Inclusion program.
Coming out of high school, ESPN ranked Camara as the ninth best prospect in the country. Camara commenced her career with the University of Kentucky and then played for UConn under Geno Auriemma, the winningest Division I women's basketball coach of all time. Camara's athletic achievements include three Final Four appearances, two years as a U18 USA Basketball invitee, as well as having been part of the Guinean National Team and playing professionally in Spain.
Camara also leads Women and Kids Empowerment (W.A.K.E), a nonprofit organization she founded that addresses girls' empowerment and women's sports, education, and social entrepreneurship worldwide. Through W.A.K.E., Camara seeks to give young girls opportunities and resources, and aims to create the first all-girls basketball academy in Guinea to provide girls with the resources needed to play basketball, including professional development training and scholarships. In 2020, Camara published her first children's book, A Basketball Game on Wake Street.
UConn's Graduate Commencement ceremony for master's and sixth-year diploma candidates will be held on Monday, May 9, at Gampel Pavilion. Doctoral candidates will celebrate at the Jorgensen Center that evening.
Find more information online about the Neag School's 2022 Commencement Weekend schedule.