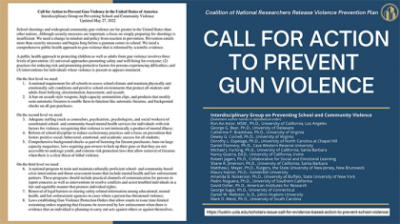 The recent mass shootings across the country—and there have been over 214 mass shootings in the first five months of 2022—are another painful reminder of failed efforts to stop the kind of gun violence that occurred at Sandy Hook Elementary School nearly ten years ago. An interdisciplinary group of scholars who have studied school safety and violence prevention for decades, including Professor Emeritus George Sugai of the Neag School of Education, are calling for immediate government action to initiate scientifically-informed actions to reduce gun violence.
After the 2018 shootings at Marjorie Stoneman Douglas High School, the Interdisciplinary Group on Preventing School and Community Violence developed a "Call for Action to Prevent Gun Violence in the United States of America"(link is external) that was endorsed by numerous professional organizations in education, psychology, and allied fields, representing 5 million professionals working in and with schools. The evidence base for that call was published in 2019 (Flannery et al.). There is now even more research evidence in support of the eight points in this plan. According to one of the experts, Professor Pedro Noguera, Dean of the Rossier School of Education at the University of Southern California, "Scientifically, we know what to do to reduce gun violence. The question is whether our leaders will do it."
New research shows that comprehensive background checks are foundational to keeping guns from dangerous individuals, especially when coupled with licenses to purchase handguns. Licensing and bans on large capacity ammunition feeding devices prevent fatal mass shootings. Laws requiring gun owners to lock away their firearms so that they are inaccessible to underage youth prevent deaths to teens from suicides and homicides. Extreme risk protection laws are a promising and practical policy for removing firearms when there are clear threats of potential lethal violence and have been used to thwart plans to commit mass shootings.
"A majority of us wear our seatbelts, give up our dangerous objects when boarding planes, apply for driver's license, use prescriptions to get our medications, and show proof of our age when we buy alcohol…all for the individual and common good," says Professor Emeritus George Sugai. "This important statement highlights the existing knowledge, science, and tools to prevent gun and school violence. This statement urgently warns us that we need to act now, and act in ways that are long lasting, preventive, and widespread….for the individual and common good."
In addition to the updated 8-point plan, the coalition has highlighted some resources for educators, school leaders, and parents in supporting the families and staff they serve: