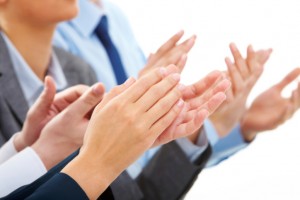 Accolades – below are news and notes from our alumni, faculty, staff, and students. We are proud of all the amazing accomplishments by our Neag family. If you have an accolade to share, we want to hear from you! Please send any news items (and story ideas) to shawn.kornegay@uconn.edu.
Students
Kathy Andrade and Mike Lynch had the opportunity to present at this year's National Association for Campus Activities (NACA) Northeast Regional Conference in Hartford, CT. The 2nd year HESA students presented "Engaging Students Through Social Media" to students and student affairs professionals.
Shannon Bostiga, Michelle Cantin, and Cristina Fontana are implemented the math journals at their internships, and are working on publishing this work.
Micah Bruce-Davis, Cindy Massicotte, Lisa DaVia Rubenstein, Lisa DaVia and Merzilli Villanueva co-presented with E. Jean Gubbins "STEM Schools of Excellence: Students' perceptions of STEM-focused high schools" at the National Association for Gifted Children Conference, Denver, CO.
Jaclyn Chancey and Melissa S. Mitchell co-presented "Fostering creativity through technology: Creative and collaborative tools for student products" at the National Association for Gifted Children Conference. She also co-presented "Following the STEM pipeline through college" at the same conference.
Janine M. Firmender co-presented with Katherine Gavin and Tutita Casa "The impact of advanced math curriculum on kindergarten, first, and second-grade students" at the National Association for Gifted Children Conference.
Jeremy DiGorio and alumnus Krista Muise, '12, coordinator for leadership programs at UConn presented at the Leadership Educator's Institute (LEI) in Columbus, Ohio in December 2012. The duo co-presented with colleagues from Baylor University on Leading, Living, and Learning: Effective Leadership Learning Communities on campus. The presentation provided attendees with a myriad of strengths and challenges for leadership educators nationwide.
Doctoral student Elena Forzani so wrote with Don Leu "New literacies in a Web 2.0, 3.0, 4.0, …∞ world" in Research in the Schools.
Doctoral students Elena Forzani, Cheryl Burlingame, and Clint Kennedy co-wrote with alumnus Julie Coiro and Don Leu "The new literacies of online research and comprehension: Assessing and preparing students for the 21st century with common core state standards," in Reading instruction in the age of common core standards, International Reading Association.
Kelly Kearney, Cindy M. Massicotte and Ashley Ruegg co-presented with Catherine Little "Higher-level questioning: Closing the citation gap" at the National Association for Gifted Children Conference.
Jennifer Klimis, Three Summers 2014, was one of six finalists for the Outstanding Educator Award in Pinellas County, Florida. She uses Joe Renzulli's Schoolwide Enrichment Model, which was included in her nomination packet.  Jennifer reports that although she didn't win the Outstanding Educator award, it was fun and she felt honored to be in the top six.
Kara LaMonica and Juliana (Julie) MacSwan are working together on a project looking at the Grade 3 curricula; they are honors students looking to publish this work.
Graduate assistants, Ashley S. MacSuga and Lindsay Fallon, worked with Brandi Simonsen and George Sugai on "The Effects of Self-Monitoring on Teachers' Use of Specific Praise" which was published in the Journal of Positive Behavior Interventions.
Katherine Mattioli and Megan Mazzini investigated Mercy Learning Center in Bridgeport. Mercy Learning Center educates 700 illiterate women per year and tries to provide meals and other essentials when they have enough to go around.  Katie and Megan are conducting a food drive to collect food to bring to the Center and are trying to enlist others to become tutors and volunteers.
Kelly O'Shea co-presented with Betsy D. McCoach and E. Jean Gubbins "Impact of different gifted identification rules and cut scores on population size and composition" at the National Association for Gifted Children Conference.
Lisa DaVia Rubenstein, Micah Bruce-Davis, Cindy Massicotte and Merzilli Villanueva co-presented with E. Jean Gubbins "What can we learn from STEM schools of excellence?" at the National Association for Gifted Children Conference.
Merzilli Villanueva presented "Communities creating change: Teaching active democratic citizenship through service-learning" at the National Association for Gifted Children Conference.
Colin Walter, a junior education major, is a member of Funky Dawgz Brass Band. The band was featured as in a holiday message video from President Herbst has performs frequently.
Alumni
HESA recently welcomed back three alumni Patrick Duffy, '09, Westchester Community College; Billy Dunn, '08, Westfield State University; Adam Frank, '09, Westchester Community College; and Rachel Jones, '10, Springfield Technical College to garner their feedback and insight on the program.
Timothy Candy was appointed assistant superintendent of Darien Public Schools. He earned a BS in elementary education in 1980.
Julie Coiro, Ph.D., Jill Castek, Ph.D., and Laurie Henry, Ph.D. co-wrote with Don Leu "New literacies: A dual level theory of the changing nature of literacy, instruction, and assessment" in the Theoretical models and processes of reading.
Congratulations to Eric Crumrine, '10, for winning the Outstanding New Professional Award at NASPA Region 1.
Darcy Fiano, Ph.D. '12, received a special honor from the International Reading Association: An Outstanding Dissertation Award. She is now invited to participate in the national conference in April 2013 where she will be recognized along with nine other winners.
Kate Gibney, '97, '98, was recently named Northern Valley District Teacher of the Year and will go on to compete at the county level in March.
Jason E. Maziarz, '00, was named principal of Stevens Elementary School.
Janet Robinson, '06 Ph.D., currently superintendent of Newtown schools, will be heading up Stratford schools starting in July. She was also honored at the Neag Alumni Awards Dinner as outstanding superintendent (she was nominated prior to the Newtown tragedy).
Kaitlin Roig, a first grader teacher at Sandy Hook Elementary School, was at the White House for First Lady Michelle Obama's State of the Union guest list. She was invited due to her bravery during the tragedy.
Ashley Vrabely, '13, was selected as one of the 2013 ASCA Annual Conference Raymond Goldstone ASCA Foundation Scholarship recipients.
Faculty/Staff
A big thanks to the staff for all their hard work on the cluster hires and searches:
Valerie Pichette 
Katrease Sharavolli
Kathy Ivey
Dianna Geissert
Donalyn Maneggia
Mary Rinaldo-Ducat – special thanks to Mary for overseeing ALL the searches
Nayden Clinic is starting a step down program for clients who have been receiving PT at Nayden and have 'graduated' from PT but would still benefit from supervised exercise to enhance their recovery. Nayden's step down program (Next STEP) will be piloted starting next week at the Hawley Armory fitness center. Participants must sign up in advance and it is a self-pay program that will run for 4 week sessions. They will be supervised by a combination of PT faculty and students.
Renzulli Academy – though the generous support of the Jack Kent Cooke Foundation, the Renzulli Academy will be replicated in three school districts: Bridgeport, New London and Windham.
Peter Behuniak received a $150,000 grant on
Early Childhood Assessment
from the Connecticut Department of Education.
Tutita Casa and Katherine Gavin co-presented "Getting more into shapes across the younger grades" at the National Association for Gifted Children Conference, Denver, CO. They also co-presented with other academics "Developing talent in the STEM fields in the era of the common core state standards" at the same conference. In addition, they presented "Awesome algebra for young mathematicians" at the same conference.
Morgaen Donaldson received a $265,000 grant on Educator Evaluation Pilot Program Study
from the Connecticut Department of Education.
Rachael Gabriel published Reading's Non-negotiables: Elements of effective reading instruction. She also co-wrote Performances of research: Critical issues in K- 12 education.
Robin Grenier has been awarded a Fulbright to the University of Iceland beginning in January 2014. She will be conducting research and teaching in the museum studies program.  She co-edited "Performances of Research," a book on the critical issues of K-12 education.  She also published "Reading's Non-Negotiables," a book on the elements of effective reading instruction.
Rachael E. Gabriel, with Co-PIs Morgaen Donaldson, Sarah Woulfin, and Kim LeChasseur, are one of 10 winners of MET Early Career Research Grants competition. The University of Michigan's Institute for Social Research and the National Academy of Education provide early career educational researchers with access to the Measures of Effective Teaching (MET) Longitudinal Database. Funding is provided by the William T. Grant Foundation and the Spencer Foundation, They will receive $25,000 each and access to the database for one year. Their project is entitled: Levels of Interactional Focus for Teacher Evaluation: An Exploration of Contrasting Protocols for Effective ELA Instruction.
Wendy Glenn has a publication in press "To witness and to testify:  Preservice teachers examine literary aesthetics to better understand diverse literature" in English Education. She wrote "Say what?: Exploring and responding to the unpredictable realties of censorship" for The Dragon Lode.  She has co-authored "Looking into and beyond time and place: The timeless potential of young adult literature" for The ALAN Review. She also wrote "The influence of
changing demographics on Norwegian schooling for social democracy" for Equity and Excellence in Education.
E. Jean Gubbins recently testified before members of the Higher Education and Employment Advancement Committee with the State of Connecticut on a gifted and talented bill.
Jason Irizarry is a featured 2013 Latino Community Research Lecture speaker at The University of Saint Joseph (USJ). The lecture will take place on March 13, on the topic, "The Latinization of U.S. Schools."
Jae-Eun Joo got funding for a project from AERA's Education Research Service Projects (ERSP) initiative. This project will design and conduct a participatory evaluation inquiry to systemically document and analyze the unique STEM (science, technology, engineering and math) education contributions of the Learn 2 Teach, Teach 2 Learn (L2TT2L) program to Boston's urban youth and their communities.
William Kraemer received a $650,000 grant on
Adaptability of the Warfighter: A Interactive Model for Optimization of Performance and Resilience from the DOD/DARPA.
Don Leu co-authored "An online learning community as support for at-risk students' literacy growth:  Findings, implications, and challenges" in Technology for literacy achievement in children at risk. He also co-authored "Working on understanding during collaborative online reading" in the Journal of Literacy Research. He was also interviewed for a documentary, Out of Print, in which the work of the New Literacies Research Lab is featured.  The film was directed by Vivienne Roumani and narrated by Meryl Streep. It will premier at the Tribeca Film Festival in NYC in April.
Betsy McCoach and Del Siegle co-presented with five other academics "Publishing in gifted educational journals: Editors' tips" for the Annual Convention of the National Association for Gifted Children.
Betsy McCoach co-presented with other academics "Talent development paths of women in gifted education" at the National Association for Gifted Children Annual Convention.
Joan McGuire was the invited keynote address at the 25th annual conference of the Association for Higher Education Access & Disability, Dublin, Ireland. Her presentation was on "Universal Design for Instruction: A model for teaching diverse learners."
Linda Pescatello presented at the ACSM Health Fitness Summit in Las Vegas on her 9th edition of ACSM guidelines for exercise testing and prescription "ACSM's New Preparticipation Health Screening Recommendations."
Jonathan Plucker co-presented with other academics "Supporting low-income, high-ability learners: Next steps in the research and policy agenda" at the National Association for Gifted Children Conference.
Sally Reis co-presented with other academics "Implementing RtI with gifted students: Service models, trends, and issues" at the National Association for Gifted Children Annual Convention.
Joe Renzulli presented "Reexamining the conceptual foundations of 21st century gifted education: A theory into practice approach" at the National Association for Gifted Children Annual Convention. He co-presented with Sally Reis "Implementing the Schoolwide Enrichment Model" at the same conference along with co-presenting with other academics "In their own voices in our time."
Joe Renzulli was inducted into Asbury Park High School Distinguished Alumni Hall of Fame. He will be recognized along with 12 others at a ceremony in May.
Yuhang Rong was a panel moderator on "International Perspectives on Education Reform" at AACTE's Annual Meeting in Florida.
Del Siegle co-presented with three other colleagues "Elaborating on Malleable Minds: Cases for professional development" at the Annual Convention of the National Association for Gifted Children. He co-presented with three other colleagues at the same conference "Making the case with Malleable Minds: Translating research to exemplary professional development", along with presenting "Embracing Ebooks: Increasing students' motivation to read and write."
George Sugai served on a national panel discussing "Gun Violence Prevention" with Vice President Joe Biden serving as keynote speaker. The panel was sponsored by Sen. Murphy, Sen. Blumenthal, and Rep Esty. Sugai's focus was on mental health and school safety initiatives. In addition, received a $143,266 grant on Preparing Effective Personnel for Infants and Young Children with Disabilities: The Foundation of Comprehensive Early Childhood Systems
from the ED/Office of Special Education & Rehabilitative Services/UConn Health Center.