Below are news and notes from our alumni, faculty, staff, and students. We are proud of all the amazing accomplishments by our Neag family. If you have an accolade to share, we want to hear from you! Please send any news items (and story ideas) to neag-communications@uconn.edu.
Students
Elena Forzani, a Ph.D. student in educational psychology, was named the Neag School of Education's 2016 Outstanding Graduate Student Researcher.
Symone James '15, '16 MA, an elementary education major, was one of nine students nationwide to become a Nancy Larson Foundation Scholar. James was awarded a $1,000 scholarship in recognition of her personal narrative, academic achievement, and community service.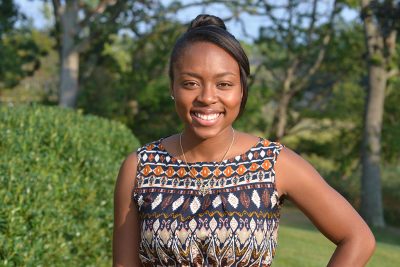 Yujin Kim, a Ph.D. student in adult learning, was recognized by the Academy of Human Resources Development (AHRD) with the 2015 Dissertation of the Year Award.
Max Klein, a sport management major, was awarded a UConn IDEA grant in support of his undergraduate research regarding the socioeconomic factors that contribute to a high school baseball player going to college or signing a professional contract.
Theus McBee '16 received a 2015 UConn Intern of the Year Honorable Mention selection. McBee, a sport management major, interned at the National Basketball Association headquarters in New York City during the summer of 2015.
Alumni
Brittany Perotti Agne '09 (CLAS), '11 MA, was recently promoted to director of children's programs at New York Cares, in New York, N.Y.
Brianna Clark '05 (ED), '07 MA was inducted into her high school athletic Hall of Fame last fall in Marshfield, Mass.
Jason Cvercko '11 (ED) has been hired as the director of football recruiting and retention at the University of Hawaii. As a sport management major at UConn, Cvercko served as a football recruiting intern for two seasons.
Classes 4 Classes, a classroom act of kindness initiative founded by former Sandy Hook teacher Kaitlin Roig DeBellis '05 (ED), '06 MA, is partnering with The Kraft Family Foundation. The partnership will expand the program to the entire New England region, including Maine, New Hampshire, Vermont, and Rhode Island.
Kydani Dover '05 (CLAS), '07 MA, who is completing his Ph.D. in higher education at Louisiana State University, will be inducted into her high school athletic Hall of Fame in Newton, Mass. in March.
Joon Han '08 Ph.D. returned to the Neag School as a visiting scholar to teach an undergraduate course in sport marketing. He is on sabbatical from another alma mater, Yeungham University in South Korea.
Coventry High School Principal Stephen Merlino '81 (CLAS), '84 MA, '08 ELP was selected as the 2016 High School Assistant Principal of the Year. During his five-year tenure at Coventry High School, Merlino has played an integral role in improving CHS' graduation rate to 98 percent.
Stephen Nelson, Ph.D. '96  in higher education, has published a new book, The Shape and Shaping of the College and University in America (Lexington Books, 2016). He also recently penned a commentary piece for the New England Board of Higher Education offering a condensed version of one of the book's chapters.
Matthew Ross '02 (CLAS), '07 MA as the director of technology, launched a new website for the Farmington School District, with the help of a firm, that was launched by another alum, Rob DiMartino '97 (ED), '00. 
After 35 years of service, Sharon White '76 MA retired from the University of Connecticut campus in Stamford on Dec. 31. White began her career at UConn – Stamford as an administrative assistant and worked her way up, finishing out her career as the campus director.
Jason Zigmont '08 MA, '10 Ph.D. has become a life coach focusing on personal achievement, helping nontraditional students finish college, and offering academic, life, and executive coaching. He has launched a personal website to conduct his business across the United States through a forum called PopExpert.
Faculty
Four faculty members received 2016 research awards from the Neag School of Education. Rachael Gabrieland Sarah Woulfin won the Early Career Researcher honor, while Don Leu and Betsy McCoach were named Distinguished Researchers.
Ronald Beghetto and James Kaufman's book Teaching for Creativity in the Common Core Classroom(Teachers College Press, 2014) was named a 2015 Choice Magazine "Outstanding Academic Title."
Sandy Bell was chosen as the Neag School representative for the Center for Excellence for Teaching and Learning (CETL) Innovation Council. The Council comprises faculty representatives from each school across UConn to serve in an advisory capacity to CETL.
Laura Burton and Jennie Weiner co-wrote the article "They Were Really Looking for a Male Leader for the Building: Gender, Identity and Leadership Development in a Principal Preparation," published in the journal Frontiers in Psychology this February.
Milagros Castillo-Montoya served as a guest speaker at Trinity College in Hartford, Conn., on Jan. 27 on the topic of affirmative action. Her presentation focused on the educational benefits of diversity. She also served as the chair of the American Educational Research Association Hispanic Research Special Interest Group-Early Career Scholar award this academic year. The committee has selected a winner and will present the award at the upcoming AERA Hispanic Research/SIG business meeting. Castillo-Montoya was also awarded an UConn Reads grant to support the organization of three dialogues on race to be held at the Neag School this semester. Danielle DeRosa is working with Castillo-Montoya to plan and implement the sessions.
Sandra Chafouleas and Michael Coyne co-wrote, with other colleagues, "Exploring an Ecological Model of Perceived Usability Within a Multi-Tiered Vocabulary Intervention" in the journal Assessment for Effective Intervention, available online as of this January.
Michael Coyne and Brandi Simonsen were announced as the new co-directors for the Center of Behavioral Education and Research (CBER). In a statement, they said, "CBER has established a strong local, state, national, and international presence. As CBER moves forward, our goal is to sustain CBER's original vision while working to enhance and build on CBER's current strengths."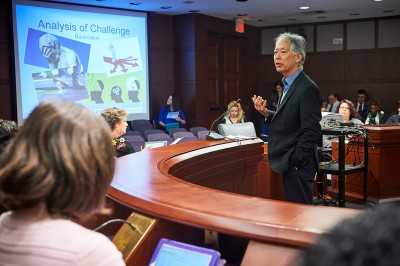 Morgaen Donaldson co-wrote "An Idea Whose Time Had Come: Negotiating Teacher Evaluation Reform in New Haven, Conn." in American Journal of Education (November 2015).
Shaun Dougherty was named an editorial board member of the AERA journal Education Evaluation and Policy Analysis. He also participated in the University of Arkansas' Department of Education Reform Series on Feb. 5 with his lecture titled "The Influence of Career and Technical Education on High School Completion, College-Going and Initial Wages."
Morgaen Donaldson and Kimberly LeChasseur, along with a colleague, wrote "Tracking Instructional Quality Across Secondary Mathematics and English Language Arts Classes," published in the February 2016 issue of the Journal of Educational Change.
Justin Evanovich, along with students Carolina Franco, Sarah Levine, and Ben Briskin, presented at the IMPACT Conference at the University of Massachusetts on Feb. 19 on the topic of "Innovative and Intentional Student-Volunteer Empowerment Through Structured and Systemized Management Practices."
Rachael Gabriel co-wrote "Engaging in Performance Ethnography in Research Methods Class" for the journal Qualitative Inquiry (December 2015). Gabriel, along with a colleague, was awarded a Connecticut Sea Grant for her research involving the formulation and testing of education strategies to increase coastal literacy.
Preston Green presented at the 2016 Rebellious Lawyering Conference at the Yale Law School in February. The conference brings together scholars, practitioners, and community organizers from around the country to discuss progressive approaches to law and social change. In addition, Green's recently published report "Are We Heading Toward a Charter School 'Bubble'?: Lessons From the Subprime Mortgage Crisis?" has been the focus of much media attention, with an interview by EduShyster blog, followed by stories in numerous media outlets, including the Washington Post, Business Insider, Mother Jones, and others.
Robin Grenier wrote "A Sojourn Experience in the Land of Fire and Ice: Examining Cultural Competence and Employee Well-being through an Autoethnographic Exploration," published in the journal New Horizons in Adult Education and Human Resource Development this January.
James Kaufman recently wrote a piece for The Conversation titled "While Rethinking Admissions Process, Consider Creativity."
Tamika La Salle was awarded a $500 Pearson/Trainers of School Psychologists Junior Faculty Scholarship to further professional development at Trainers of School Psychologists and the National Association of School Psychologists conferences.
Don Leu presented at a literacy summit at the University of the Incarnate Word in San Antonio, Texas, on Feb. 13.
Allison Lombardi and Neag graduate student Christopher Murray co-wrote "Social Support and Academic Success for College Students With Disabilities: Do Relationship Types Matter?" in the Journal of Vocational Rehabilitation (January 2016).
Jennie McGarry will represent UConn's Office of Public Engagement at the Research University Civic Engagement Network Conference at the Washington University in St. Louis, Mo., on Feb. 26 and 27.
Joseph Renzulli launched an education program in China to help students develop maturity, creativity, and independence. The program, called Renzulli Creativity Programs, will be also offered at UConn. He also recently penned a piece for District Administration Magazine, titled "Involving All Students in Advanced Activities."
Blanca Rincón will join nine UConn faculty members as a 2016 Service Learning Faculty Fellow. The Service Learning Faculty Fellows program offered by the Office of Public Engagement recognizes faculty engaged in the pedagogy of service learning, a high-impact pedagogy that aims to bridge the needs of communities with active learning opportunities for students.
Blanca Rincón and Justin Evanovich were awarded a $5,000 Provost's Teaching Innovation Grant for their course, Intergroup Dialogue on Race, which they will be teaching this fall. The grant competition is designed to support faculty innovation in teaching and student learning.
Del Siegle received the 2016 Palmarium Award earlier this month from the University of Denver's Institute for the Development of Gifted Education. Siegle was awarded $5,000 for exemplifying the Institute's vision.
Megan Staples recently penned a post for the Furthering Girls' Math Identity blog titled "Girls' Math Identity: Increasing Participation by Changing Definitions."
George Sugai, sponsored by UNICEF and the U.S. Department of Education, will be traveling to South Africa to discuss his work regarding Positive Behavioral Interventions and Supports and supporting students with disabilities. Sugai will visit Pretoria, Johannesburg, and Cape Town and will meet with leadership in the Department of Basic Education. Sugai also presented at a forum at the state Capitol sponsored by UConn's Center for Excellence in Developmental Disabilities Education last month, where he spoke with legislators and education leaders about reducing the use of restraints and seclusion in public schools.
Jaci VanHeest has been appointed to the President's Council of Sport, Fitness, and Nutrition Science Board, which supports President Obama's SFN Council to enhance Americans' health and fitness. She was also appointed to the National FitnessGram Scientific Advisory Board, which furthers research on FitnessGram and physical activity and fitness.
Suzanne Wilson chaired the National Academies of Sciences, Engineering, and Medicine committee that recently published the report "Strengthening Science Education Through a Teacher Learning Continuum." Wilson, along with a colleague, presented her research findings about what constitutes good teaching at an event titled "What Do We Know About Good Teaching? Results of a Research Synthesis" in Washington, D.C., in December. She also co-authored a paper on this topic.
Sara Woulfin, Morgaen Donaldson, and Richard Gonzales co-wrote "School District Leaders' Framing of Educator Evaluation Policy," published in the journal Educational Administration Quarterly this month.
In Memoriam
Patricia A. Belade '52
Myron A. Cohen '49
Ann C. Cox '00
William M. DeMatteo '58
Betty Domis '60
Francis J. Duff '71
Alan W. Gates '66
Robert P. Horan '72
Forrest A. Johnson '76
Harold F. Lawson Sr. '52
Joseph H. Marks '71
Richard Mottola '70
Dolores D. Scrivano '56
Escott O. Smith '66
Cody R. Thomas '13
Audrey F. Thorpe '58
Emil Salzberger '77