The Neag School of Education is proud to announce Connecticut's winners of the 23rd annual Letters About Literature contest, a nationwide writing contest sponsored by the Library of Congress for elementary, middle, and high school students.
This fall, the Neag School served as the contest's Connecticut sponsor for students in Grades 4-12; Professor Wendy Glenn is the contest's faculty representative for the state of Connecticut.
Winners from each state for each of contest's three categories (Grades 4-6, Grades 7-8, and Grades 9-12) will receive a cash prize and state recognition,  and will then advance to the national competition, for which winners will be chosen later this month. Read more about the contest here, and click the winners' names below to read their winning essays.
Congratulations to the winners for the state of Connecticut: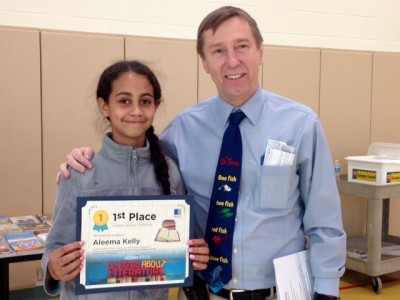 Level I (Grades 4-6)
First place: Aleema Kelly, CREC Montessori Magnet School, Hartford, Conn. — Essay based on George by Alex Gino
Second place: Rhiana Boutot, Pleasant Valley Elementary, Groton, Conn. — Essay based on Wonder by R.J. Palacio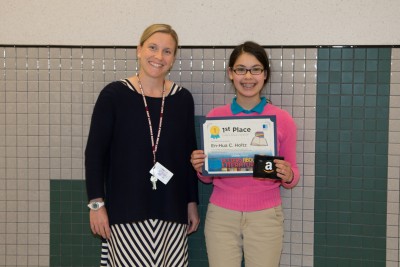 Level II (Grades 7-8)
First place: En-Hua C. Holtz, East Lyme Middle School, East Lyme, Conn. — Essay based on Diary of a Young Girl by Anne Frank
Second place: Charlotte Watts, Sage Park Middle School, Windsor, Conn. — Essay based on Someone Named Eva by J.M. Wolf
Level III (Grades 9-12)
First place: Julia Tofan, RHAM High School, Hebron, Conn. — Essay based on "Still I Rise," by Maya Angelou
Second place: Rachel Horowitz-Benoit, E.O. Smith High School, Storrs, Conn. — Essay based on Prep by Curtis Sittenfeld

Rachel Horowitz-Benoit, who won second place for Level III in Connecticut's Letters About Literature contest, is congratulated by teacher Liza Escott. (Photo courtesy of E.O. Smith High School)
Thank you to the Neag School's contest judges:
Ashley Bernardo
Victoria Breen
Emma Czaplinski
Gigi DiGiuseppe
Sarah Falcetti
Hillary Gannon
Ricki Ginsberg
Wendy Glenn
Sara Goss
Brittany Handahl
Barbara Jennes
Danielle King
Kaleigh Kupstis
Kaitlin Murphy
Rebecca Pite