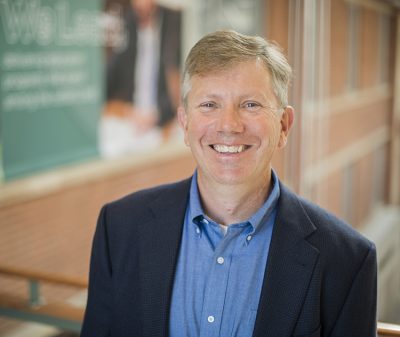 After almost 20 years in a variety of positions at the University of Connecticut, Joseph Madaus, professor of educational psychology, has returned to the Neag School to serve as the new associate dean for academic affairs.
Starting at the Neag School as a graduate assistant in the '90s while working toward a special education doctorate from UConn, Madaus rose up through the ranks to become professor, then director of the Center on Postsecondary Education and Disability (CPED), followed most recently by an appointment as interim director of UConn's Avery Point campus.
"When this [associate dean] position at the Neag School became available, it was an opportunity to learn more, to continue to develop my skills, but also to give back to the Neag School," Madaus says. "I've been extremely fortunate, going from graduate assistant to professor here. I wanted to give back to the School in that role."
Looking Ahead
Madaus, who will be working closely with the recently appointed dean, Gladis Kersaint, took over for Casey Cobb, who was appointed the Neag Endowed Professor of Educational Policy.
"One of my main goals is to help Dean Kersaint get adjusted and do whatever I can do to help her," Madaus says. "I have some knowledge of the University and School, with 19 years here at UConn; I hope I can be helpful to her."
In addition, he looks forward to working with the faculty and staff across the School. "I know that one of the big things that I'm working on right now, and will continue, is accreditation, both for the School and for the different programs," he says.
"[The Neag School] is really a dynamic place that's continuing to grow. … It's been described as a family; I really do believe that that's true."  Joseph Madaus, associate dean for academic affairs 
Madaus will continue his work with the CPED, although other Neag School faculty, including assistant professor Allison Lombardi, will take on larger roles. Already, they are planning for one of the Center's main programs, the Postsecondary Disability Training Institute, which recently celebrated its 28th year this past June with sold-out attendance. The 29th Institute will take place in Boston.
Madaus and Lombardi have been considering other opportunities for the Center, including possible realignments, and collaborating and sharing more resources. "I'm going to continue as the director," Madaus says. "Time will tell how much time I will actually have to apply to that part."
Currently serving on several University committees, Madaus also anticipates working with fellow associate deans from other Schools and Colleges on campus — while making connections beyond campus as well.
"Another big area is working with people from the State Department of Education, getting to know that network, the policymakers and school administrators," he says. "There are a lot of dynamic people that I know I'll be crossing paths with over the next several months and years, so I'm very excited. That will always give me the opportunity to learn more."
From Neag School Student to Leader
Most recently having served for one year as interim director of UConn's Avery Point location in Groton, Conn., Madaus worked with staff and faculty, trying to identify common goals and create opportunities or problem-solve based on available resources and challenges. There, he says he came to realize how large and complex the University is and how many people are involved in different aspects of its operation — giving him a kind of bird's-eye perspective that will prove valuable in his new position.
Having earned his doctoral degree at UConn, Madaus has a strong understanding and appreciation of the quality of faculty and students within the Neag School, and of the School itself — and says he envisions that the School will continue to climb, in terms of its national rankings and in terms of the number and quality of students from underrepresented populations admitted to its undergraduate and graduate programs.
Looking back, he says the Neag School has "always been a very supportive place to work. As a young faculty member, you had mentors who took care of you, and I know that's still happening. I think we do a great job of putting young faculty into positions where they can be successful, and get them into research teams, so they are part of a research agenda."
Meanwhile, Madaus sees the Neag School with a strong future. "It's really a dynamic place that's continuing to grow. … It's been described as a family; I really do believe that that's true."